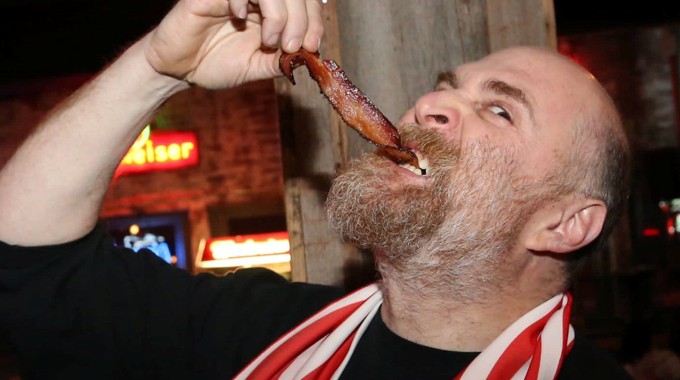 As I was getting ready to write this – I realized that it is ONLY day 37 in the Big Brother house – and we still have 45 days to go. This season has surely been a roller coaster. The first few weeks were pretty harsh with the Lay's – I mean with the jealousy. Then Turner saved the season by actually taking a stand and making a change in the narrative.
That worked for 2 weeks – but this week was pretty stale (or as Jasmine would say – as stale as a bowl of cherries left in a rainstorm during Mardi Gras). The Festie Bestie twist will end, the Wall comp is back, and we now head into the 2nd stage of Big Brother 24 – as everyone left in the house after tonight will be a part of the jury – or eventual top 2.
But first – I will give out my rankings for this week – along with a SHOCKING Tofurkey.
Joseph – 5 strips of Bacon – this may change soon, but there is NO ONE in the house that is as safe as Joseph. He has been doing the best job of riding the middle during this whole "Leftovers vs. Convenience Store" battle. Be that as it may, he's starting to get into a fake showmance with Taylor which is already starting to rub at least 1 person the wrong way. If the non-Leftovers realize that he's playing them – he will paint a huge target on his back. But he has been very smooth about covering his tracks – he may be able to get by for a few more weeks. At that point, he will need to stop throwing comps & start winning stuff.
Turner – 4 strips of Bacon – I mentioned in the opening how stale this week has been – so leave it to Turner to rev up the excitement with Muffingate. While that actually started last week – it's continued to bring drama & excitement to the CBS show. That alone would earn him bacon – but he gets near the top of the rankings this week due to his subtle but smart gameplay. As much as he is tormenting Jasmine, he has said to several people that he wants to keep her safe after the besties twist is over. As we know – this is not true – but telling Alyssa that – he knows it will get back to her and she will not target him. He is very slick telling people what they want to hear, but doing it so well that they do not realize he is playing them.
Terrance – 3 strips of Bacon – ok… I am going to give Terrance some slack here – and welcome him to the game. He really tried to help make a big move and did everything he could to sell it, it's just sad that the powers that be didn't bite. This told us that maybe there is a strategic player under that Southside Chicago hat!
Daniel – 2 strips of Bacon – similar to Terrance – I am giving Daniel bacon despite his inevitable eviction tonight. We see this every season where someone(s) make perfect campaign pitches to stay in the game – but since they are already going out the door, it falls on deaf ears. His pitch to Michael to not use the Veto and by doing so would give him his loyalty SHOULD have worked. But perhaps his allies that also made that pitch hurt him more than helped him. (More on that later)
Monte – 1 strip of Bacon – Monte has become a big target this week for most of the house – and him being made aware of it, and not freaking out, is why he gets some bacon this week. We did not really see & hear much from him this week – while just about everyone was talking about him.
Alyssa & Kyle – 1 strip of Tofu (to share) – this is going to be a pivotal week for the showmance – as people may start using that against them & a reason to nominate / evict them. Kyle is definitely the more strategic of the 2 – but his judgment has been off due to the blood flowing to the wrong head. Alyssa gets information but doesn't know how to use it to her advantage. Let's see how the allure of going to the jury house to do some hanky panky changes how they play the game.
Jasmine – 1 strip of Tofu – the accidental comedy that Jasmine provides is actually good for the entertainment on the CBS shows – but BRUUUUUTAL on the live feeds. It's hard to look away when she's on the feeds because you dont know what she's gonna say or do next. She's still being a mean girl behind Taylor's back and playing injured victim – asking people to help her. She also confessed to having a little crush on Joseph. So let's see how his fake showmance with Taylor affects her (answer… probably NOT well).
Indy – 2 strips of Tofu – another one with a crush on Joseph – but she started coming around on her "hatred" towards Taylor. If they keep that rouse up – this could get Indy even more riled up (it doesn't take much). With Nicole leaving last week – Indy has been taking over a lot of the cooking duties. None of this translates to good gameplay. I really want her to win an HoH soon to put the house into a frenzy. The wall challenge could be winnable for her. Fingers crossed!!!
Taylor – 3 strips of Tofu – for most of the game, Taylor has been the actual victim of bullying / jealousy by some of the other HGs. Finally – some of them realized this was not right and have pulled her in. But… what kind of actual player is she? At this point – not that good. She is more focused on her dress for tonight (red for revenge against Daniel) – than she is to actually come up with any sort of strategy. At one point she acknowledged that perhaps getting rid of Daniel would not be smart – but… then she just fell in line and is going along with someone else's plan.
Brittany – 4 strips of Tofu – after seeing a little bit of pep – Brittany has returned to her Eeyore ways. Her breakdown this week about how upset she was for lying about her job early on – and how no one really knows her because of it was hard to watch. She's only been safe because she is so unassuming and attached to Michael for most of the game. Unlike Terrance (and even Jasmine) – she is not doing anything to try and change her game. She just goes along with whatever she is told to do.
If you are a regular reader of this column, you know when someone wins HoH & Veto in the same week – it's highly likely they will get 5 strips of Bacon. However – Michael did the exact opposite. All season he has been the comp beast – with 5 wins in 5 weeks. He's also been a strategic powerhouse, getting pulled into alliances, as well as having a great read on everyone in the house. HOWEVER – he had the perfect opportunity to pull a Turner – and turn the game around by making a HUGE move to get out Monte.
Yes, yes, yes, he's in the Leftovers with Monte… however if he makes that move – he would only upset 1 person – Joseph. The rest of the house would applaud him. The Leftovers (minus Joseph) would have been OK as several of them seriously considered this. Daniel would have been loyal to him for not taking the easy shot. By not making this move – all he did was make himself the biggest target, and I guarantee – he will be on the block and possibly evicted in the next 3 weeks. That is unless he keeps winning every Veto & HoH he's able to compete in. (For the record – he is only 4 Comp wins away from tying his idol Janelle for most wins in a season).
There ya go another week's rankings in the books and unlike the past 2 weeks, not much chance for a blindside tonight. But we do get the first endurance HoH of the season – so fire up those feeds as soon as the CBS show ends and watch it play out.
I did not mention anything about Otev this week – as someone who won Otev – I love watching that competition every season. Obviously – BB13's Otev (Shark) was my favorite version – but my question of the week is which was your favorite? Tell me in the comments section below – along with your thoughts on my rankings this week.
From outside the Big Brother house – I am Adam Poch reminding you to shake your spear to Shakespeare!
Catch me here every week during the BB season for my rankings. If you want more of my thoughts during the season. follow me on Twitter @HeavyMetalTeddy – and listen to my Podcast – @BigBrothersPod.