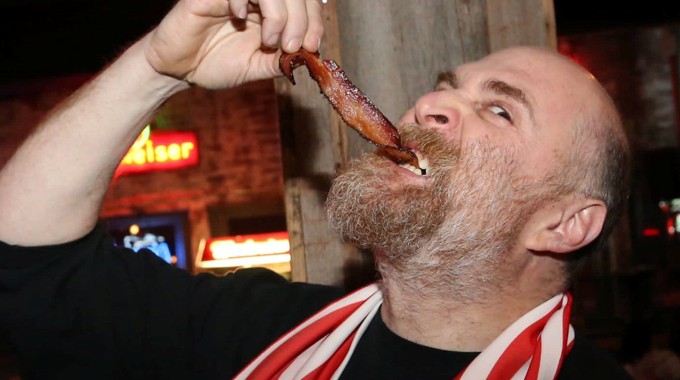 After last season's tumultuous first week of Big Brother 24 – we thought nothing can ever top that kind of drama. Well, the first week in the BB24 house has surely come close. With the events leading up to one of the HGs (possibly) prematurely going home still a little unclear, this week possibly could be even more bizarre. At the time I am writing this – the show is still going on as normal – meaning there SHOULD be an eviction tonight on BB24, but as the show's tagline goes – expect the unexpected.
BUT FIRST – let's take a look at everyone's first Big Brother week – and hand out some Bacon & Tofu.
Michael Bruner – 5 strips of Bacon – when you are on the block and win Veto – you get the best night sleep in the house. And most of the time that will end up getting you 5 strips of bacon in this column. I thought it was kinda silly when Michael was trying to channel his inner Janelle – but he did exactly what she would do – and good for him. Now let's see if he can keep this momentum going.
Daniel Durston – 4 strips of Bacon – ok, ok, I know the way Daniel handled the renom ceremony was pretty bad from the perspective of all of us on the outside of the house – however, this did him well to get respect from all of the players inside the house. The first week's HoH should do (almost) exactly what he did. Nominate 2 people that do not have many connections – and renom someone that the rest of the house wants out. I always say – this is a reality show – but it's more about perception than reality – and everyone will give Daniel a free pass next week – and perhaps several weeks to come.
Nicole Layog – 4 strips of Bacon – Nicole has set herself up in the best position going into week 2. While she does not have much more alliance wise outside of the Rogue Rats with Daniel – she seems to be the HG that people will share everything with. Knowledge in this game is power – and Nicole is absorbing all of this info – and holding it to be used later. She is seen as a non-threat early on – so expect her to keep this going.
Indy Santos – 3 strips of Bacon – gamewise – I have no idea where Indy's brain is. But in this stressful week – Indy has brought the silliness and humor that keeps us entertained. While her name is kind of popping up here and there as a potential week 2 nomination, I think she would be the lesser threat to whomever she is sitting next to. This could lead her to becoming a pera-pawn, which is a game that no one wants to play.
Ameerah Jones – 2 strips of Bacon – Ameerah's game so far has been kind of bland – but that is fine for week 1. Nothing is making her stand out from the others, and she has made a few allies & alliances. She almost derailed Michael's Veto manifest – but it's probably better for her that she did not win. That keeps her low profile intact.
Kyle Capener – 1 strip of Bacon – similar to Ameerah – Kyle's been laying low and seems to be getting more info than he is giving – which is a great thing to do early in the game. For now he is in the middle of his alliances – so he should be safe for several weeks. And more important – that annoying personality we saw in his intro package has not translated into an annoying personality in the house.
Jasmine Davis – 1 strip of Tofu – I am not sure if Jasmine is really this mean of a person, or if the mob rules mentality that has been going on has triggered her in a negative way. I will let time determine that. She does not really have many strong ties outside the Girl's Girls alliance – but she also has not done anything to get anyone to think of her as a target… yet
Turner & Pooch – 2 strips of Tofu share – these 2 talk to each other so much – and everyone is noticing. The fact that they don't really have much to say doesn't seem to matter to them. Did anyone think THIS would be the Bromance of BB24?
Joseph Abdin – 2 strips of Tofu – who? Yeah – he's there. I probably should have given him more tofu for volunteering to be a Have-Not without realizing exactly what it means to be a Have-Not. Lucky for him, there are other people that are playing worse.
Brittany Hoopes – 3 strips of Tofu – if all of the online polls are any indicator on who will end up winning safety from the fans, then Brittany is a lock to get it. However – she is already rubbing several people the wrong way (where have I heard that before?) – and is popping up on many player's radars, so look for her to be the next target. Plus if she does win safety from us – that may also be a reason players try to get rid of her – for the fear that she could get another "power" from the fans.
Terrance Higgins – 3 strips of Tofu – if you are wondering why the "old guy" always is an early target – just look at Terrance's game. Sure – a 47 year old man does not have a lot in common with 20 & 30 yr olds – but it's almost as if he's not even trying. This game moves fast and being a complete bystander week 1 made him an easy nominee. He may be spared by the witch hunt we are seeing take place – but this just means he will be an easy nominee moving forward.
Alyssa Snider – 4 strips of Tofu – I really think Alyssa knows how to play Big Brother as well as she knows her geography. She would tag along in the Taylor bashing when it would come up – but then also would act sympathetic. She even told Taylor if she had a vote, she'd give it to her. Was that damage control – or does she really think that after being told she did not have a vote – they would miraculously give her one?
Monte Taylor – 5 strips of Tofu – if only Monte believed Taylor – the madness could have all been avoided. This could come back and haunt him later.
That brings us to the first Tofurkey of the Week – and no doubt – this goes to Paloma Aguilar. To be fair – putting the target on someone else by lying & manipulating is what we have seen and applauded for years. However the way Paloma went about this was not game, it was personal. She just could not stand that Taylor was bonding with the boys and catty jealousy took over. However – that alone did not earn her the Tofurkey. Once Taylor was nominated – Paloma tried to be the one to pep talk her – and then went on to start to unravel. Since she got her way, Paloma thought she had this game won… on day 5.
Not only did Paloma start spending the $750K – she planned on sharing it with the rest of the HGs (by investing in their businesses). AND she was so cavalier in her convictions that she was convinced that we were putting her on our shoulders and touting her the Queen of reality TV – and that she was leading the charge to educate the world on how to be better people. If that was not enough to earn the T.o.t.W – she busted out the rulebook and left it on the table for others to read. She then acted surprised to see it. SMH. I do not want to speculate the reasons behind Paloma leaving the game (if the rumors are true) but let's just hope she can look back at this experience and see where she went off the track and can figure out a way to grow as a human.
If you noticed – I did not give Taylor Hale Bacon or Tofu. I really feel horrible for what she is going through – and while I try to keep this column funny & base it on gameplay – it would not be right to rate her. She really has not done anything wrong – and unfortunately, greed & envy have been unleashed and fell squarely on her. If for any reason she is still in the house tomorrow – my hope is that the tides change and she is no longer seen as the devil – when she has been nothing short of an angel. It must be really hard to hear that she rubbed people the wrong way by being nothing more than just sweet & real.
Ok… wow…. That was quite the first week. This is why it is great that we have feeds from day 1 – imagine if we did not know any of what went down? We got to see this situation unfold in real time and not the edited CBS version.
For my question of the week – who are you rooting for to win the next HoH and why? Please let me know in the comments section below! From outside the Big Brother house – I am Adam Poch reminding everyone to love one another!
Catch me here every week during the BB season for my rankings. If you want more of my thoughts during the season. follow me on Twitter @HeavyMetalTeddy – and listen to my Podcast – @BigBrothersPod.