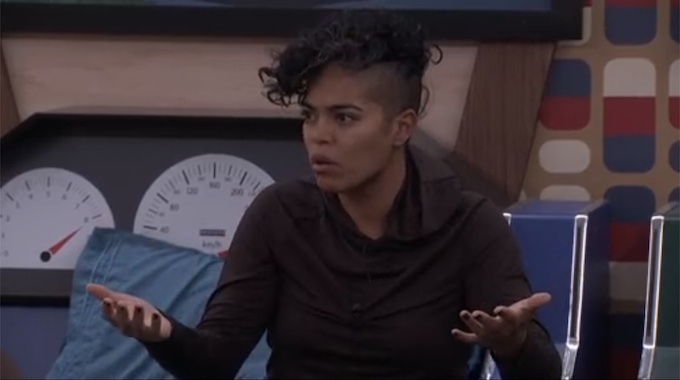 The Big Brother 24 house was turned on its side last night after a successful blindside left some houseguests questioning who they could trust. After last night's live eviction show, the Big Brother houseguests went on to compete in the Week 4 Head of Household Competition and a win by The Leftover alliance was imperative to keep the momentum going. Find out which BB24 houseguest is in power and their plan for this week right here!
After a 7-4 vote sent Ameerah out of the house and left some of the houseguests feeling a little uneasy, Monte went on to win the Head of Household Competition for Week 4. Monte's win keeps himself, Joseph, and Terrance safe for the week. The members of The Leftover alliance also have the numbers to keep each other safe.
Joseph and Monte talked about a couple of different routes for this week. One of them involved Monte nominating Nicole and Taylor for eviction with Nicole being the target, however, Monte wanted to make sure that Taylor was on board before pulling the trigger on this plan. He mentioned that they might want to keep Taylor off the block to try and build trust with her because she might be having a hard time trusting them and he doesn't want her to feel like they are just barking orders at her.
This led to a conversation late last night where Monte asked Taylor what she was thinking about when it comes to this week. All the other members of The Leftovers were in the room except for Turner. She tells them very honestly that she would prefer not to see the block again this week, however, she would also love to see Nicole go. She said that she would like to see a pair that hasn't seen the block yet go up first (Alyssa and Indy) and then if they take themselves down, they can go from there.
Monte asks Taylor if she would be comfortable in a backdoor situation and she gives him a look that implied she would rather not. At that point, Kyle mentions that at that point they have other options. He says that he could go up with Daniel since he doesn't think that anyone in the house would rather see Daniel stay over Kyle. They all agree that Daniel would go over Kyle if they were on the block on Thursday.
Before bed last night, Monte filled Turner in on the conversation that he had with the others. He tells Turner that Alyssa and Indy are the easy noms because they aren't members of The Leftovers alliance and The Leftovers would control the vote. For various reasons, Alyssa would likely be the target in this scenario if they should stay on the block. Monte and Turner also talked out backup plans in case Alyssa and Indy come down and they agree that Kyle and Daniel could be an option with Daniel being the target.
With all this being said, we could expect to see Alyssa and Indy on the block after today's Nomination Ceremony takes place. Do you think that this is a solid plan for Monte and the rest of The Leftovers alliance?
Download our Big Brother App, join us on Facebook & Twitter, and get our Email Updates for more!