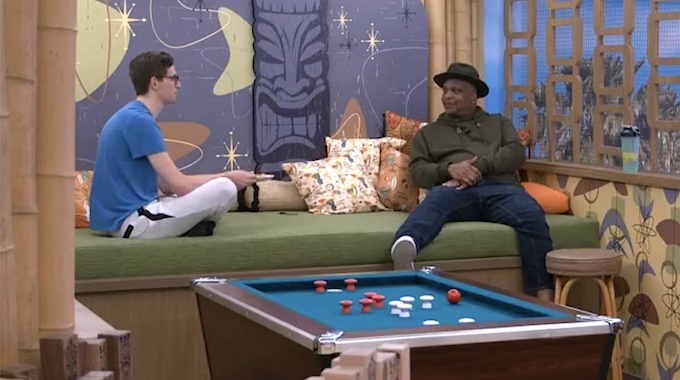 Update: Spoilers are in for the Veto Competition and it's going to shake things up!
The Head of Household for week one of Big Brother 24 has set his nominations in place and now it's time for the Power of Veto Competition to play out! We are expecting the Power of Veto to take place today inside the Big Brother house and we have a pretty good idea of what could happen depending on who wins today's competition. Read on to find out what the BB24 houseguests are planning to do if they play and win the Veto.
As we know, Daniel nominated Terrance and Michael at this week's Nomination Ceremony. When Daniel put them on the block, he told them that it was because they were the ones who talked the least game with him so far this week. Michael was surprised by this because he did talk to him the night before, however, Daniel confirmed that everyone else circled back before the Nomination Ceremony took place except for him and Terrance.
After his talk with Michael, Daniel spoke with Terrance to reassure him that he isn't his target this week. He tells Terrance that he thinks that Michael is a bigger threat and hopes that Terrance could win the Veto and take himself off the block. Terrance tells him that's his plan.
As soon as the Nomination Ceremony happened, the HGs started talking about which of the nominees they supported the most. Paloma told Michael that she doesn't want him to stress about going home this week because she and the rest of the girls have his back. Michael is worried though because three of the girls can't compete in the Veto including Paloma. He tells Paloma, Monte, and Joseph that at least he has a shot at the Veto and he isn't going to freak out until there is a reason to.
Terrance stepped up his social game last night talking to some of the houseguests about how he is feeling and reassuring them that if they were in his position, he wouldn't want to see them go. Also, Daniel, who previously said that he wasn't looking to influence the vote in any way, did tell Paloma and Turner that he would prefer that Terrance stays over Michael.
Terrance and Michael talked a bit last night about their nominations. Terrance wonders how the Backstage Twist is going to play a part in the eviction. He reminds Michael that even though they can't be nominated or put up as renoms, Julie said that their game could still be in jeopardy.
Update: Players have been picked for today's Veto comp. Ameerah, Turner, and Indy will join Daniel as HOH and his noms, Terrance and Michael. Kyle will be hosting. Not the worst draw for the nominees. We'll have to wait and find out later today how that all turns out though.
Be on the lookout for Power of Veto spoilers expected at some point today! Who would you like to see win the Veto?
Download our Big Brother App, join us on Facebook & Twitter, and get our Email Updates for more!