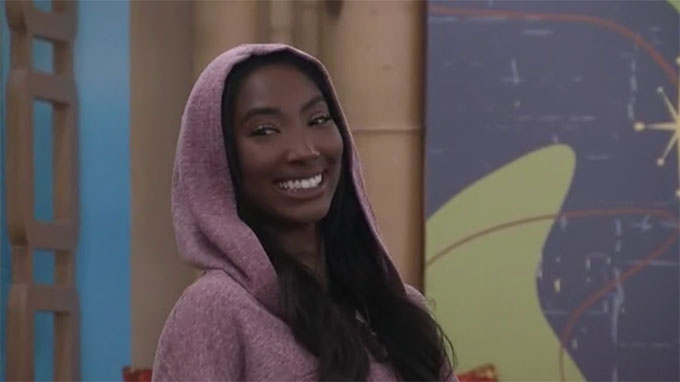 The Big Brother 24 houseguests spent the evening Friday reacting to the first nomination ceremony of the season. Both of Daniel's nominees weren't too shocked by the choices, but now they've both sort of woken up and seemingly realized they have to start playing the game a bit more than they were.
Talks went late into the night over who should be the target this week, which alliances may be forming, and who could be on the Block next round. Read on for all the latest from the overnight Big Brother Feeds.
If you've got the Live Feeds (Free Trial) then you can watch all of these moments with the Flashback feature to go back and watch those important conversations or funny scenes you may have missed.
Big Brother 24 Live Feed Highlights – Friday, July 8, 2022:
4:31 PM BBT – Feeds return from the nomination ceremony. Faces still on the memory wall confirm that Daniel nominated Terrance and Michael for eviction.

4:34 PM BBT – Monte asks Michael if he expected to be nominated. Michael said sort of, but Daniel's reasoning surprised him. Apparently Daniel used the excuse that Michael never came and talked to him but Michael says he did talk to Daniel last night and Daniel was the one who cut the conversation off.

4:35 PM BBT – Paloma tells Michael that the plan this week is bulletproof and she doesn't want him to worry about going home because she and the girls have his back. Michael tells Paloma, Monte and Joseph that there's still the veto to be played so he's not going to freak out or let himself get paranoid.

4:37 PM BBT – Monte says he was surprised that Daniel picked a have-not. Joseph agrees and says he didn't expect him to touch any of the have-nots. Joseph asks Michael if he talked to Daniel at all. Michael said yes, he talked to him the night before.

4:43 PM BBT – Michael goes to talk to Daniel. He tells Michael that he is on the verge of tears seeing Michael and Terrance after the nomination ceremony. He says it's harder than he ever thought it would be from just watching the show. He tells Michael that he and Terrance are both "dope." Daniel says he will understand if Michael doesn't want to talk to him the rest of the week. Michael says that's not how he feels and doesn't want Daniel to think he hasn't wanted to talk game with him. Michael says he has actually been wanting to talk game but didn't want to seem pushy.

4:45 PM BBT – Daniel acknowledges that Michael did actually talk to him but says the difference is that everyone else circled back the day of nominations whereas Michael did not. He said he felt better with those who double checked.

4:47 PM BBT – Michael tells Daniel that what he told him the day before still stands and that even though he put him up it doesn't change that he still wants to play the game with others who know the game and really want to play.

4:52 PM BBT – Michael says that he won't come after Daniel next week and says if there's anything Daniel can do to help him stay he wouldn't forget that. Michael says he just wants him to know he's not mad. Michael says it's not a position he wanted to be in, but he's not going to let it kill the vibe.

4:53 PM BBT – Michael says he just hasn't had a chance to talk to many people and hoped that things would kick in after nominations. Daniel said it was pretty quiet in the house before the ceremony but now everyone has gotten a wake-up call.

4:57 PM BBT – Terrance goes to talk to Daniel too. Daniel tells Terrance his heart is breaking. He says he almost lost it when he looked in his eyes. Terrance tells him not to feel bad. Daniel tells him that he is not a target now or ever in his eyes. Terrance says he should have been more social and proactive but he was just feeling like he didn't fit in.

5:00 PM BBT – Daniel tells Terrance that he hopes Terrance can win veto and save himself. Terrance says he plans to do just that. Daniel implies to Terrance that Michael is a threat and the target.

5:15 PM BBT – Paloma and Monte agree that their alliance has the votes to save Michael. Paloma says she can talk to Daniel and get the target off Michael because she has Daniel "wrapped around my finger." She says she is the one who gave Daniel the plan to put Michael up as a pawn, but adds that was before Michael was in their alliance that she's calling Mamba.

5:18 PM BBT – Michael and Terrance talking about being on the block together. Michael says hopefully they're both still here come Thursday. Terrance says the backstage twist may change everything and could save both of them some how.

5:33 PM BBT – Amerrah tells Michael that she thinks he has more protection than Terrance. Ameerah says Terrance hasn't spoken to her and she thinks that people of color are afraid to speak to each other after last season.

5:37 PM BBT – Michael and Ameerah discuss their alliance. Michael says he's so relieved that Paloma came up to him about the alliance. She says they have a good group and imply that he will be safe this week.

5:42 PM BBT – Michael is worried though that the backstage pass people can't vote. He says that's three votes he could have had. Ameerah tells Michael she will definitely vote to save him.

5:54 PM BBT – Ameerah tells Jasmine she bets America isn't happy with these nominations because Daniel didn't target any of the big players. Ameerah says America always wants the big players out. Ameerah says the approach Daniel took is boring.

6:12 PM BBT – Ameerah and Paloma talk about bringing Michael into their girl group after they save him this week.

6:15 PM BBT – Paloma and Ameerah agree that the Mamba alliance is locked in. They say that's their final six.

6:45 PM BBT – Houseguests are all having dinner.

7:00 PM BBT – HGs are going around the dinner table one-by-one expressing what they're grateful for.

8:44 PM BBT – Turner and Alyssa talk about making an unexpected group of four with the two of them and Paloma and Pooch.

8:52 PM BBT – HGs are just all hanging out, general chit-chat going on.

9:11 PM BBT – Pooch goes to Daniel to check to see who the target is or who he wants to go home. Daniel says the best thing to do is just wait to see how veto plays out.

9:13 PM BBT – Daniel says he likes Terrance a little more than Michael. Pooch says he agrees.

9:15 PM BBT – Daniel tells Pooch and Taylor he doesn't plan to tell anyone who to vote out. He says for now there's no actual target. Daniel says he was happy that Michael and Terrance took it in stride and he was impressed they both came up and talked to him after the ceremony.

10:00 PM BBT – Paloma talks with Ameerah, Brittany, and Joseph as she complains about Taylor making comments and her not fitting in well with the other girls.

10:25 PM BBT – Alyssa tells Paloma they should save Michael over Terrance. She tells Paloma she saw Daniel, Taylor, and Nicole together in the HOH room so she thinks they are working together.

10:30 PM BBT – Paloma says she would nominate Taylor if she gets HOH next week. Alyssa wants Pooch out as a BD.

10:50 PM BBT – Taylor is explaining to the HGs how the Miss USA and Universe pagaents work.

11:30 PM BBT – Terrance talks with Ameerah about his nomination. He wants to fight hard for the Veto and hopes he's up against weaker players. Terrance is concerned Michael could perform well at mental comps. Terrance tells Ameerah if she was up that he wouldn't want her out first.

11:40 PM BBT – HGs are still hearing backyard construction for the next comp and wonder what it will be.

11:45 PM BBT – Michael is upstairs with Kyle, Monte, and Paloma. He doesn't know who he will pick for Veto if he gets the choice since he doesn't want to make it obvious they're all working together.

12:15 AM BBT – Joseph talks with Monte in Storage. Joe thinks HGs are already forming their alliances and believes Michael could be a ride or die for the two of them.

12:50 AM BBT – Brittany talks with Taylor about the women in the house. Taylor thinks they might want to work together but are waiting to see what the guys are doing and what's going on with the Backstage twist.

1:05 AM BBT – HGs discuss wanting to get back outside. Someone mentions they only get out a few times each week and the HGs are stressed.

1:25 AM BBT – Michael asks Taylor if she's heard anything about a Backdoor plan. She hasn't and thinks it'd be surprising if there was one.

1:30 AM BBT – Monte and Alyssa are trying to figure out the show schedule. He thinks the live shows are Sunday and Alyssa suggests Thursday.

3:00 AM BBT – Daniel is with Paloma and Turner in the HOH room. Daniel wants to keep Terrance over Michael.

3:20 AM BBT – Monte tells Kyle he thinks the guys will do better because they'll be less sensitive to criticism in the house. Monte doesn't like the idea of the girls riding their coattails and expecting the guys to win the comps for them.
Earlier in the night Daniel was saying he doesn't want to influence the votes but later he's definitely suggesting Michael be the one to go. Nothing is settled yet though with the Veto waiting in the wings. We're expecting that POV comp on Saturday so get ready to find out who controls the chance to break up the Block and force a new nomination for Daniel in Week 1.
You can watch all of these Big Brother events using the archives Flashback, the DVR-like feature of this year's Live Feeds which means it's always live, even when you missed it! Sign-up now to get the free trial to watch it all live & uncensored.


Gallery: Live Feeds Highlights
Download our Big Brother App, join us on Facebook & Twitter, and get our Email Updates for more!