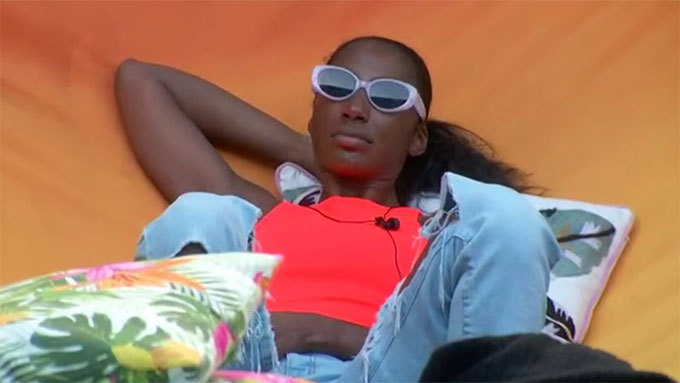 The Big Brother 24 house remains tense and uncomfortable after the events of the past several days, but the houseguests are finally starting to discuss plans beyond this week. Brittany and Michael don't want to promise themselves they'll only target Terrance or Alyssa next, and Turner and Monte have agreed that as soon as there's a clear shot at Michael they'll have to take it. Read on to get details on those conversations and others had on the Live Feeds Tuesday evening.
If you've got the Live Feeds (Free Trial) then you can watch all of these moments with the Flashback feature to go back and watch those important conversations or funny scenes you may have missed.
Big Brother 24 Live Feed Highlights – Tuesday, August 30, 2022:
4:25 PM BBT – Most everyone is hanging out in the kitchen, making food or snacking and chit-chatting.

6:22 PM BBT – Terrance tells Turner and Alyssa that they have each other and he doesn't know what he'd do in the game without them.

6:33 PM BBT – Brittany tells Michael that he's playing the best game and if he makes it to the end, he wins. He asks her if she thinks so because he says he never thinks comp wins are enough to win the whole game. Brittany says it's more than comp wins. He says he knows how to talk to people, and properly listen and be quiet enough that he doesn't have to lie as much as she's had to lie.

6:36 PM BBT – Michael wonders if he and Brittany should at least try to talk to Alyssa in case she wins HOH. He says they need to at least try to buy themselves another week.

6:46 PM BBT –  Brittany says she's going to honor what they told Monte about keeping Turner safe next week, but for her it would be a no-brainer to put Turner up. She says he's good at comps and she doesn't trust him. But she doesn't want to go back on her word. She says that leaves Terrance, Alyssa and Monte. Michael says they have to keep who they can beat.

7:47 PM BBT – Monte says to Turner why would he want to be in that Final 4 with Michael, Brittany and Taylor. He says he would be out at four. Monte says if those girls don't go after Michael, then they're all getting second or third or worth. Monte says if Michael gets to the end, he deserves to win.

7:48 PM BBT – Turner and Monte agree that Michael would take Brittany to the Final 2 because he would beat her easily. Turner says at this point, the pecking order is clearly, Terrance, Alyssa, Turner, Monte, Taylor, Brittany and Michael as the winner.

7:50 PM BBT – Monte says they need to really get Taylor and Brittany to see that they can't keep Michael all the way to the end. Monte says they have to start with Taylor and maybe Taylor can help get Brittany on the same page.

7:51 PM BBT – Monte says he talked to Taylor once about how even the competitions Michael lost he could have won (like letting Brittany win that one veto). He says he's been trying to plant seeds to Taylor to make sure she is OK with him taking the shot at Michael when the chance is there.

7:52 PM BBT – Turner and Monte say the fact that Michael didn't use the veto on Taylor this week should show her that she's third place at best because Michael will always take Brittany over her.

7:53 PM BBT – Monte and Turner agree that there might only be one shot at Michael and they have to take it, even if it's as soon as next week. They agree that if they wait, the chance might not happen again.

7:55 PM BBT – Monte says it's good that Turner has been hanging with Michael and Brittany more. He says that's going to help them both stay safe. Monte says hopefully that Final 4 they think Monte is in keeps him safe, and Turner taking the shot at Kyle this week keeps Turner safer another week. That way Terrance or Alyssa is the solid target next week.

7:58 PM BBT – Turner says that there has to be one veto competition Michael can't win. Monte thinks if there's a more sports-related competition he could maybe beat him.

8:01 PM BBT – Turner says best case is Alyssa pulls through just once and wins HOH. Monte agrees, and says that way one of those three (Michael, Brittany, Taylor) would go.

9:25 PM BBT – Kyle has been slowly resurfacing. He has dropped the blanket and is playing pool with Monte outside now.

9:31 PM BBT – Michael and Taylor hope that next week things feel more back to normal. Taylor asks Michael if Terrance or Alyssa have tried to propose anything to him. He says no. She says same and if "you don't bring anything to me, then I know where you are." Michael says Alyssa has kind of hinted to him she wanted to talk game, but nothing concrete.

9:40 PM BBT – Monte is working on Kyle for information. He tells Kyle he wants to target Michael. Monte questions the timing on Michael and Brittany revealing their info about Kyle.

9:45 PM BBT – Kyle continues to hold back on details from Dyre Fest that Monte is trying to get out of him. Kyle does say he felt left out from the Leftovers and when he got to Dyre Fest he thought he had to tell Terrance about LOs before Joseph did.

10:00 PM BBT – Monte tells Kyle that he feels like Taylor is blind to what Michael and Brittany are doing in the game.

11:45 PM BBT – Alyssa is back to flirting with Kyle, just hours after they "broke up."

12:00 AM BBT – Alyssa asks Kyle if she can tell HGs they had sex after she heard Taylor saying no condoms had been used. Kyle doesn't want her to do that because it will lead to questions about what it was like.

12:45 AM BBT – Kyle and Alyssa have still be laying around in bed. She kisses him again.

1:00 AM BBT – Alyssa keeps trying to get closer to Kyle and he keeps telling her no. He says he thinks she'll regret this.

1:15 AM BBT – Turner, Taylor, Monte, Michael, and Brittany are outside sitting around and chatting.

1:35 AM BBT – Kyle and Alyssa start fooling around. Feeds cut to the backyard.

2:10 AM BBT – HGs outside are placing past Big Brother seasons on the alignment chart for lawful, unlawful, chaotic, etc.

2:15 AM BBT – Lots of chatter about old seasons.

2:30 AM BBT – Alyssa assures Taylor she (T) is not going home this week. They discuss what all Kyle has done. Taylor was surprised they got a house meeting and his game was laid out so openly.

3:00 AM BBT – Michael, Brittany, Taylor, Alyssa, and Turner sitting around the backyard table and talking about life backyard, etc.

3:20 AM BBT – Michael and Alyssa are getting ready for bed.

4:00 AM BBT – Taylor, Turner, and Brittany are still hanging out in the backyard.
Kyle is still sunk but Alyssa is back in his arms after declaring they had to break up. He'll be off to Jury and the next move for Monte sounds like he wants to have Michael follow Kyle out the door if he can swing it. We'll have to see which way these end game alliances turn out.
You can watch all of these Big Brother events using the archives Flashback, the DVR-like feature of this year's Live Feeds which means it's always live, even when you missed it! Sign-up now to get the free trial to watch it all live & uncensored.


Gallery: Live Feeds Highlights
Download our Big Brother App, join us on Facebook & Twitter, and get our Email Updates for more!