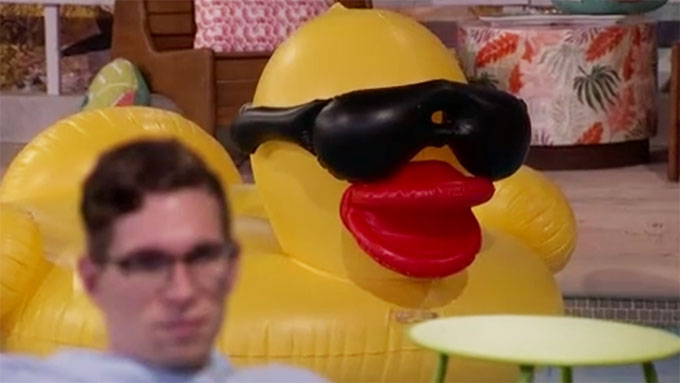 After a very dramatic couple of days in the Big Brother 24 house, the houseguests have cooled down and the dust has settled a bit. Most of the discussions Monday evening centered on sending Kyle out this week, with the only actual resistance coming from Terrance who says he thinks Kyle should stay this week so he can learn and grow from all of this. Monte is having none of that talk, though. Read of for all the details.
If you've got the Live Feeds (Free Trial) then you can watch all of these moments with the Flashback feature to go back and watch those important conversations or funny scenes you may have missed.
Big Brother 24 Live Feed Highlights – Monday, August 29, 2022:
3:47 PM BBT – Turner and Monte go over the pros and cons of keeping Kyle. Turner says he sees more cons to Kyle staying. Turner says he doesn't want to be grouped in with Kyle at all. Monte says he agrees.

3:48 PM BBT – Turner tells Monte that he doesn't think Michael will put them up. Monte agrees and says they are fine and that Kyle's actions shot him in the foot.

3:50 PM BBT – Monte says he doesn't understand why Terrance still wants Taylor out so much. They agree that Terrance wanting Kyle to stay so he can learn and grow from this is BS. They say he only wants Kyle to stay for his own game reasons.

3:51 PM BBT – Turner says he feels like a lot of people are using all this for game reasons. Monte says even Michael and Brittany are. Turner says for sure and adds that they had weeks to reveal all of this but didn't do it until right before a veto meeting to save your friends.

3:53 PM BBT – Monte says it's hard for him to not consider the timing of all of that with Michael and Brittany. Turner says after Taylor gave her moving speech at the veto ceremony and Michael still used the veto on Brittany instead he didn't understand what they are even doing this week. He says he's not going to go into that any deeper, but he was like "huh?"

4:11 PM BBT – Turner tells Monte that his allegiance is now to Turner. Monte says the same goes for him. Monte says they need to fight to beat Michael at comps and says that they need each other to be able to beat Michael.

4:13 PM BBT – Monte says the fact that Terrance was even entertaining the idea of keeping Kyle shows his thinking in the game. Monte says if Terrance wins HOH he is going to go after the next big target.

4:30 PM BBT – Brittany is doing another meditation class with the HGs.

5:10 PM BBT – Kyle has been laying very low and quiet. He's on the feeds but not talking to anyone and is barely showing his face.

5:20 PM BBT – Now Kyle is blanketing.

6:02 PM BBT – Michael, Brittany and Taylor talk about the vote. Brittany says Monte would be the swing vote if Alyssa and Terrance vote to keep Kyle. Michael asks why they'd put Kyle up if they wanted to keep him. Taylor says they didn't really have a choice.

6:04 PM BBT – Michael says he trusts Monte to vote with them. Taylor says she told Monte that she told Turner he wouldn't go up next week or anytime soon.

6:22 PM BBT – Monte tells Taylor Terrance can't be trusted. He tells her that Terrance came to him about keeping Kyle this week. Taylor says Terrance also said that to Brittany.

6:25 PM BBT – Monte says he wouldn't go after Turner because he did the right thing this week.

6:26 PM BBT – Monte asks Taylor if he's HOH and there's an opportunity to take a shot at Michael he hopes they respect that. Taylor says she will respect that.

7:30 PM BBT – Houseguests are just hanging out, chit-chatting.

7:54 PM BBT – Turner is going over Terrance's idea to let Kyle stay in the house to learn and grow. Brittany says that's the same thing he said to her. Taylor tells Turner that she appreciates him following through on putting Kyle up and everyone agreeing to send him out over her.

7:57 PM BBT – Brittany says that the intent to share what Kyle said wasn't about game. She said that people deserved to know and that she would have told people no matter who she was sitting next to on the block this week.

7:58 PM BBT – Turner says he wanted them to know that he wasn't entertaining the idea of Kyle staying and that it was all Terrance. Michael says yeah, it wouldn't have made sense to put Kyle up and then try to save him.

8:04 PM BBT – Turner, Brittany and Michael are rehashing what happened when they were split up. Turner says he was indifferent in the end about who went between Joseph and Kyle, but since he was a little closer to Kyle he voted Joseph out. Michael and Brittany say it was very easy to vote Jasmine out.

8:05 PM BBT – Turner says he wants to ease into trying to get things back on track, but asks Brittany and Michael is they win HOH, will they go after people who weren't in the Leftovers. Brittany says it wouldn't be him regardless. Turner says that's all he cares about. Turner says he would still love the Final 5 be people who were in The Leftovers. Michael and Brittany agree and Michael makes a joke about reheating The Leftovers.

8:07 PM BBT – Brittany says she's been very careful about making promises after all of this. She says she can't be involved in anymore lying. Turner says he's with her on that. They all agree how exhausting the past 48 hours have been.

8:08 PM BBT – Turner confirms to Brittany and Michael that Terrance and Alyssa knew about The Leftovers before they were all reunited. Michael says they could tell Alyssa knew from the way she was grilling Brittany.

8:09 PM BBT – Turner confirms that Kyle exposed The Leftovers on Day 1. He says he didn't know that it was exposed for days. And said by the time he found out Joseph had been revealing secrets too.

8:10 PM BBT – Turner said he felt so betrayed by everyone in the group after that, and hearing that Turner was going to be the first to go from the Leftovers. He said he really felt like he was the one on the outside. So that's why it was so easy for him to put up Taylor and Brittany.

8:11 PM BBT – Turner tells Michael and Brittany that he was trying to protect everyone and then felt betrayed by everyone.

8:40 PM BBT – Kyle tells Alyssa that today was the hardest day of his life.

9:05 PM BBT – Terrance tells Kyle he thinks it might be good to keep Kyle so he can have another week to grow and improve things. Terrance says the others don't feel this way. Terrance goes on for a 30+ minute discussion with Kyle on what's been revealed over the past few days.

9:40 PM BBT – Alyssa lets Turner know she feels like Kyle wasn't really protecting her in the game. She was upset to hear Kyle had a F2 with Turner. She doesn't think she'll be together with Kyle after the season is over. Alyssa doesn't want to be the only one to vote to keep Kyle.

9:45 PM BBT – Alyssa tells Turner she is not a showmance with Kyle, she's his girlfriend and they tell each other they love one another.

10:20 PM BBT – Alyssa asks Turner not to tell Kyle what she's been telling him. She thinks they will break up this week.

10:25 PM BBT – Alyssa says her targets would be Michael and Brittany. Turner still wants Taylor out but says that's Monte's call. Turner tells her if Kyle is gone then she won't be tied to his game anymore. Turner is okay with Kyle going after he exposed their F2 yesterday at the house meeting.

10:40 PM BBT – Taylor tells Brittany that Monte is interested in their F3 together. Brittany would like to keep Michael to F4. Taylor thinks Monte will want to take that shot sooner. Brittany says Michael will be a shield for them the longer he stays.

11:35 PM BBT – Brittany says she would put up Alyssa for lying to her after they said they wouldn't lie to each other anymore.

11:45 PM BBT – Brittany, Michael, Monte, and Taylor are gathered at the hot tub. They all agree that they don't believe the stories being told about Joseph from Dyre Fest.

11:50 PM BBT – Alyssa comes out and breaks up the game talk at the hot tub.

12:15 AM BBT – Turner pitching to Monte about keeping Kyle to be a F5 (After Party + Monte).

12:20 AM BBT – Monte shares with Turner that Brittany & Taylor are worried Michael would beat them at the end.

12:25 AM BBT – Turner is worried Taylor will nom him next week and says that M&B won't share who they want out next. Turner thinks they're keeping him on the outside. He thinks the next noms will be Alyssa & Terrance then he'll be the renom.

12:30 AM BBT – Monte is trying to help Turner with ideas on regaining trust with Michael and Brittany.

1:55 AM BBT – Brittany and Taylor discuss that they've promised Turner safety next week, but Monte hasn't (they don't know how close Turner & Monte are). Taylor says they can shift between a F3 with either Michael or Monte. They want Turner out so Monte will be focused on them.

2:00 AM BBT – Brittany says they'd have a better chance at winning the final comps against Monte than Michael.

2:05 AM BBT – Brittany tells Taylor she isn't worried about Terrance. He got HOH even though he didn't win that comp and then he got the least windy spot in the backyard and won the stacking contest.

2:10 AM BBT – Brittany asks Taylor if Michael told her why he saved her (B) over Taylor with the Veto. Taylor says Michael thought the vote was more likely to flip against Brittany than her.

2:45 AM BBT – Monte, Michael, and Turner were hanging out and chatting. They break up the talk to get ready for bed.
Nothing changed for Kyle overnight. Terrance wants to keep Kyle, maybe because it was his first alliance of the game. Turner wants to keep Kyle, because he knows the thread he's hanging on is running out. Neither are going to get their wish. Three votes sends out Kyle this week with Monte, Michael, and Brittany.
You can watch all of these Big Brother events using the archives Flashback, the DVR-like feature of this year's Live Feeds which means it's always live, even when you missed it! Sign-up now to get the free trial to watch it all live & uncensored.

Gallery: Live Feeds Highlights
Download our Big Brother App, join us on Facebook & Twitter, and get our Email Updates for more!