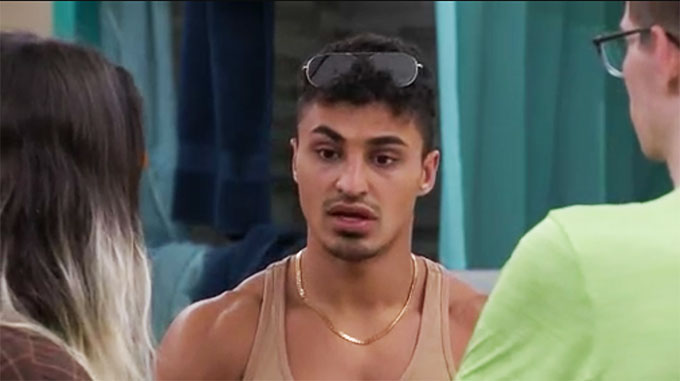 It was a wild night in the Big Brother 24 house as the Feeds revealed who won Head of Household and the fallout from Ameerah's blindside eviction took hold of the entire house. The Leftovers worked to cover their tracks, and those now on the outside tried to figure out what went wrong and why they weren't a part of it.
There was also already discussion on who the next target could be. Read on to find out who that is, and catch up on all the drama that went down Thursday night.
If you've got the Live Feeds (Free Trial) then you can watch all of these moments with the Flashback feature to go back and watch those important conversations or funny scenes you may have missed.
Big Brother 24 Live Feed Highlights – Thursday, July 28, 2022:
8:48 PM BBT – Feeds return. Monte is wearing the HOH key.

8:52 PM BBT – Joseph tells Terrance that he and Monte have got his back. Terrance says the energy feels sh*tty because he's still here. Joseph says they were sending him home but he and Monte weren't having it.

8:55 PM  BBT – Kyle and Jospeh discuss how to explain why the vote flipped onto Ameerah. They plan to stick to the same story that the Po's Pack alliance was outed and everyone panicked.

8:56 PM BBT – Terrance says he knows exactly who voted him out – Jasmine, Alyssa, Indy, and Nicole.

9:02 PM BBT – Michael and Kyle say they are owning up to their vote. Kyle says he's going to say Brittany confronted Michael about Po's Pack so that will show he didn't leak the alliance.

9:04 PM BBT – Michael says he already owned up to his vote because Nicole, Indy, and Alyssa confronted him before the live show was even over. Joseph says when they ask why tell them it's because Brittany asked him about Po's Pack.

9:05 PM BBT – Michael says Nicole said it had to be Alyssa that leaked the Po's Pack alliance. Kyle says OK, so they just play on that.

9:07 PM BBT – Daniel asks Nicole if she knows what's going on. She says she has no idea but Brittany said she changed her vote right before the show started. Daniel says that Michael voted Ameerah out. Nicole confirms that Michael did. Daniel says Michael is in on it then. Nicole says they're all in on it. Nicole says she can't trust anyone.

9:11 PM BBT – Nicole says she just hates being blindsided and that they could have told her about the vote changing. Nicole says her not knowing means she's probably next.

9:13 PM BBT – Nicole says she wouldn't be surprised if Taylor is working with them. Nicole says if she and Taylor goes up then she (Nicole) goes home now. She says whatever Taylor offered or promised them, they ran with it. Nicole says they now have a female willing to work against the females.

9:18 PM BBT – Kyle tells Daniel that Michael and Nicole told him that Brittany knows about Po's Pack and he realized the house was flipping so he just went with it.

9:26 PM BBT – Jasmine says hopefully Monte's target is still Taylor. She says she just wants to be able to fight when it's her time. She says she really doesn't want to go on slop either.

9:35 PM BBT – Brittany tells Alyssa that she heard about the alliance and that Michael was a part of it, so she asked him and he confirmed. She said she realized she wasn't in that alliance and would end up as one of Ameerah's targets.

9:45 PM BBT – Monte comes out of the Diary Room. It's time to pick have-nots. Everyone assembles and Indy and Alyssa get to choose the new have-nots since they are the outgoing ones. Indy says Brittany and Michael, but then says never mind because Michael would be on slop for his birthday. They pick Turner and Jasmine. 

9:57 PM BBT – Turner, Joseph and Michael going over how to spin this whole thing to cover up their alliance. Jospeh tells them that Jasmine is pissed because she wasn't in that Po's Pack alliance. 

9:58 PM BBT – Joseph tells Turner to pin revealing the Po's Pack alliance on Alyssa.

10:00 PM BBT – Joseph is tired of Nicole's attitude. He says people in the house are getting very disrespectful and he's not going to tolerate it. 

10:01 PM BBT – Nicole and Jasmine going over the votes. Nicole tells her that Brittany voted to keep Terrance. Jasmine is surprised. Nicole then says Michael told her he was approached before the vote and told to vote with them or else. Nicole seems to think Michael was strong-armed into voting for Ameerah to go. 

10:04 PM BBT – Nicole, Indy, and Jasmine say they don't want to talk to Brittany. Indy says next week someone better pick "that bitch" Brittany for slop.

10:04 PM BBT – Nicole says Brittany will be here next week because she did what "they" told her to do. Jasmine asks who is "they" and Nicole say exactly.

10:05 PM BBT – Nicole wonders if she's going to be Monte's target since she yelled at him last week. Jasmine says she can't imagine that Monte would target her (Jasmine).

10:06 PM BBT – Joseph covering his tracks with Daniel. Joseph tells Daniel he wasn't in any alliance and Daniel says he believes him. Joseph says if someone is starting something, he wants to be a part of it. Joseph says he voted for Ameerah to go home but only because he thought Terrance was safe. Daniel says that he hopes Monte knows he's still all in with the boys.

10:09 PM BBT – Joseph tells Daniel he was heartbroken to learn Ameerah started an alliance without him. Daniel says same thing for him.

10:10 PM BBT – Daniel tells Joseph that Nicole is very vulnerable now. Joseph says he doesn't think Nicole knew about that alliance (he knows she knows). He says he doesn't know about Kyle, Indy or Alyssa. He says he just doesn't know who was in that Po's Pack alliance.

10:11 PM BBT – Joseph says he knew the alliance rumor was true when she went home because that means the alliance turned on her when they heard the rumor was getting around.

10:12 PM BBT – Joseph tells Daniel that he thinks it circles back to Taylor and he hopes Monte targets her this week. Daniel says he knows that Monte doesn't like Taylor, and has wanted her to go home since Week 1.

10:14 PM BBT – Joseph says they can protect Nicole if she and Taylor are on the block. He said this time they can really send Taylor out.

10:18 PM BBT – Jasmine tells Alyssa she feels so stupid. Daniel walks up and explains that he did give Terrance a pity vote and Ameerah knew that he was going to do that. He just didn't know his vote was going to help send her home.

10:21 PM BBT – Jospeh tells Monte the things he said to Daniel and how Monte could use those ideas to nominate Taylor and Nicole so they can target Nicole.

10:30 PM BBT – Joseph lets Taylor know the usual HGs are still after her. He explains she'd be safe if she's up against Nicole and they'll protect her. Taylor isn't thrilled. He says they can find another option this week if she isn't comfortable.

10:40 PM BBT – Turner, Taylor, and Joseph discuss Nicole getting upset at HGs. They want her gone. Joseph points out Taylor can then join another pair and be free from Nicole.

10:50 PM BBT – Indy and Daniel have been trying to figure out who flipped the vote.

11:05 PM BBT – Alyssa tells Monte she still wants to work with him and Kyle. She doesn't understand why she voted on the opposite side because she believes showmances are supposed to work together. (Alyssa seems to believe she is in a showmance with Kyle.)

11:15 PM BBT – Daniel and Nicole believe Taylor is working with the majority now. They're sure Terrance knew the flip was happening.

11:35 PM BBT – Monte lets Jasmine know that Daniel and Nicole may have known from Turner that Ameerah & Terrance were getting renom'd.

11:45 PM BBT – Monte tells Jasmine he won't put her on the Block because of her ankle.

11:50 PM BBT – Nicole ranting about having to be everyone's mom and she's upset about being lied to and would rather be isolated.

12:10 AM BBT – Monte talks with Joseph about the noms. Monte suggests maybe they shouldn't put Taylor up this week because they need her trust and her vote.

12:30 AM BBT – Nicole is talking with Monte and tells him she knows what the votes were.

12:40 AM BBT – Alyssa and Indy are trying to make sense of what happened. They're confused and discuss how Ameerah was alleged to have many alliances.

12:50 AM BBT – Monte tells Nicole that Taylor overheard Po's Pack being discussed and that's what led to Ameerah's eviction.

1:10 AM BBT – Nicole is pushing to Monte that Taylor is still his enemy in the game and wants to BD him.

1:15 AM BBT – Indy and Alyssa are confused about Nicole and if they could trust her because she voted with them.

1:25 AM BBT – Nicole tells Taylor if they go up then to let her know how she needs to play in the Veto.

1:55 AM BBT – Who wants to see Monte's HOH room?

2:45 AM BBT – HOH room reveal event starts to wind down and HGs are leaving. Jasmine, Indy, and Alyssa go to the HN room. They discuss Nicole and if she can be trusted.

3:00 AM BBT – Jasmine is asking for someone to make her Slop. She would like some extra items upstairs.

3:05 AM BBT – After all the non-LOs leave the HOH room the Leftovers celebrate their big night.

3:30 AM BBT – Nicole suggests Ameerah snubbing her on the way out the door may have helped her position in the house.

4:40 AM BBT – Brittany, Michael, and Taylor discuss a F3.
What a night of Feeds! The fallout continues from the Leftovers' surprise move on the other HGs and there's a lot of scrambling left to do for them to figure out what's going on. They won't have much time to get their feet on the ground though as
You can watch all of these Big Brother events using the archives Flashback, the DVR-like feature of this year's Live Feeds which means it's always live, even when you missed it! Sign-up now to get the free trial to watch it all live & uncensored.

Gallery: Live Feeds Highlights
Download our Big Brother App, join us on Facebook & Twitter, and get our Email Updates for more!