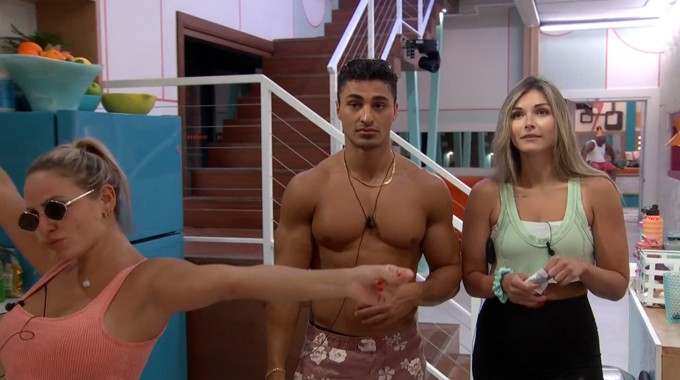 With all the excitement of the Veto on Saturday, the Big Brother 24 Houseguests needed a little rest and downtime on Sunday. Most of them took advantage of that except for Terrance and Daniel who suddenly turned into Pinky & The Brain with their game move to flip the house and send out their own target this week. I'm sure that'll work out great for them.
If you've got the Live Feeds (Free Trial) then you can watch all of these moments with the Flashback feature to go back and watch those important conversations or funny scenes you may have missed.
Big Brother 24 Live Feed Highlights – Sunday, August 7, 2022:
10:15 AM BBT – HGs got their wake-up call.

10:25 AM BBT – Taylor is outside enjoying the morning. Most HGs are still in bed or wandering around still getting up.

11:30 AM BBT – Michael is studying with the Chinese checkers board.

11:35 AM BBT – Taylor camtalks that she'd send Terrance out next if she wins HOH.

12:15 PM BBT – General chatter among the HGs about life back home.

1:00 PM BBT – Terrance working on Joseph to secure support on targeting Monte.

1:10 PM BBT – Terrance tells Daniel that he thinks Joseph is on board to target Monte. They want to get Joseph to talk with Michael.

1:25 PM BBT – Terrance and Daniel think the real showmance threat in the house could be Monte and Indy, not Alyssa and Kyle.

1:30 PM BBT – Daniel is excited and thinks they have a shot at pulling this off. (They don't.)

1:40 PM BBT – Joseph lets Monte know that Terrance is gunning for him. Monte thinks that's a bold move for Terrance to have approached Joseph with the idea.

1:55 PM BBT – Daniel is excited to realize they would need just four votes to pull this off.

2:35 PM BBT – Joseph updates Taylor about what Terrance is doing.

2:45 PM BBT – Terrance is telling Jasmine about the moves he's making in the game. They feel Indy will go along with their plan.

3:15 PM BBT – Brittany and Taylor discuss Taylor's experience in pageantry.

3:35 PM BBT – Indy explains to Jasmine how currency exchanges work. Jasmine doesn't get it.

4:30 PM BBT – HGs have the camera and are taking photos around the house.

4:35 PM BBT – Taylor and Joseph joking about coming up with a name for them together. They're joking around and being a little flirty.

5:30 PM BBT – Picture time continues around the house.

6:00 PM BBT – Michael and Brittany discuss this whole Monte idea. They say if those HGs want Monte out then maybe those same HGs will go for him later instead of them getting Monte out for the others. They discuss Jasmine lowkey threatening them if they don't go after Monte. Michael says he could just put her up and she'd go home for her birthday. Brittany wants to make sure they convey to Monte how against him those HGs are being.

6:10 PM BBT – Alyssa and Kyle are hanging out and chatting. He wonders if they'd get along outside the house.

6:25 PM BBT – Brittany talks with Joseph and reflects how the Girls Girls alliance cut her and Taylor out and look how it turned out. She's glad.

6:35 PM BBT – Brittany tells Michael that Taylor says she likes Joseph.

6:45 PM BBT – Alyssa and Kyle are still hanging out and kissing.

7:00 PM BBT – HGs goofing around about working out and leading a big session for the camera time they got.

8:00 PM BBT – HGs have stopped their workout and gather on the balcony to enjoy the sunset.

8:30 PM BBT – Terrance talks with Turner and says they have the votes to get out Monte. Turner is nonplussed at the suggestion.

9:30 PM BBT – Monte and Michael upstairs chatting. They wonder why production gave them booze tonight out of the blue.

10:10 PM BBT – Jasmine and Terrance discuss if Michael will really go after Monte on Monday. Terrance is doubtful and worries that if his coup plans are discovered he could become public enemy #1.

10:20 PM BBT – Daniel pitching to Michael, Kyle, and Brittany that he has votes already with Alyssa and Jasmine so if they help he could stay. Daniel says they could get Monte out and wouldn't get any grief from Joseph or Terrance for staying on the Block.

10:25 PM BBT – Michael sets the stage for not leaving Monte on the Block. He explains to Daniel that last week Monte didn't target them and Michael told Monte he'd return the favor.

10:35 PM BBT – HGs are set to enjoy a huge spread of food and charcuterie.

10:50 PM BBT – Daniel talks with Brittany in Storage to get a feel for if his talk with Michael made any traction.

11:20 PM BBT – Daniel checks in with Terrance that he was trying with Michael. Terrance says he'll talk with Michael again in the morning.

11:30 PM BBT – HGs finally enjoy the alcohol that was delivered earlier.

12:00 AM BBT – Joseph and Taylor joking around again about what their ship name would be. She doesn't like Jaylor.

12:30 AM BBT – Alyssa and Brittany have a supportive chat. Both are big fans of the game. Brittany thinks Michael would want Monte out and Alyssa questions if they'll have another chance. Alyssa says she'll support Michael's decision.

12:40 AM BBT – Alyssa tells Brittany she hopes it'll be two women in F2.

1:05 AM BBT – HGs are working on cleaning the towels. Jasmine won't help clean, but she'll fold.

1:10 AM BBT – Alyssa camtalking that fans should apply because they could win money or fall in love.

1:25 AM BBT – Alyssa claims to Taylor that she and Kyle have not kissed on the lips.

2:00 AM BBT – Indy is upset that someone took her drink.

3:15 AM BBT – Michael and Brittany reaffirm the plans to use the Veto on Monday and renom Daniel/Kyle.

3:20 AM BBT – Michael and Brittany went to the HN room to get dirty towels and instead found Kyle and Alyssa curled up under blankets.

3:25 AM BBT – Brittany tells Michael she thinks they'd be safe with Alyssa as HOH, but not so sure about Jasmine.

4:45 AM BBT – Few HGs still awake and giving shoutouts to family back home.

4:55 AM BBT – Kyle asks Taylor and Joseph if they think it's okay for him to have a showmance with Alyssa. He's downplaying how far along they already are. J&T think it'd be okay.
It was a half-hearted try to save Daniel and there was never the support it needed to work. Terrance stuck his neck out thinking he was playing the game but everyone knew what he was doing and it exposed his position. Michael still plans to use the Veto and Daniel will be out the door on Thursday.
You can watch all of these Big Brother events using the archives Flashback, the DVR-like feature of this year's Live Feeds which means it's always live, even when you missed it! Sign-up now to get the free trial to watch it all live & uncensored.


Download our Big Brother App, join us on Facebook & Twitter, and get our Email Updates for more!