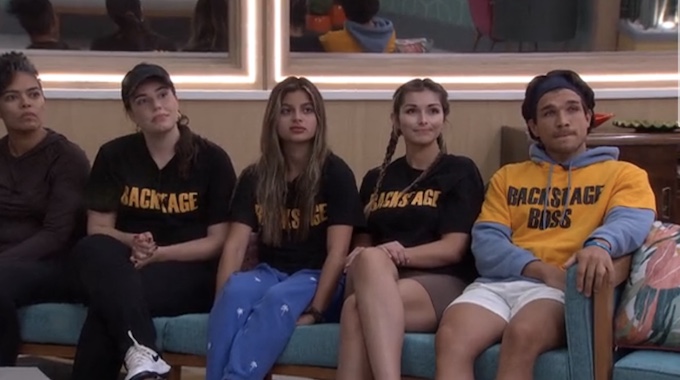 The rumors are swirling about what's going on inside the Big Brother house since the live feeds went down around 8:40 PM BBT last night. With these rumors making their way around social media, there have been some questions. What does this mean for the first live eviction show for Big Brother 24? Also, what does it all mean for the Backstage Twist since the rumors revolve around one of the Backstage Pass Holders? Read on to see what we know!
As we know, the rumor going around is that Paloma has left the Big Brother house. With her being one of the Backstage Pass Holders, this left a lot of questions about what this meant for the twist that was introduced on premiere night. In her interview with US Weekly, Julie gave Sharon Tharp very few details about the twist. She teased that the houseguests would be paired up and a new competition would be introduced to the game. However, as of right now, that's all we know.
twitter-tweet">
twitter-tweet" align="center" data-lang="en">

Very minimal details on the twist, but sounds like HGs will be put into pairs or "besties," and a new competition will be introduced. Stay tuned for my interview, which I'll be posting this afternoon. #bb24

— Sharon Tharp (@sharontharp) July 14, 2022
Another subject that Sharon asked Julie about in her interview was whether there would still be an eviction tonight based on the rumor of a houseguest already exiting the house. Julie couldn't say whether an eviction would still take place and also didn't confirm anything about what was going on with Paloma. She said that it would be addressed on tonight's show and added that the original script for tonight's show was thrown away.
Julie told me the script she had for tonight's live eviction was thrown out. Starting new. So take that for what it's worth. #bb24

— Sharon Tharp (@sharontharp) July 14, 2022
Based on all of this, I think it's safe to say that the feeds will remain down throughout the day as they prepare for tonight's live show. There has been some speculation from fans on Twitter that because Julie didn't confirm there would be an eviction, that one might not happen and the nominees would be safe this week. However, we will have to wait until tonight's live eviction show to know for sure what has been going on and how they will handle tonight's live eviction.
Download our Big Brother App, join us on Facebook & Twitter, and get our Email Updates for more!