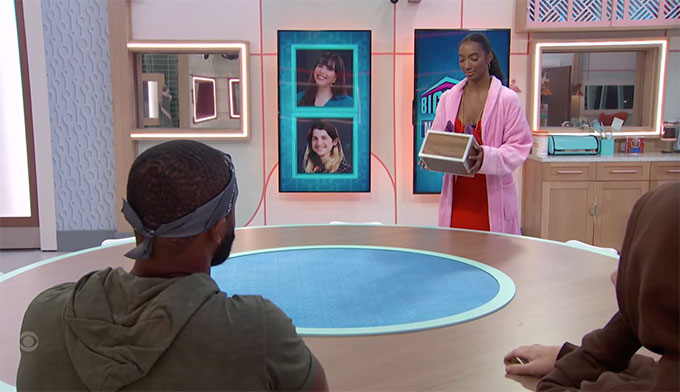 Tonight we've got our last Big Brother 24 eviction before the finale, and we are about 99.9999 percent confident we can make an accurate prediction for you tonight.
As you know from our last episode, Taylor became the new Head of Household and nominated Turner and Brittany (since both of them are claiming they didn't vote to evict her). We also know that Monte won the Power of Veto, so he holds the sole vote to evict this week. Despite knowing Brittany voted against her last week, Taylor wants Brittany to stay in the game. She knows that Brittany is the easiest person to beat at the end. But Monte has been over Brittany for weeks now, and his loyalty to Turner goes all the way back to "The Pound" with Joseph and Kyle. And we all know how Big Brother men play this game. They would rather lose to their bros than take a woman. No shade — That's just historically how Big Brother plays out.
Brittany made a lot of great pitches to Monte this week. As did Taylor. Turner has barely spoken a word to anyone, much less campaign to Monte. He either feels that secure in his spot, or he's just over the game. I think it's a mixture of both. Regardless of the actual points Brittany and Taylor have made for evicting Turner, Monte hasn't budged. So tonight, Monte will stand in front of the two nominees and send Brittany out to meet Julie and off to the jury roundtable.
We didn't poll our readers earlier this week on who they think will be ousted, but be sure to vote now in the poll and below and share in the comments section who you think will be evicted tonight. Also, head back here tonight for our live coverage of the episode as we officially meet the Big Brother 24 Final 3.