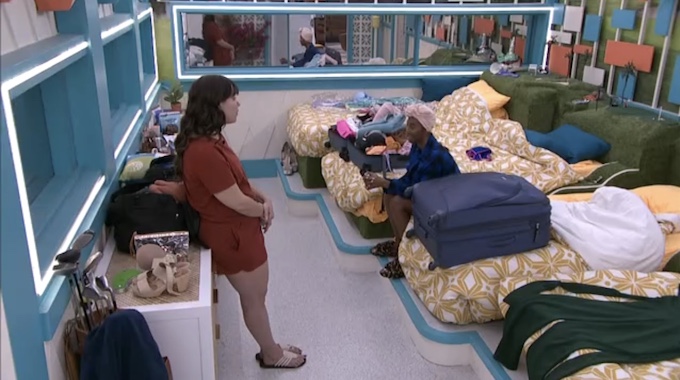 It is Eviction Day inside the Big Brother 24 house and this week's target has come to terms with their inevitable trip to the Jury. The day was spent playing cards, reflecting on the game, and clearing the air before tonight's live vote and eviction on Big Brother 24. Find out what the BB24 houseguests talked about as they prepared for tonight's show right here!
If you've got the Live Feeds (Free Trial) then you can watch all of these moments with the Flashback feature to go back and watch those important conversations or funny scenes you may have missed.
Big Brother 24 Live Feed Highlights – Thursday, September 22, 2022:
10:15 AM BBT – The HGs have gotten their wake-up call.

10:17 AM BBT – Monte leaves the HOH (he spent the night in there) to find Turner in the kitchen. They discuss the music they played during wake-up.

10:25 AM BBT – Monte and Turner are talking at the table while enjoying their coffee. Turner makes a comment about how they have 6 days left (they don't know that finale is Sunday).

10:35 AM BBT – Taylor is going over every comp each houseguests played in and their comp records for the season while laying in bed.

12:00 PM BBT – Taylor is in the kitchen and she is going over how many times everyone was nominated, how many veto comps they played and how many won quietly to herself. She realizes that she played in nine vetos but never won.

12:30 PM BBT – All is quiet inside the Big Brother house. Brittany is sleeping, Turner is finishing up packing, Monte is showering in the HOH bathroom and Taylor is packing up the HOH room to get ready to move back downstairs.

1:15 PM BBT – Monte and Turner are playing Rummy at the kitchen table while Taylor is up in the HOH room taking a shower.

1:50 PM BBT – Taylor tells Brittany that they won't know for sure what's going to happen until tonight. Brittany says that she doesn't think she is staying over Turner. Brittany asks how Monte reacted when she told Monte she wanted Brittany gone now and Taylor said that he basically said he was glad they were on the same page now.

2:03 PM BBT – Turner and Monte are talking about things they want to do when they get out. Turner says that if he wins, his biggest goal is to open a coffee shop. Monte says that he would like to have his fitness coaching business be self-sufficient. Hire more people so that he doesn't have to be there all of the time.

2:28 PM BBT – Brittany and Taylor are talking and Brittany tells Taylor that she doesn't have to promise her right now, but she hopes that when they rewatch the season that if there is anything that they did or said that they aren't too happy about, she hopes that they can talk about it. Taylor says yes.

2:42 PM BBT – During their talk, Taylor was able to get Brittany to admit to voting against her last week. She says that she knew that Taylor wasn't going anywhere and she just wanted Monte to have to make the choice.

2:45 PM BBT – Brittany says that if Taylor is in F2, she is going to pay her back for voting against her last week. She says that she is going to say "I've been looking for that missing vote from Week 10, I think I found it" as she puts her key into the podium on finale night.

2:55 PM BBT – Brittany asks Taylor if she thinks that Monte is going to bring her to F2 and she nods. Brittany says that if he does, Monte will earn her respect, but not her vote.

3:05 PM BBT – Taylor tells Brittany that she thinks it's funny that Brittany actually thought she would be mad about that (her voting against her). Brittany says that's because she is a better person than her and then says that she might actually feel better if Taylor was mad at her and laughs.

3:35 PM BBT – Taylor is telling Brittany the Brittflea story and how Terrance told her that he thought it was because Brittany was attaching her game to Michael's and production played the "ZING" soundbite. Brittany thinks that it's hilarious.

3:45 PM BBT – Brittany is telling Taylor how she tried really hard to get Michael to target someone bigger, but he didn't listen to her. Talks turn to how Brittany was sent to talk to Turner but it was twisted to make it look like she shot herself in the foot. Taylor says that Alyssa told everyone that Brittany was having those conversations with her too. Brittany says that Alyssa was having them with her.

4:19 PM BBT – Feeds cut to adoptable animals for live show prep.
Brittany is fully aware that she is going to be the one evicted tonight on Big Brother 24, but Taylor made sure she knew that she tried everything to get her to stay this week. A lot of conversations between Brittany and Taylor took place today. Brittany admitted to being the vote against Taylor, Taylor explained to Brittany the story behind Brittflea, and Brittany promised Taylor her vote if she makes it to
You can watch all of these Big Brother events using the archives Flashback, the DVR-like feature of this year's Live Feeds which means it's always live, even when you missed it! Sign-up now to get the free trial to watch it all live & uncensored.


Gallery: Live Feeds Highlights
Download our Big Brother App, join us on Facebook & Twitter, and get our Email Updates for more!