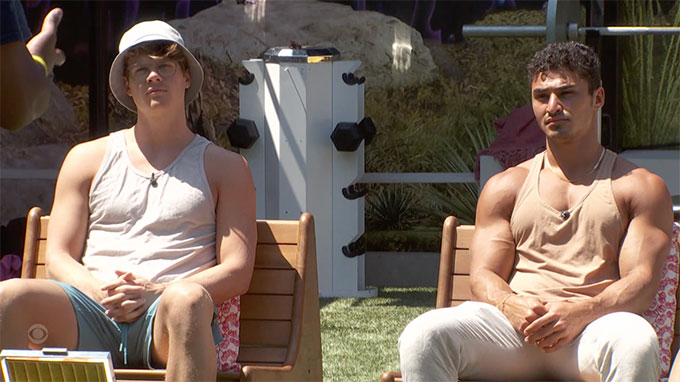 We've got two Big Brother 24 predictions coming up tonight. One is pretty cut-and-dry, and the other is really confusing, but I think we still have a pretty good idea what is about to go down at both evictions.
For the inside group, or Big Brochella, it's Jasmine vs. Monte, and after Michael, Taylor and Brittany had a pretty blunt conversation with Jasmine last night, she's 100 percent going home, and she knows it. The show tried to push a conversation or two about flipping the vote so they will have something to work with when editing the show, but Jasmine doesn't stand a chance tonight.
As for the Dyre Fest houseguests in the back yard, it's Joseph vs. Kyle, and even thought here's one half a showmance on the block who has proven he can't be trusted, it looks like Joseph might be heading to jury along with Jasmine. It has all been really messy and confusing on Terrance's part, but at this point it seem like he's just messing with everyone and that's why he took Turner off the block and put Kyle up. For a moment, there felt like it was possible Joseph might have a shot, but Turner has seemingly just accepted that Joseph is going. He, for some reason trusts Kyle more and has a good relationship with Alyssa, so losing Joseph doesn't seem like that big a deal to him.
So even though there's about a 20 percent chance something could change outside, I think Joseph will be gone tonight. And the Leftovers on the inside are not going to be happy. They were just saying on the Live Feeds last night that they don't want him to go home this week, and actually hope he wins the next HOH competition. Here's to hoping this all backfires on Kyle, or we at least get some fun drama on the Live Feeds.
It looks like our readers also agree with Jasmine and Joseph as the most likely two getting evicted from the BB24 house tonight. Just under 90 percent of voters chose Jasmine, while 66 percent think Jospeh will go over Kyle. So like us, you're seeing a slight chance for Joseph, but the confidence just isn't there.
So who do you think will be leaving the Big Brother 24 house tonight? Be sure to join us back here tonight for our live coverage of the "double eviction like no other."