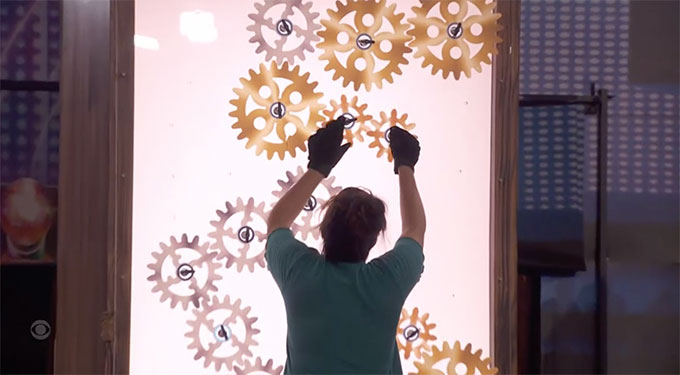 Brittany, or the "Suburban Mob Boss," as Monte called her, took charge of the Big Brother 24 house this week, not only winning the power of veto and attempting to strong-arm Monte into targeting Turner, but also letting us know that she is not to be messed with.
Wednesday night's episode picks up right after Monte nominated Brittany and Alyssa for eviction. Taylor lets us know that if she wins veto, she's going to take Brittany down and force Monte to put Turner up. 
Brittany then checks in with Monte to find out what the lapse of communication was. She asks if there's anything else that he heard about her so she can try to clear the air.
Monte lets Brittany know that Turner shared some details about the Final 2 conversation she had with Turner, and the all girls thing that floated around. Brittany said it was all just fluff, and not real that she didn't really feel like she had to talk to anyone about those things. Monte isn't quite buying it. 
Taylor checks in with Monte to ask who goes up if Brittany or Alyssa win the veto. Monte says the move would have to be Turner. Monte says the best case would be for Taylor to win veto, so that Monte is forced to put Turner up and Taylor and Brittany control the vote Monte lets us know, though, that he is only interested in Turner going up IF Taylor wins and uses it. So it sound like if anyone other than Taylor wins and the veto is used, she goes up. And Monte confirms this with Turner. 
Monte does protect Taylor against Turner though. He doesn't tell Turner that Taylor is interested in him going out this week.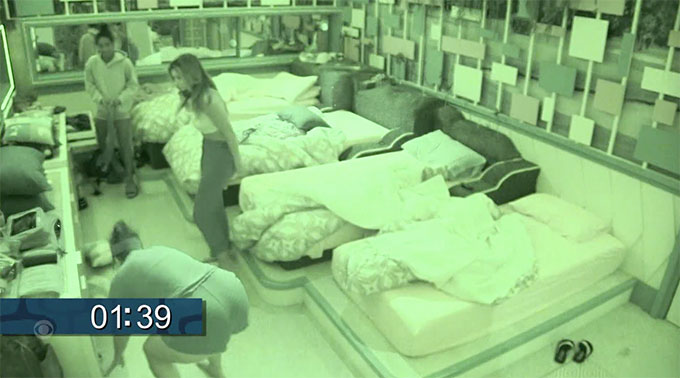 And then in the middle of the night (or at least early morning while they're still sleeping) the houseguests are woken up for a surprise veto competition. And they only have 2 minutes to get to the back yard if they want to play. 
And Monte doesn't make it in time, so he can't even compete. So for those actually competing this week, they have to assemble gears of a cuckoo clock to get them to actually work in tandem and make the clock cuckoo. The first one to do so wins the Power of Veto. 
And Monte's worst-case scenario happens. Brittany wins the Power of Veto. "Don't mess with Brittany," she says before adding that maybe Michael's veto prowess rubbed off on her.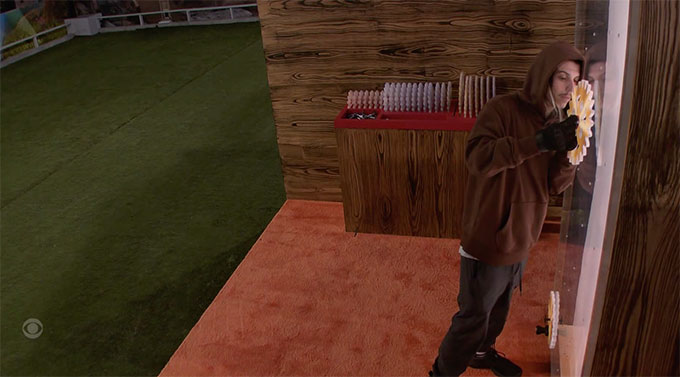 Turner and Alyssa get pretty nervous after that outcome. Turner is worried that Taylor and Brittany will work on Monte to put Turner up. And Alyssa knows that Taylor has been known to escape the block a few times. 
Taylor knows that Monte doesn't want to get the blood of putting Turner on the block on his hands. But Taylor and Brittany are going to give it their best shot to convince Monte to put up Turner. 
But Brittany doesn't have much pull with Monte these days, and Taylor isn't one of the guys, so Monte isn't likely to listen to her either. They try. But Monte just isn't willing to do that to Turner. 
So at the veto ceremony, Brittany uses the Power of Veto on herself, and Monte names Taylor as the replacement nominee.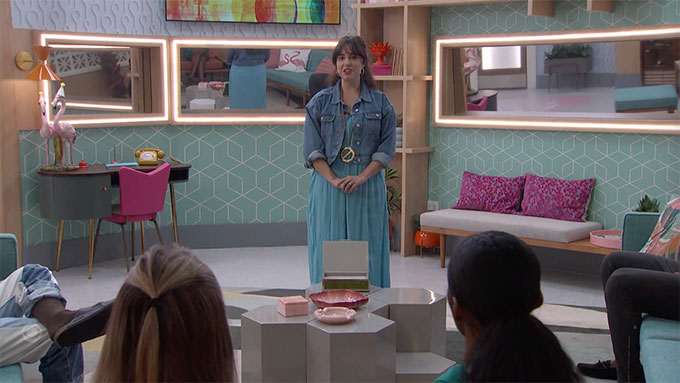 Be sure to join us back here Thursday night for out live cover of Big Brother 24. Who do you think will be heading off to jury, Alyssa or Taylor?