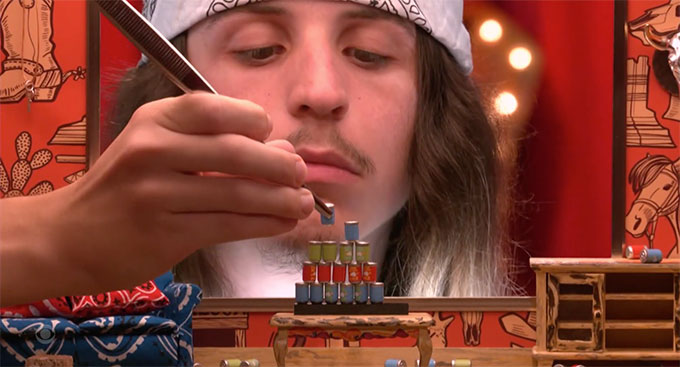 Much like his first HOH reign, Turner has drawn a line in the Big Brother 24 sand. This time, however, it finishes destroying what was left of the Leftovers.
Sunday night's episode of BB24 picks up right after the houseguests were all brought back together after the split house twist.  Monte is shocked and conduced to not see Joseph. Turner, however is thrilled to see that Jasmine is gone. 
And then there's Taylor. And she's pretty devastated to have lost Joseph in the game. She wasn't able to hug him or even say goodbye. "This feels very cruel," she says to us in the Diary Room. 
The new After Party alliance gets to work framing Joseph for everything that happened on the outside. 
Turner realizes that he's now aligned with everyone, so making Joseph look like the bad guy has to be his play. 
But Monte and Taylor really aren't understanding how Joseph spiraled enough to make himself a target when there was a showmance sitting right there. 
Meanwhile, Kyle works the Joseph angle to Michael and Brittany. And Michael isn't quite buying it either. He says he wouldn't be surprised if Kyle was lying and trying to blame Joseph for his own moves outside.
It's time for the Head of Household competition. This week's HOH competition is the tiny stacking game. They have to stack mini cans of energy drinks with tweezers.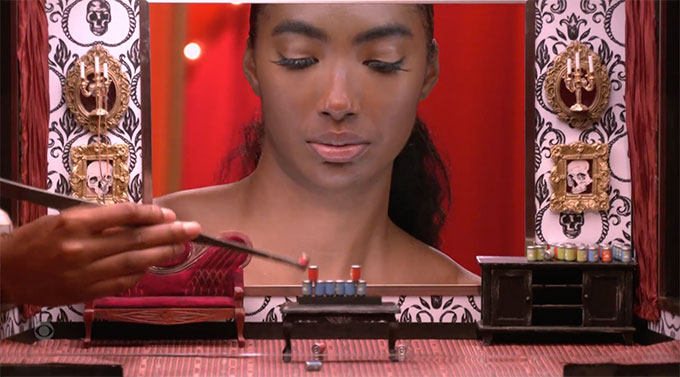 A few times it was between Kyle and Turner and then at the end it was down between Monte and Turner. And in the end, Turner wins the HOH competition. And everyone is happy because everyone thinks they're in an alliance with Turner. But he let us know earlier he's ready to draw a line in the sand just like he did the first time he was HOH.
Turner lets Brittany, Monte, Taylor and Michael know that The Leftovers are still good, and they have nothing to worry about.  And they all believe it. 
So what is he going to do? Kyle gets to Turner first, so of course it's not going to be Alyssa. So Kyle says Turner needs to go after Michael, Taylor or Brittany. They agree they trust Monte the most out of that four, so they need to see what Monte thinks about that, with Michael being the main target. 
Taylor, Monte and Michael aren't quite buying all the things the've heard about Joseph. Monte reminds us that before The Leftovers, there was the Pound. So he says he needs to get with them and see what really went down outside last week. 
Turner lets Monte know that it did get messy, and Joseph was falling apart at the end and admitted that Taylor asked him to join up with her, Michael and Brittany. Monte and Turner realizes that means they would be at the bottom of The Leftovers. So it doesn't take a lot of discussion get him on board to target Michael, Brittany and Taylor. 
So there you have it, The Leftovers are officially over but The Pound lives on. 
At the nomination ceremony, Turner nominates Taylor and Brittany, with Michael as a backdoor plan. And of course the three of them are shocked.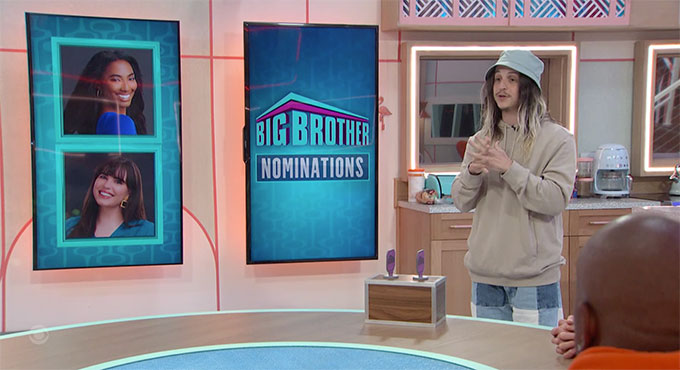 If you don't want to wait until the next episode to find out who won the Power of Veto competition this week, be sure to check out our Big Brother 24 spoilers.