I am not sure of the reason, or what his actual plan is, but Terrance shook up the Big Brother 24 game this week in more ways than one.
Not only did he nominate one of his closest friends, he also sold out the guy who sold out his alliance to him. I think this it what you might say is Terrance entering his Chaos Era.
Wednesday night's episode picked up right after that first shocking move Terrance made at Dyre Fest nomination ceremony.
Joseph lets us know the he's nervous because he thinks he is Terrance's target. But he's still hopeful because he thinks he has Kyle and Turner on his side. And he might still have Turner for now, but Kyle is all in on only saving Alyssa and himself. And Turner is completely blindsided because he never expected Terrance to put him on the block.
And Kyle is very happy because his plan to get Turner and Joseph on the block, and spare himself and Alyssa has worked.
Terrance tells Joseph those were his nominations so he could keep his real plan under wraps. But he tells us he's just telling us that, and Joseph is his target. And Terrance is trying to get Turner to think he implicated himself. Terrance tells Turner he got paranoid and that's his bad. See, this is very chaotic energy.
Meanwhile, Kyle starts working on assembling himself, Turner, Alyssa and Terrance to be ready to go back in the house so they can stick together and do what needs to be done inside the house. And Turner lets us know that if Joseph has to go to save himself this week, then that's how it has to be.
After the inside nomination ceremony, things are far less chaotic. Michael lets us know that Jasmine is the target and Monte is the pawn, BUT if Jasmine happens to win the veto, it might be time to make a move against Monte. This whole idea is more or less scripted from production because Michael has no plans on going against The Leftovers because he wants to ride the middle when Kyle comes back in and is targeted for allowing Alyssa to remain in the game.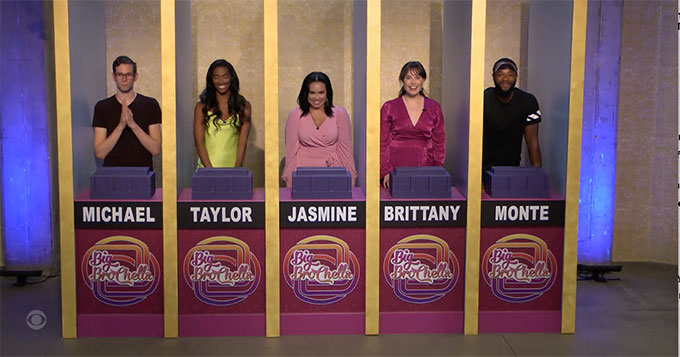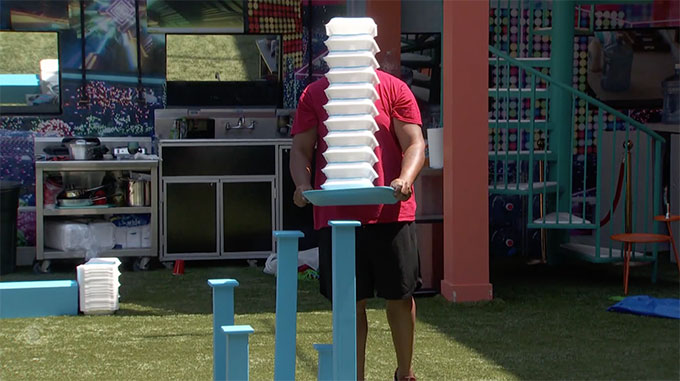 So let's get to these veto competitions. The inside veto comp, hosted by Tiffany from Big Brother 23. It's great to see her back on our screens! For this competition, the players have to count things, make their guesses and stay or fold… We've all seen this game before. It's actually one of my favorites.
After a few rounds and Taylor and Monte actually being knocked out of the competition, Brittany wins the Power of Veto.
A little later, Monte, Taylor, Michael and Brittany talk about targeting Kyle if Alyssa isn't voted out this week. And that's exactly what Michael has been banking on.
Now let's see what happens in the outside veto. The Dyre Fest crowd will be slumming it a bit for their veto competition. They just have to stack food containers. I'm not even going to waste my time doing a play by play of this silly and cheap competition. Terrance runs away with it and ends up winning the Power of Veto.
Joseph gets to work on Terrance hoping he can get Alyssa on the block so that he, Kyle and Turner can all survive the week. Terrance asks Joseph why he's so focused on Alyssa and not Kyle. Joseph says he thinks Kyle is more trust-worthy. Terrance laughs at him and says that Kyle is actually trying to get Joseph voted out and even told him about the alliance they're all in. Terrance even drops the "Leftovers" name. Joseph, who is one of the most loyal players I've ever seen, is devastated. He cannot believe that Kyle betrayed him and his alliance.
So what exactly is Terrance's play here? We really don't get an actual sense of that. But it gets even more confusing at the veto ceremony.
At the inside veto meeting, Brittany does not use the veto. Monte and Jasmine remain on the block.
Outside, however, Terrance does use the Power of Veto. And he takes Turner off the block and replaces him with Kyle. Terrance still doesn't tells us exactly why, but he seems to be enjoying those guys throwing each other under the bus. So regardless of who goes home from the Dyre Fest game, The Leftovers won't survive this week intact. And likely won't even exist after Thursday night.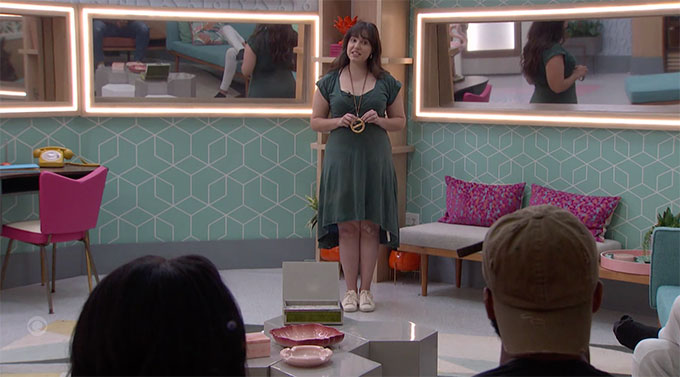 Be sure to join us back here Thursday night for for our live recap of Big Brother 24. Find out which two houseguests head off to jury. And to find out what happens when the two groups are reunited, make sure you have the Live Feeds all ready to go.