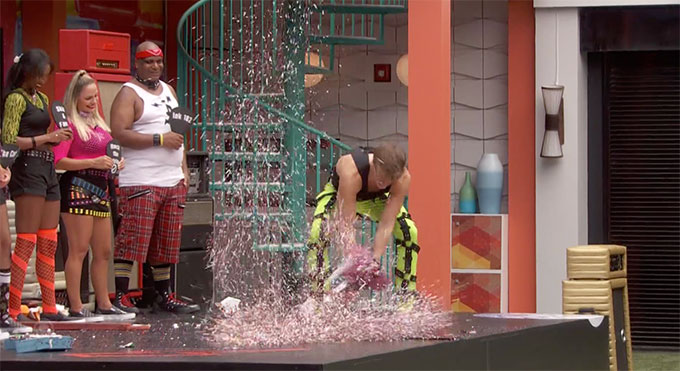 I'm not sure how it got so complicated for an alliance of seven to choose which of the four people not in your alliance should be the target this week, but Wednesday night's episode of Big Brother 24 showed us how easy it is for The Leftovers.
The episode picks up right after Taylor nominated Terrance and Indy for eviction. Taylor lets us know that ultimately Terrance is her target this week. She also says that those two would ruffle the least feathers. And since they are now in the jury phase, it's time to think of that when you're making moves. 
And Terrance and Indy are being led to believe that Monte is the ultimate target this week. Of course, Monte is not the target, as he's a part of The Leftovers with Taylor. But it sounds like everyone is buying it, especially with an assist from double agent Joseph. 
But Indy isn't happy that Taylor promised her to not put her up, even as a pawn. But here she is. 
And then there's the whole thing that if nominations change this week, Taylor will have to make another nomination. And Joseph suggests Alyssa, but that's another person Taylor promised safety to. So doing that to Indy and Alyssa after jury has started is not sounding like a great plan to Taylor at the moment. 
So Joseph throws out the idea that he could be used as a post-veto pawn. And this is a really bad idea, but Joseph thinks it's a good way to hide the alliance. Which doesn't make sense to me since there are only four people not in their alliance, so why does it need to be hidden any longer?
Michael and Brittany's ears perk up at the idea of Joseph going on the block. They agree that Joseph is overplaying, and since he's such a threat, maybe they should try to take a shot. Could this be the end of The Leftovers? 
Before we get ahead of ourselves, we have to see what happens with the veto. First up, though, the veto players have to be chosen. At the veto draw, we learn that joining Taylor, Indy and Terrance in this week's competition are Alyssa (Taylor's HG choice), Jasmine and Kyle.
Taylor lets Alyssa know that she would like for Indy to come down if she wins veto. Taylor uses this chance to improve her relationship with Alyssa also. 
Meanwhile, Monte and Joseph have a discussion that Terrance would be kind of a wasted HOH, so they get to work on convincing Taylor to shift the target on Indy. And the rest of the alliance tends to agree. Taylor reminds them that she can't have the girls upset with her again (not that they ever stopped being upset with her). 
But eventually the alliance convinces Taylor that this can be done without it looking like Taylor's fault. So Indy is the new target FOR NOW. If the veto allows that to happen. So let's get to the competition and find out. 
For this week's Power of Veto competition, the'll play in rounds. The houseguests will have to bounce a ball down a giant guitar trying to land in spaces with points. The person with the lowest score each round will be eliminated. And then they have to pick a guitar to smash with prizes and punishments inside. And of course they can have that prize stolen from them.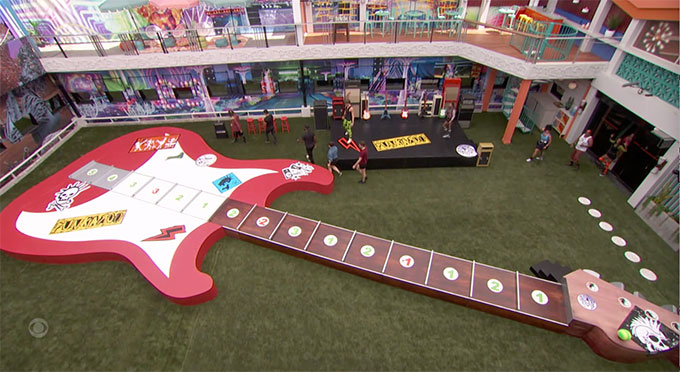 Round 1: Kyle is up first. He scores 5. Alyssa is up next and scores 4. Taylor scores a 2 after Alyssa. Jasmine gets 3 points. Indy is up next and she scores a 5. Terrance finishes out the first round with 0 points and he's out. 
Terrance's prize is the Power of Veto.
Round 2: Taylor goes first and scores 4 points. Kyle follows her and gets 14 points. Alyssa is up next and scores points. Jasmine lands 2 this round and Indy gets 0. Indy is out. 
Indy's prize is a tattoo punishment. She trades Terrance for the veto. 
Round 3: Kyle lands a 5 this time. Alyssa gets a 4 and Taylor scores 0. Jasmine gets 3 points and Taylor is out. 
Taylor's prize is a trip to London. Taylor keeps the prize. 
Round 4: Alyssa scores 0. Jasmine lands a 3. Kyle gets a 3, knocking Alyssa out. 
Alyssa's prize is a chained together punishment. But Alyssa trades Taylor for the London trip. 
Round 5: Who will it be? Kyle or Jasmine. She ends up with a score of 2. Kyle lands a 5 and wins the round. 
Jasmine's prize is a $5,000. And she trades Alyssa for the trip to London. Kyle's punishment is the punkitard. He trades Indy for the veto. So Kyle wins the Power of Veto. 
So now Taylor has a few options if Kyle uses the veto. Kyle can take Terrance down and she can put Joseph up to send Indy home, or she can put Alyssa up since she took the trip from her (and also break up a showmance). So we've gone from Terrance as the target, to Indy, to Alyssa? But how will they get Kyle to do this knowing his girlfriend would go on the block and probably go home? You'll find out how or if on Thursday's episode. For some reason they thought this was a big enough for a cliffhanger. 
 Don't want to wait to find out how the Big Brother 24 power of veto events played out, check out our spoilers to find out.