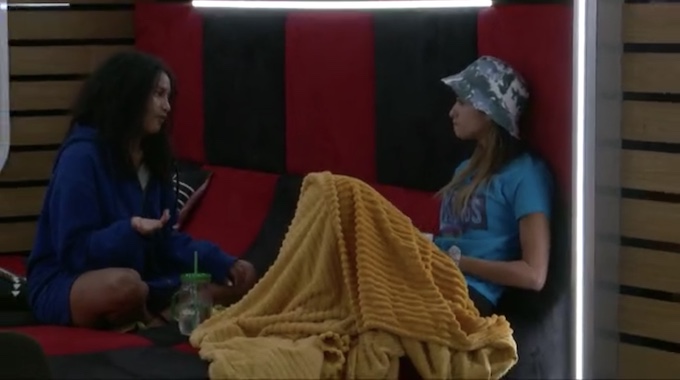 It is Double Eviction Day inside the Big Brother 23 house and the houseguests have been planning for this night for a few weeks now. After campaigning to everyone in the house, Claire has a feeling that she might be the next Big Brother houseguest to head to the Jury house. However, that isn't stopping her from making her last-second pitches.
If you've got the Live Feeds (Free Trial) then you can watch all of these moments with the Flashback feature to go back and watch those important conversations or funny scenes you may have missed.
Big Brother 23 Live Feed Highlights – Thursday, September 9, 2021:
9:05 AM BBT – HGs are waking up.

9:10 AM BBT – Claire tells Tiffany that it's so annoying that the former Jokers have so much power this week. She adds that neither of them have voted against the house or made any kind of move. She goes over her pitch to them with Tiffany.

9:20 AM BBT – Kyland is quizzing Derek on the days and events.

9:45 AM BBT – Xavier is quietly rehearsing his eviction speech in the living room.

9:55 AM BBT – Claire goes to Kyland and asks him if there is any way that they can strike a deal. She tells him that she literally has no one in the house after this week and promises that she won't put him up for the next two weeks. If she goes back on it, she doesn't expect his vote and he can convince others not to vote for her too. He tells her that he has to think about it.

10:10 AM BBT – Feeds cut to pet loops for tech rehearsals.

12:31 PM BBT – Feeds return from HOH lockdown.

12:46 PM BBT – Xavier asks Azah where she is leaning if she wins HOH. She tells him that she was thinking Kyland and Alyssa and if Alyssa comes down, put Tiffany up. She was also considering putting Xavier up with Alyssa and switching him out after the veto with Kyland. Xavier thinks that if he is up against Kyland, he thinks that Tiffany would vote him out.

12:50 PM BBT – Azah asks Xavier if it's easier for him to win the veto on the block or winning it off the block and telling Alyssa he isn't using it? He tells her being on the block and needing to save himself, but he isn't guaranteed to win the veto and that's where his concern is. He also thinks that Alyssa will gun for it twice as hard if they are sitting next to each other like this week.

1:00 PM BBT – Kyland thinks that it's going to be him and Tiffany if Alyssa wins HOH. Xavier thinks that Tiffany would be her target though. Xavier tells him that he told Alyssa that if she wants Tiffany out to put Hannah up with her because Hannah would vote to keep her.

1:12 PM BBT – Alyssa tells Xavier that if she wins HOH, she is putting up Tiffany and Kyland. If Tiffany comes down, Derek will go up and if Kyland comes down, Hannah will go up. She says that Derek will not vote to evict Ky and Hannah wouldn't have the votes to stay against Kyland, but next to Tiffany she would.

1:19 PM BBT – Alyssa tells Hannah what her and Xavier's plan is if they win HOH. She tells Hannah that if she ends up next to Tiffany, she will have the votes to stay because Derek wants Tiffany gone.

1:27 PM BBT – Kyland tells Derek and Azah that he is going to throw this HOH to one of them. Kyland asks for verbal confirmation that Derek and Azah won't send him home if they win HOH.

1:30 PM BBT – Alyssa and Hannah are still going over scenarios for the next eviction.

1:50 PM BBT – Derek tells Azah that if he wins HOH and puts Alyssa up and she wins POV, he is going to end up going the next week if she wins HOH. Alyssa walks in and tells them that Hannah was asking her about what the vote is going to be and said she wants to keep Xavier.

2:05 PM BBT – Alyssa and Xavier are going over scenarios in the Storage Room.

2:10 PM BBT – Alyssa tells Xavier that Claire thinks the vote is going to be 3-2 with her leaving but it's really going to be 4-1 with Kyland being the one. She says that he is going to try to blame it on Hannah though not knowing that she is with them (A&X).

2:16 PM BBT – Claire tells Derek and Azah that if Xavier makes it to F2, he is going to win the $750,000 even though everyone sees him as a threat. No one is going to target him and if he doesn't go tonight, he will make a clean sweep with the Jury votes at the end.

2:20 PM BBT – Derek tells Claire that he has played all these scenarios in his head over and over, but he will take what she said into consideration.

2:22 PM BBT – Derek says that he is worried that if he votes out Xavier, then Alyssa wins HOH, she will put Derek on the block next to Azah or Claire and he goes. Claire asks if it would help if she started a fight with Alyssa and made sure she targets her instead? He tells her no and they laugh about it.

2:27 PM BBT – Feeds cut for live show prep.
Claire didn't go out without a fight, but her talks with the houseguests aren't going to get her the votes she needs to stay. The HGs have been anticipating this Double Eviction for weeks and it's about to finally happen. Some of them have been planting seeds with Alyssa to get her to target Kyland and Tiffany if she should win the HOH. Do you think that the Cookout can survive this DE with all six members intact?
You can watch all of these Big Brother events using the archives Flashback, the DVR-like feature of this year's Live Feeds which means it's always live, even when you missed it! Sign-up now to get the free trial to watch it all live & uncensored.


Gallery: Live Feeds Highlights
Download our Big Brother App, join us on Facebook & Twitter, and get our Email Updates for more!