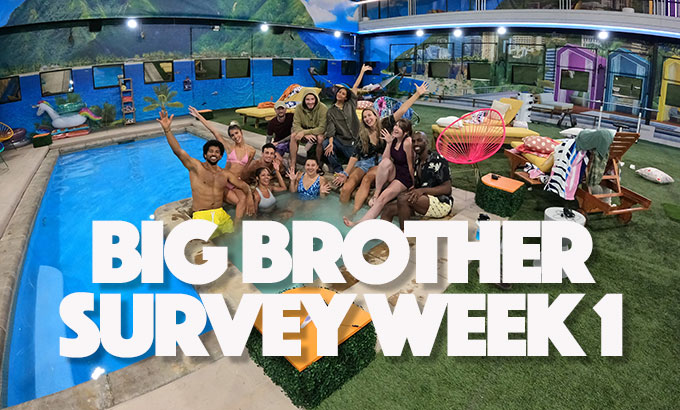 The results are in for our Big Brother 23 Week 1 Survey. Over the past couple of days, you have been voting on your favorite houseguests and who is playing the best game so far. We also asked to rate the season overall.
Of course it's still very early in the game to be forming such strong opinions, but it's Big Brother and it doesn't take as that long to pick favorite players. It definitely is a bit too early to be picking out best players, though, and these results kind of reflect that. I wasn't shocked by the favorite HG poll results, but I was pretty surprised to see some of the results for who is playing the best game.
I watched the poll results pretty closely the past two days, so let me share with you the favorite HG poll trend. Right away, Tiffany and Claire took the lead with Azah right behind them. For a long time Claire and Tiffany took turns in first place, but then Tiffany got a commanding lead and never let go.
Tiffany ended up with 32.1 percent of the vote and Claire ended with 27.2. Azah ended just behind Claire with 24.1 percent. Kyland ended up with 22.2 percent.
At the other end of the popularity spectrum were Travis, Whitney, Christian and Frenchie. Travis was dead last throughout the poll's duration and ended with only 4.5 percent of the vote. Whitney did only slightly better with 7.7 percent. Christian closed out the poll with 8.9 and Frenchie 8.6 percent.
As for who is playing the best game, Tiffany also took that first place spot with 23.6 percent of the vote. Derek F came in second, which surprised me. He finished with 11.1 percent, followed by Claire with 9.6 percent. And at the other end, Travis, Alyssa and Hannah were ranked in the last three spots. Travis earned just 0.8 percent while Alyssa and Hannah ended the poll with 1.1 and 1.5 percent respectively.
And it looks like so far, we are enjoying the season overall. The average ranking for Bb23 was 4.6 out of 5. That's better than any of the results for Big Brother 22.
Check out the Survey results in graphic form below.
Big Brother 23 Week 1 Survey Results
Click to view larger