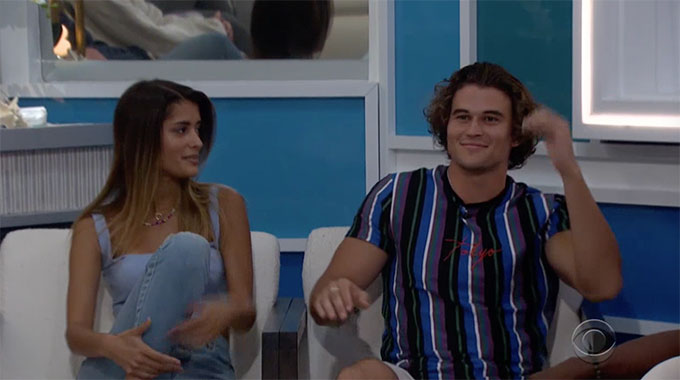 Happy Eviction Day! Either Alyssa or Travis will become the first person evicted from Big Brother 23. So who is it going to be?
These days when it comes to Big Brother evictions, there's always very little suspense, especially the first week. And this season should be no different. Here's to hoping it will be harder to predict who is going home later in the season. But for now it seems almost certain that Travis' fate has been sealed.
Travis did try to gather some votes to stay and worked on getting Frenchie's approval since it seemed to Travis that the house was only doing what Frenchie wanted. Travis made a really impressive pitch to Frenchie and Brent suggesting Alyssa is a big showmance threat. Only instead of Christian as her potential pair, Travis mentioned Xavier. And since Xaiver and Alyssa are working with Frenchie, he decided that is one showmance he wouldn't try to kill.
And last night Brent all but told Travis he was toast. Brent told him he was going this week because the women really wanted a man to go and with Frenchie as HOH, that means the men are outnumber when it comes to the vote. That's not the only reason Travis is going, but it's what Brent went with.
Travis has actually handled his fate well, and has been in good spirits all week. I think he probably didn't work hard enough to stay, but I'm not sure it would have done much good. But this is possibly his one shot at Big Brother, so I think he should have worked harder. But I'm not going to complain when the first evictee is the surfer dude prototype. Sorry, Travis.
It seems the vote is very close to being unanimous, but Frenchie did ask Tiffany to throw a rogue vote out there so he can frame Derek X this coming week. Frenchie is afraid he's going to be a big target after this fiasco of a week, so with that hinky vote, he can point his finger at Derek X and get the target back on him.
So I think it's safe to say the first player evicted from Big Brother 23 will be Travis, by a vote of 12-1. I do hope Tiffany doesn't risk that vote for Frenchie of all people, but he really did put her on the spot.
It also looks like our readers think Travis will be the first to walk out the door this season. In our eviction poll, Travis is currently leading 73.94 percent over Alyssa.