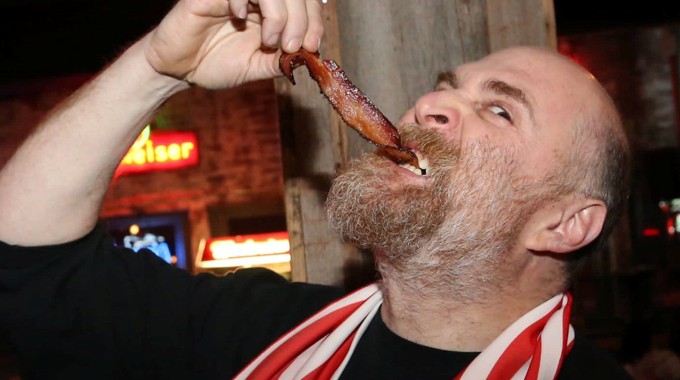 Big Brother 23 started during the first Atlantic Hurricane of the 2021 season. While Elsa was doing some damage up and down the east coast, there was another Hurricane going on inside the Big Brother house. Never can I remember a first week of Big Brother being so messy, chaotic, insane, & entertaining as this one. Just imagine if we did not get the first week Live Feeds like we had in so many years past. We would have no idea the absolute lunacy that has transpired. The retells would not have done it justice. This had to be seen to be believed. MUCH more about this later.
But first… let's take a look at everyone's gameplay this week and hand out Bacon to the good ones, Tofu for the flops, and the lowest of the low gets the Tofurkey of the Week.
Derek Xiao – 5 strips of Bacon – I usually reserve this high rating if an HoH also wins Veto, or a nominee wins Veto. In Little D's case – he won Veto to keep himself off the block. While this may end up causing an ally of his to go home, If things break his way and he gets some safety, people may want to team up with him. Even if not, he's proven to be a smart & athletic competitor and can possibly save himself by winning a Veto.
Derek Frazier – 4 strips of Bacon – easily one of the best weeks of anyone in there. Other than his namesake winning to protect himself, I don't think anyone has set themselves up so well this early in the game. He bonded with the boys, and clicked with the girls. Big D's doing it by not being over the top or overly sneaky. He talks, he listens, he's everyone's friend. Now can he pull out the strings and get them to do his bidding??
Tiffany Mitchell – 4 strips of Bacon – basically the female version of Derek F – Tiffany has done a spectacular job getting herself entrenched with just about everyone in the house. Her one liners and sassy jabs at / about other HGs has made her just as popular outside the house as she is inside. She made a promise to Frenchie that she would throw a hinky vote at Alyssa to set up Derek X. Meanwhile she is conspiring against him. This sort of double agent game is a little risky down the road – but for now, it's working great!
Azah Awasum – 3 strips of Bacon – I was wrong in my initial impression of Azah so far. She is doing a great job keeping her ears open and mouth shut. Yet information still comes her way. There is still a lot of fire in her, so getting off to a good start with several of the houseguests bodes well for her game moving forward.
Kyland Young – 3 strips of Bacon – unlike Azah – I was pretty much on point in my preseason assessment of Kyland. He IS the nice guy – and he is using that to his advantage. This early in the game, that is the type of personality people just want around. It was quite amusing when Alyssa said that even she would vote to keep Kyland over voting to keep herself.
Alyssa Lopez – 2 strips of Bacon – gotta give credit where credit is due, Alyssa took her nomination pretty well all things considered. Despite being promised safety and then put up, Alyssa could have exploded and made herself into a real target (not an imaginary one). She kept her cool – made her rounds – and actually may have formed some bonds that would not have been there before. However, she is now an easy pawn.
Sarah Beth Steagall – 2 strips of Bacon – with all the drama surrounding her team, Sarah Beth has done a great job staying out of the danger zone. Meanwhile, she has made some bonds that are keeping her in a safe spot moving into next week and beyond. While not in the "big alliance" – she knows about it and could blow it up – but needs to do it in a smart way. Which I think she will.
Brent Champagne – 2 strips of Bacon – Brent easily charmed the HoH into not sniffing the block week 1 – and the ensuing chaos that surrounded the HoH has kept him out of people's mouth's as someone to target soon. With other players forced to play harder than they wanted to early on, Brent slides into another week and easily is the voice of Team Aces.
Xavier Prather – 2 strips of Bacon – one of the best things that can happen in the BB house is getting saved by someone else. Xavier was the benefactor of Christian winning the Wildcard and getting protection for the week. He is also eligible to play in the Wildcard comp next week, so his week was pretty tranquil compared to some others. He's got a ton of alliances & a calm demeanor, so we should see him around the house for awhile.
Christian Birkenberger – 1 strip of Bacon wrapped around a Tuna steak – "Big Fish" Christian is just too damn charming right? He's not as bro-y as some of the other bros in the house, yet the HoH pinned that Big Fish tag to him. Then a few hours later formed a final 2 with him. Being too well liked this early could be good for some (see Kyland) – but not for everyone.
Claire Rehfuss – 1/2 strip of Bacon – from a replacement to a Team Captain in about 48 hours is pretty impressive for Claire. While she did nothing wrong this week, I do not think she did enough yet to get a full strip of bacon. She's in a couple of alliances which could also help her standing down the road.
Whitney Williams – 1/2 strip of Tofu – she became a Team Captain and put together a decent team, but is not very well liked around the house. At the same time, she does have a few strong bonds, but it's only a matter of time before she starts getting under people's skin. When the Slaughterhouse alliance breaks up – look for her to scurry for safety from anyone.
Hannah Chaddha – 1 strip of Tofu – Hannah is not really on anyone's radar, probably because no one ever sees her around. She's also not in too many alliances (or formation of alliances) – so she is setting herself up as an "easy week" nominee.I am hoping that will be the spark that brings the fierce competitor out in her.
Britini D'Angelo – 2 strips of Tofu – sometimes the way the game settles in, it forces people to turn into the "floater" role. This holds true for Britini. She's just a number at this point. But since there are so many people in the house, it's just another number. She has not really formed too many solid bonds, but that could come later as situations force the game to change.
Travis Long – 3 strips of Tofu – ok, you can't really blame Travis for not being a little more vocal with Frenchie after being promised safety 5 minutes into the house. However as soon as the chaos was unfolding around him, Travis did not do ANYTHING to try and strengthen his position in the house and now finds himself hours away from a likely date with Julie. The only saving grace is the chance for a battle back and depending on who else goes in the next few weeks & what the competition is, could find himself winning his way back in. If that happens though – who would want to work with him??
That brings us to the (dramatic music) Tofurkey Of The Week… and what a week it was thanks to the mind of Brandon… I mean Frenchie! As I said in the intro – I cannot remember a first week like this in all my years of watching BB. Not just 1 or 2 broken promises, but 14 of them. There is a term "HoH-itis" which is when the HoH just gets so power crazy that they become legitimately crazy! Remember in the first episode when he said he had a book of all the bad moves in BB history so he knows what not to do? Guess what Frenchie – you will have your own Library just on week 1. In the end, your mission was to get a bro or a showmance out – and you are actually succeeding. But all of the unnecessary promises?? The first night should have tipped you off that there is a lot more happening and the game as you know it changed. He may, just may live another week or two with some luck. CBS does love a villain, so if he can get out of his own way, he just may stick around for awhile.
Whew… wow – that was intense. Lots of bacon dished out this week. Don't expect that to last long – the game is just starting and greed will start to creep in slowly.
For my question of the week – what other HoH in the history of Big Brother was as messy as Frenchie's.
Let me know what you think of my rankings and the answer to my question of the week in the comments section below. From outside the Big Brother House, this is Adam Poch reminding you, be good to one another, or at least don't get caught being bad.
Catch me here every week during the BB season for my rankings. If you want more of my thoughts during the season. follow me on Twitter @HeavyMetalTeddy – and listen to my Podcast – @BigBrothersPod.