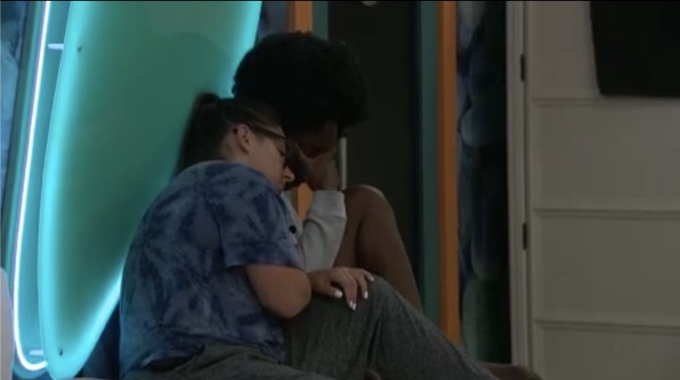 The new Head of Household in the Big Brother 23 house went back and forth for hours with his choices for nominations, they finally made a decision. The Nomination Ceremony took place and afterward the pawn for the week played up the reasons they felt they were on the block to the other houseguests. Read on to get all the details of what happened before and after the Nomination Ceremony for Week 6 of Big Brother.
If you've got the Live Feeds (Free Trial) then you can watch all of these moments with the Flashback feature to go back and watch those important conversations or funny scenes you may have missed.
Big Brother 23 Live Feed Highlights – Friday, August 13, 2021:
7:30 AM BBT – HGs get an early wake-up call.

7:53 AM BBT – Kyland is talking to Xavier and Hannah about what he's thinking he tells them that he would rather not go after SB this week if he can help it. He also thinks that because Tiffany is okay with Claire going, that getting rid of Claire this week might be a good move.

8:00 AM BBT – Kyland says that if it comes down to SB having to leave, then so be it. However, he says that if Alyssa doesn't go this week that he would like to see Claire be his backup. Hannah thinks that the order they leave in does matter and Xavier doesn't think that having Christian and Alyssa go back to back isn't ideal either. Ky mentions that he would be okay with Britini leaving this week too because she is unpredictable.

8:05 AM BBT – Xavier agrees that Kyland can't put SB up because that would be like X putting Alyssa up. Hannah agrees.

8:15 AM BBT – Xavier is telling Alyssa that Kyland is planning to ask everyone who they wand as the target and he's going to use that information to base his nominations on.

8:29 AM BBT – Tiffany camtalks about her being in an emotional state for the last few days and she realizes that she lost the HOH because she wanted it for the wrong reasons. She however isn't happy that SB isn't an option, but Claire is.

8:37 AM BBT – Ky tells the HGs that he wants to have time for one on ones throughout the week, expecially after nominations. For now, he just wants to get an idea of where everyone was at.

9:20 AM BBT – SB tells Ky that Britini and DF would be her noms, with Britini as a target. She says that her backup target would be DF, but she would put Hannah up if one of them came down.

9:40 AM BBT – Ky tells Claire that in the event that he needs to use one of the Detectives as a pawn, DX is probably not the best choice. Ky asks her if there is any kind of deal they could come up with that will leave them okay if he puts her on the block. She tells him that it doesn't make sense for him to put her up and suggests that he put Hannah up instead.

9:48 AM BBT – Ky is going over his nomination speech with DX saying he's going to tell them that yesterdays game shifted his perspective of where he is in the house.

10:05 AM BBT – DX asks Ky if Claire is sitting next to someone that most people wouldn't feel comfortable sitting next to, that means that Claire is going to go home. Ky says not necessarily because he just needs to make it someone that Hannah, Tiffany, DX, and SB wouldn't protect over Claire.

10:16 AM BBT – DX and Claire are talking and DX tells her that he thinks that Kyland is just trying to decrease the number of people he would go home next to. DX says that they just need to win POV and force his hand and get him to put Alyssa up.

10:21 AM BBT – DX says that he thinks that Ky has made deals with X and Alyssa and Claire agrees and says that's why he's run out of nomination options because he's cut deals with a lot of people.

10:33 AM BBT – Feeds go down for the Nomination Ceremony.

11:32 AM BBT – Feeds come back up. Claire and DF were nominated. DF goes right back to the Boat Room where he is sitting alone. Azah tries to come in, but he asks her to sit outside for a few minutes.

11:36 AM BBT – Ky tells DX that Claire is up there because she is the safest of the Detectives. DX tells Ky that he sees why Claire is on the block, but why DF. Ky says that he is just wanted to have three options to go home with all the powers that will potentially be floating around.

11:40 AM BBT – DX asks Ky if he cut a deal with the Kings and he says no. DX seems pretty skeptical of his answer and asks if Ky would have a meeting with the other members of the Detectives to talk through his reasons and objectives for this week. Ky says he didn't have any reason to cut a deal with Alyssa because she has no allies with Christian gone.

11:45 AM BBT – Alyssa is in the SR laughing about how upset the Jokers are over DF being nominated. Xavier says that he isn't laughing about anything until after any potential powers are used and Veto is played. Alyssa thinks that the plan is to BD Britini this week because enough time will pass before the Veto Ceremony for any powers to be played.

11:52 AM BBT – DF emerges from the boat room after sitting alone for a while and gives Azah a hug. He tells her that he knew it was coming and he just needs to calm down and not flip a table.

12:00 PM BBT – DF is playing up his nomination in the kitchen telling Britini that he felt good after his one on one with Ky, but he expected to go up after cussing Ky out last night.

12:02 PM BBT – Azah tells DF that if he wins a power not to use it or tell anyone about it because she thinks Ky put him up to flush it out. She says that Ky must think that DF has a good chance of winning a power.

12:15 PM BBT – DF tells Britini and Azah that he is sure that he is the target this week and Claire is a pawn. He says that he thinks that this POV will be the spelling one and is trying to remember all the variations of "Disrespectfully".

12:50 PM BBT – Claire, Tiffany, and Britini are talking about the BB Bucks and speculating how many they will each get. Claire tells Britini that if she wins enough to get a power, not to use it yet especially if it's before the POV.

12:53 PM BBT – DF tells Azah and Britini that he needs them to stay mentally and emotionally focus. He tells them not to freak out unless he freaks out. He says that he is playing the game, he didn't want to be a floater, he didn't want to skate by.

1:02 PM BBT – Tiffany says that Ky reminds her of Kaysar. She adds that Kyland is way stronger and smarter than she though and they need to be closer to him.

1:04 PM BBT – Feeds cut for High Roller's Room twist.
Derek F and Claire have been nominated for Week 6 of Big Brother, but with the High Roller's Room twist in full swing, anything can happen. At this point, based on his chats with other members of the Cookout, Claire is the target and DF is merely a pawn. Alyssa thinks it's hilarious that the Jokers are upset about DF being on the block, little does she know, if DF or Claire come off the block, the chances of Alyssa going up as a renom are pretty good.
You can watch all of these Big Brother events using the archives Flashback, the DVR-like feature of this year's Live Feeds which means it's always live, even when you missed it! Sign-up now to get the free trial to watch it all live & uncensored.


Gallery: Live Feeds Highlights
Download our Big Brother App, join us on Facebook & Twitter, and get our Email Updates for more!