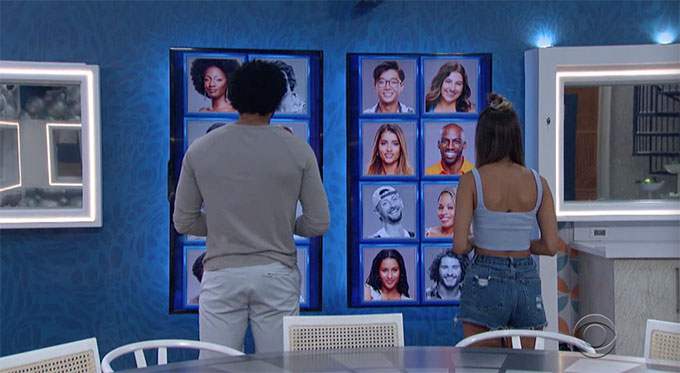 The next Big Brother 23 eviction is upon us tonight. And even though we haven't even seen the veto ceremony air yet, we are ready to make our prediction on who is going to be the first person to head off to jury.
So be warned, if you haven't been spoiled on who Kyland's final nominations are, turn back now.
Either Derek F or Britini will be headed off to jury tonight, but who will it be? Well, I think there's going to be little suspense with this one because of the basics of math. If you factor in the Cookout all voting to keep Derek F, you might be saying what about Derek F and Kyland though? That's only four votes. Well, remember that Sarah Beth is going to do what Kyland wants, and Alyssa is going to do what Xavier does. So that's enough votes right there to send Britni out.
Much to Kyland and Xavier's annoyance, Tiffany and Hannah's pawns haven't been so easy to "control." Derek X and Claire have both spent the past several days leaning toward keeping Britini. But they just aren't going to have the numbers, and are just sealing their fates the next two weeks, as Kyland and Xavier think Tiffany and Hannah just have no control over their pawns.
At one point, Azah was going to vote to keep Britini to not make the vote look too suspicious, but she thinks that's too risky since the entire house isn't set on sending Britni off to jury.
That being said, it's possible Britini will be evicted unanimously. But even if Azah decides to throw her a vote and DX and Claire go off on their own (they won't), Britini still leaves. But she put up a good fight, but the Cookout alliance is too strong, and they're doing the job they set out to do.
It looks like you guys think it will be Britini heading out tonight as well. In our eviction poll, 86.24 percent of the votes went to Britini as the one most likely to be evicted.
Do you still think Britini will become the first Big Brother 23 juror?