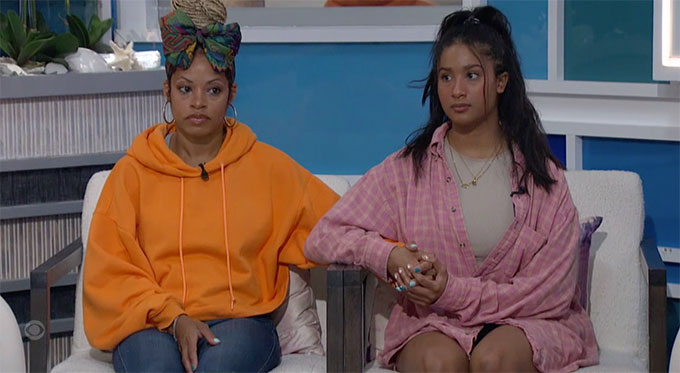 Tiffany or Hannah? One of them will be the first Cookout alliance member to head off to the Big Brother 23 jury house tonight.
And since Kyland, Xavier and Derek are all in on sending Tiffany out, it doesn't take a psychic to know that she will be the one sent packing first in tonight's double eviction episode. (Note: Tonight's episode was pre-recorded, so everything we're speculating has technically already happened).
Tiffany tried to appeal to Kyland again to keep her, but it just wasn't working. And Derek has wanted Tiffany out for some reason since the beginning of the season. Xavier knows that Tiffany is the one person truly standing in his way of winning the $750,000. Azah was the only one who wanted to save her, and had planned on even giving her a vote, but the men were deciding whether or not to even squash that to send Tiffany out unanimously just out of spite.
So the only real mystery to this eviction will be whether or not Tiffany leaves 2-1 or unanimously.
It looks like our readers also realize how obvious this eviction will be. In our Big Brother 23 Week 10 Eviction Poll, 96 percent of the vote was going  to Tiffany at the time of this publication.
So our official prediction is that Tiffany will be going home first tonight. And to throw in a little op-ed angle here, I think that is sad. Tiffany didn't deserve to be the first member of the Cookout to go. Like her or not, she was the one person most responsible for getting all six of them to the end. And to send her out first, just seems a bit cruel to me.
Of course Tiffany won't be going home alone tonight. Someone else will follow her out the door in the double eviction. We can't predict who that will be, but we will run eviction scenarios in another post.
Do you think Tiffany was able to turn things around while the Live Feeds were down or will she be evicted over Hannah?