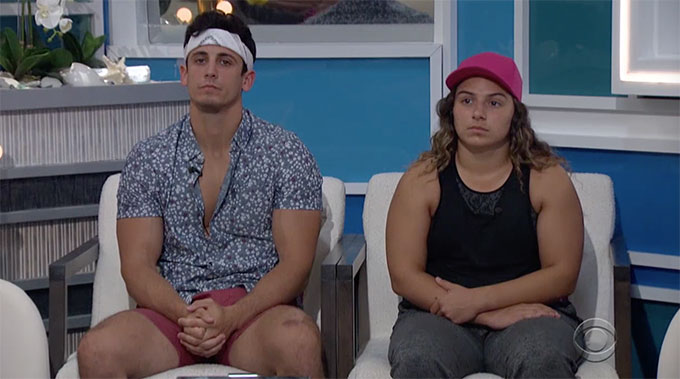 Brent or Britini? That is a Big Brother 23 question no one is asking themselves because we all know the answer.
If you've been paying any attention at all, then you know that Brent has been the target since about four days before Frenchie walked out the door. And no one has wavered. Alyssa did question whether or not Brent should stay, but no one else was interested in entertaining the idea.
And we were actually in for quite the blindside since Brent was certain he was staying this week, but on Wednesday night, Derek F ruined all the fun for us and told Brent that he doesn't have the votes to stay. So now Brent knows he's going home. He is still a bit in the dark over Alyssa, though. He thinks that she also doesn't know Brent is going home and thinks the rest of the house is keeping it from her since they two of them are close. Alyssa really isn't close to Brent, and has wanted him gone as much as the rest.
So even with how much Britini overreacted this week as a pawn, the target has never shifted. So we can safely predict that the third man in a row will be walking out the door to meet Julie tonight. And we don't think anything will change throughout the day before the live show starts at 8 PM EST. We might have thought Week 1 Brent was savvy enough to pull off a vote flip, but not Week 3 Brent. Too many people are annoyed with how he acts toward the women in the house. And now he would have a lot of revenge to seek even if he did stay.
It looks like our readers agree with this prediction. In our Who Will Be Evicted poll this week, Brent currently has a whopping 95 percent of the vote over Britini.
Do you agree that Brent will be evicted from the Big Brother 23 house tonight?