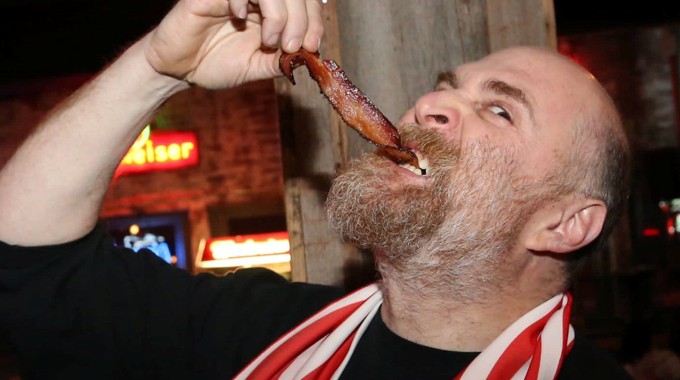 It's day 23 inside the Big Brother House and we have had a season's worth of game & gaming so far. I am reading a lot of fans on social media think this has been a boring season, however I see the cracks forming in some of the 823 alliances – and that will lead to massive excitement. We are going to see our first true blindside tonight – as long as no one else tries to spill the beans (see more in the rankings). After tonight's eviction, we REALLY need to see some sort of shift in power as this is the last week of the Teams & we know the wall comp is lurking in the wings next Thursday night.
BUT FIRST – let's take a look at everyone's game this week and see if it was good enough to get some crispy bacon or some blah tofu.
Tiffany Mitchell – 5 strips of Bacon – it's clear to anyone & everyone out here that Tiffany is running the show. She is the glue that is holding several alliances together – especially the Cookout who have controlled the house these past 2 weeks. Tiff is doing a great job of keeping everyone involved in conversations, and an even better job keeping information from several of them, so they only see the game the way she wants them to see it. This is getting dangerous as one slip of the tongue could have that house of cards come crashing down.
Derek Xiao – 4 strips of Bacon – good news for Derek X is that he did not win Veto again this week. Better news for Derek X is that he has a budding showmance with Hannah. Best news Derek X is he is on no one's immediate radar and everyone either wants to work with him, or are not threatened by him. What a rise after his deer in headlights start to this game.
Hannah Chaddha – 3 strips of Bacon – Hannah is way more observant than people were giving her credit for early on, and she has now been officially made a member of The Cookout – despite not being told it has a name, well – not until Azah slipped but covered it up pretty well. At the same time, Hannah also deserves bacon for putting up with Brent's creepiness. I am so looking forward to her goodbye message – cause you know CBS will show that!
Claire Rehfuss – 3 strips of Bacon – as Tiffany's # 1 (outside of the Cookout) – Claire gets a lot of good information and will hopefully use it down the road to help her navigate her way through instead of being steamrolled by it. Claire sees through Kyland & Xavier's games – and is very careful what information she tells us vs what she tells the other HGs.
Kyland Young – 2 strips of Bacon – the nice guy we loved at the beginning of the game is starting to turn into a little more cocky ruthless player. This is still working to his advantage for now – but as other people start seeing through it, could cause him to grow a target on his back. Kyland still has plenty of protection in the form of not 1, not 2, not 3, but 4 Final 2 deals.
Britini D'Angelo – 2 strips of Bacon – OK, another bad week for Britini – so she is getting some sympathy bacon for not freaking out AS much this week as she did last week. Normally I would give her tofu just on her Wildcard performance, as she could have knocked Derek X out early on, but realizing that she was getting tag teamed in the competition threw her for a loop. As the pawn in the big plan this week – she kept it together but still did her best to secure the votes and even get some information & build trust among her fellow Houseguests. PLEASE let Britini win HoH tonight – so she can not go on the block again.
Sarah Beth Steagall – 1 strip of Bacon – a pretty ho-hum week for Sarah Beth. Her team had safety thanks to Xavier winning HoH – and she just sat back and let the week play out. She still has a lot of great connections – but is starting to rise up the hit list to some as the numbers are dwindling down. I do not see anyone taking a shot at her for a few more weeks. Slow and steady wins the race right?
Azah Awasum – 1 strip of Bacon – the first few weeks have been tough of Azah as her team of Jokers have been exactly that – jokers in the game. The loyalty that she has shown to them is admirable – but has also made some question her ability to play a strategic game over an emotional one. While you should NEVER EVER volunteer to go on the block – if ever there was a week to do that and a person to go against, this was the week. This week seems to have opened Azah's eyes to the bigger picture, and perhaps get her on track to do some damage moving forward.
Xavier Prather – 1 strip of Tofu – Xavier is leaving his HoH in a worse spot than he was before. Not that much worse as he is still connected all over the place with many of the other players. However, he seems to be focusing too far down the road and not focusing on the steps he has to take to get him there. He also has a soft spot for Whitney, and a little bit for Alyssa too – and that could be dangerous as his allies will want to target them. If he fights too hard for them to stay, that could raise some red flags.
Alyssa Lopez – 2 strips of Tofu – playing grab-ass with Christian seems to be more of a focus for Alyssa than opening her eyes to what is brewing around her. Even within her own team and the Royal Flush alliance, she is being talked about as a potential target as soon as this coming week.
Christian Birkenberger – 2 strips of Tofu – see Alyssa + this was not a Veto that Christian needed to win. Xavier's big blindside plan was already in motion and all he had to do was let Xavier win the Veto. Now he is seen as a big threat again (Frenchie was right?) and this will just lead to him seeing the block sooner rather than later.
Whitney Williams – 3 strips of Tofu – unless something drastically changes when the next HoH is crowned, Whitney will be the next public enemy #1 and could be the first woman to walk out the door this year. If Britini does not win HoH – I hope it's Whit – just to shake things up!
Derek Frazier – 4 strips of Tofu – this is tough for me as Derek F was one of my preseason picks. WHY WHY WHY did you tell Brent that he was most likely going home this week. Was he trying to prepare in the event there was a battle back? I don't know – but coming from someone throwing hinky votes – this was out of character.
And that brings us to the Tofurkey of the Week – although – this could easily be the Tofurkey of the Season & possibly the Tofurkey of the Series. Brent Champagne will go down in BB History as having one of the worst reads on a house ever. His ego was big when he came into the house – and it has grown exponentially while he's been there.
There was some chatter preseason that he was close to getting on BB20 and lost his spot to Brett after being told he was not douchey enough. He has certainly made up for that and then some, and then some, and then some. If you read his CBS bio – these were his exact words when asked about his favorite moment in BB: I truly enjoy watching the faces of those who RIGHTFULLY get backdoored. The reaction is just so genuine regardless of being on camera. I feel it's one of the few times where contestants fight their honest emotional nature because of it being so sudden and gives no time to emotionally prepare. True colors show both literally and figuratively. I wonder how many times he will re-watch Julie reading the votes tonight when he is back home starting tomorrow. As long as no one tries to tell him again!!
Ok – there ya have it – another week in the books, As I mentioned in the opening, the cracks are starting to form and this group that has been very kumbaya so far will start dropping the niceties & start getting cutthroat.
My Question of the Week is – we have seen plenty of cocky players in the past – but who is the cockiest player of all time?
Let me know what you think of my rankings and the answer to my question of the week in the comments section below. From outside the Big Brother House, this is Adam Poch reminding you, ignorance is temporary, stupid is forever.
Catch me here every week during the BB season for my rankings. If you want more of my thoughts during the season. follow me on Twitter @HeavyMetalTeddy – and listen to my Podcast – @BigBrothersPod.