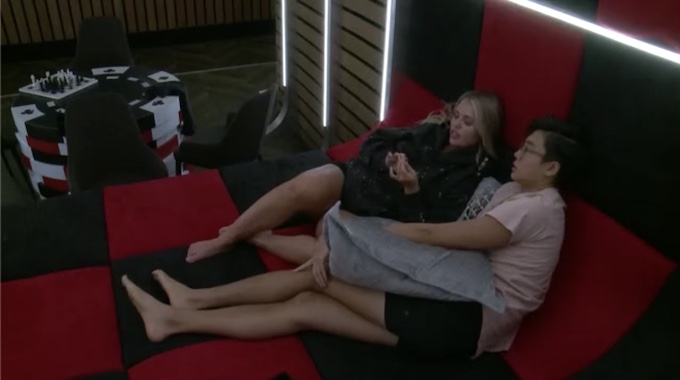 It's Eviction Day inside the Big Brother 23 house and with this week's target heading out the door later tonight, all talks in the house turned to the next Head of Household Competition. Talks about who could be the next target have some of the Big Brother houseguests wondering what they should do. Read on to find out what each houseguest plans to do moving forward in the Big Brother 2021 house.
If you've got the Live Feeds (Free Trial) then you can watch all of these moments with the Flashback feature to go back and watch those important conversations or funny scenes you may have missed.
Big Brother 23 Live Feed Highlights – Thursday, July 29, 2021:
9:00 AM BBT – HGs are waking up.

9:20 AM BBT – Kyland and Xavier are talking about how Hannah is going to all of a sudden target SB. Kyland says that Claire and DX would vote to keep her anyway. They agree that there isn't anything left to talk about until after HOH.

10:11 AM BBT – Britini tells Hannah about how Brent asked her how soon after eviction will he get his suitcase back. Hannah tells her that just proves how rude and disrespectful he is.

10:15 AM BBT – Britini is complaining to Claire about what Brent asked and she tells Britini that she is convinced he just does it to be cruel at this point. Talks turn to how Alyssa is the glue that holds the Kings together. Claire thinks that putting Alyssa up is a good move.

10:35 AM BBT – Alyssa is telling Hannah, Whitney, and Britini that Brent was trying to convince her that Christian and Xavier are against her. He asked her later if she talked to Christian and when she told him no he said not to and it's probably better she doesn't.

10:40 AM BBT – Xavier is pacing around the HOH room talking to himself about not getting too emotional about him leaving the HOH room and that he can't stay there all summer. Brent was in the bathroom the whole time.

10:53 AM BBT – Feeds cut for tech rehearsals.

12:23 PM BBT – Feeds come back.

12:25 PM BBT – Christian tells Alyssa that Hannah heard that if they won HOH they were going to put her and Whitney on the block with Whitney being the target. Alyssa is surprised by this. SB walks in and Alyssa asks her if she has thought about if she wanted to win HOH and she says that as long as certain people are still up she is going to go for it.

12:37 PM BBT – Kyland tells Hannah that Whitney has expressed to him that she doesn't feel like she has any reason to win the HOH comp. He adds that they (the rest of the Cookout) are trying to figure out if they are going to let her know that's not true before HOH or if they should let her take her chances in the Wildcard.

12:42 PM BBT – Christian is telling Alyssa that they should keep Hannah around one more week. Christian says that Hannah looks out for him, but he does understand that she doesn't look out for Alyssa as much.

12:58 PM BBT – Christian tells DF that he wants to tell him something before he hears it from someone else. He says that Hannah asked him if the Kings won, who would they put up and he told her they would go after the Jokers. Christian asks DF who he would target and he tells Christian they will talk about it if he wins.

1:09 PM BBT – DF tells Alyssa that if he wins HOH, he is going to ask everyone on the kings which two people they would put up from their team. He says he's just being honest that the Kings are the only team with four people so one of them has to go this week.

1:13 PM BBT – Brent asks DF if Xavier and Christian are thinking of putting him out. He says that no one has told him anything. Brent says "they didn't tell you which way to vote?" DF says no.

1:30 PM BBT – DX tells Whitney that it doesn't seem like people are going to throw this week's HOH. DX mentions that he isn't going to throw this week's HOH anymore. Whitney says she still feels more comfortable throwing it, but Hannah makes her nervous.

1:34 PM BBT – SB asks DF if he is planning to put her on the block if he wins and he tells her no, not at all. He says she knows who he is planning on targeting (C & A) and if one of them comes down he'll put Whitney up.

1:35 PM BBT – DX mentions that the DR has told him numerous times not to tell Brent what's going on. He gets the "you're not allowed to talk about your DRs" warning.

1:40 PM BBT – DX asks Whitney if she will still throw it if it comes down to her and the Kings and she says absolutely not, that's the worst scenario.

1:46 PM BBT – Christian, Claire, Tiffany, and Alyssa are talking about how big of a threat Hannah is. Christian mentions that he doesn't even feel comforable having this conversation with Tiffany and Claire because he knows they are close. Tiffany says that they aren't going to say anything.

1:55 PM BBT – Alyssa tells Claire and Tiffany that she doesn't think that DX would be on board with getting Hannah out. Hannah and Whitney would have to be up together.

1:57 PM BBT – SB worries to Kyland that people might think they are closer than they are. Kyland tells her no. She says good because she doesn't want people to think that she likes him because she can't stand him (she's joking).

2:07 PM BBT – SB tells the Jokers that Alyssa and Christian are trying to convince her that the house is coming after her so that she tries to win the HOH. She says that they want her to win so that she takes a shot at Hannah for them and adds that she isn't stupid.

2:10 PM BBT – Azah tells SB that no one on her team is in danger with her this week.

2:17 PM BBT – SB tells Britini that if she wins HOH, she going after the Aces.

2:21 PM BBT – Feeds cut for live show prep.
Most of the HGs that were at one point planning to throw this week's HOH competition have decided to play to win. Meanwhile, SB has realized that the only reason people want her to win this week is to do their dirty work. The results of tonight's HOH competition are going to determine if Alyssa and Christian or Whitney and Hannah see the block this week. Make sure you come back later to find out which way the house is likely going to go.
You can watch all of these Big Brother events using the archives Flashback, the DVR-like feature of this year's Live Feeds which means it's always live, even when you missed it! Sign-up now to get the free trial to watch it all live & uncensored.


Gallery: Live Feeds Highlights
Download our Big Brother App, join us on Facebook & Twitter, and get our Email Updates for more!