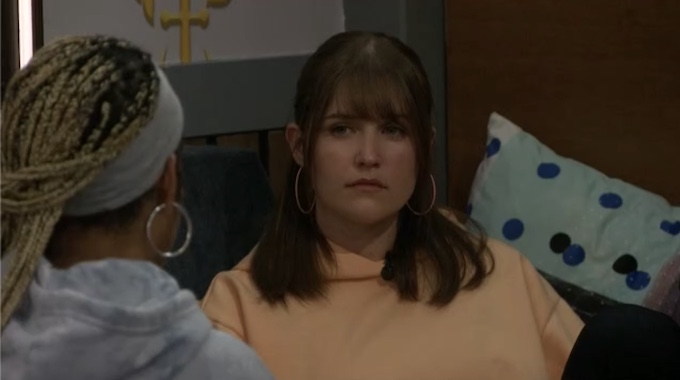 It is Campaign Day inside the Big Brother 23 house! The day started a little slow, but Sarah Beth did get a chance to talk to all the Big Brother 2021 houseguests. Read on to find out what the Big Brother houseguests told SB during her campaign.
If you've got the Live Feeds (Free Trial) then you can watch all of these moments with the Flashback feature to go back and watch those important conversations or funny scenes you may have missed.
Big Brother 23 Live Feed Highlights – Wednesday, September 1, 2021:
10:20 AM BBT – HGs are waking up.

10:47 AM BBT – Xavier, Hannah, and Derek are discussing whether or not Shelly really exists and what is going on with Sarah Beth and Kyland. Derek says that if she isn't real then SB's coming out story isn't either and that's not something she should be saying if it's not true. Hannah says that they know that Ky and SB slept in the HOH room twice and they have been sleeping in the HN room too.

11:30 AM BBT – The HGs are just hanging around chit-chatting about relationships.

12:22 PM BBT – Xavier tells SB that the only thing that would cause him to keep Kyland over her would be SB's relationship with Alyssa in the house. SB says she definitely wants to talk to Alyssa because she heard that Derek X told Alyssa something before he left.

12:26 PM BBT – SB tells Xavier that her winning the next HOH would just make her a target every week after. She tells Xavier that losing Kyland this week, she needs to find people to work with.

12:30 PM BBT – Xavier tells SB that her staying in the house is a value to his game, but he would just like to know where SB and Alyssa stand first. He adds that he doesn't need Alyssa and SB taking shots at each other because that's not good for his game. SB says that she is willing to work with Alyssa, she just needs to see where Alyssa's head is at.

12:35 PM BBT – SB asks Derek what his biggest concern is with keeping her over Kyland. He tells her that he doesn't think that he really has a concern. He says that it's hard for him to pick between two people he has F3s with.

12:40 PM BBT – SB tells Derek that even if she did stay and they wanted to pick her off next week, she doesn't see them putting Derek next to her.

12:43 PM BBT – Derek tells SB that he is leaning more towards SB because he knows that if he keeps Kyland around, he's likely to mess up Derek's name. Meanwhile, Xavier is telling Alyssa about his conversation with Alyssa.

12:45 PM BBT – SB tells Derek that if she stays, she will throw the HOH to him in a heartbeat.

12:50 PM BBT – SB asks Hannah what her biggest concern with keeping SB over Kyland. Hannah tells SB that Kyland has a bigger target on his back because he has won more comps which will keep her safe one week longer. She isn't sure that everyone would come after SB.

12:55 PM BBT – SB tells Hannah that if someone wants to pick someone off with no blood on their hands, SB would be that person. However, she would like to stay under the radar next week, but if someone like Derek wins HOH, who knows what he would do.

1:14 PM BBT – Tiffany tells SB that she knows this game and she's playing safety as to not appear threatening, but she sees SB playing a very strategic game. She says that of all the girls in the house she sees SB as her biggest threat to her personal game because she would lose if she was sitting next to SB.

1:20 PM BBT – SB tells Tiffany that she needs to find people to work with and she needs to find people that she can be loyal to. She tells Tiffany that she can see herself with Tiffany at the end of the game, especially if Tiffany is willing to help her stay. She tells Tiffany that's not something she is sitting her telling everyone.

1:30 PM BBT – SB asks Azah what her biggest concern is when it comes to keeping SB over Kyland. Azah tells her that when it comes to her personal game, it's actually best of SB to be in the house. SB wasn't expecting that but is excited to hear that from someone.

1:40 PM BBT – SB tells Claire that her plan, if she stays, is to lay low and try and get the target off her back, but she is hoping that someone could say "oh we can get SB out next week" instead. SB tells Claire that Kyland is also unpredictable so she couldn't even tell Claire what Kyland would do if he won the next HOH and she's pretty sure Kyland is gunning for it.

1:46 PM BBT – SB asks Claire if she is leaning one way or the other and Claire says she really wants to hear Kyland's pitch first. She says after she talks to him, she will regroup and then talk to SB again.

1:50 PM BBT – Alyssa tells SB that DX told her that SB's one on ones were solely to get people to target Alyssa. Alyssa tells her that she has been doing everything she can to show SB that she is loyal to her, but DX told her multiple things that were specifically targeting Alyssa. Alyssa just wants to make sure that she didn't hurt SB personally and SB said "oh my gosh, no."

1:53 PM BBT – SB tells Alyssa that she never told anyone that Alyssa was targeting anyone. She always told people that she didn't know where Alyssa's head was at because she felt that it was better if people didn't know they were working together.

1:55 PM BBT – SB does admit that she played it off like she didn't trust Alyssa because that would make people think that she wouldn't work with her. She says that she didn't think that it was going to affect her game that way and apologizes to her for that. Alyssa says that people who were never questioning her are now questioning her and that's the only thing that she is concerned about going into next week.

2:03 PM BBT – SB tells Alyssa that she feels like not gunning for the HOH is best for her game. She says that she feels like she is more predictable and straightforward when she does things, expecially when it comes to the people she is working with. Alyssa says that's a fair point.

2:08 PM BBT – Alyssa says that she is worried about the fact that people are looking at her as someone who can't be loyal. SB says that based on things that she (SB) has done this week, she thinks that people are looking more at SB when it comes to not being loyal. Alyssa tells SB that at this point, she is very 50/50 about this week's vote.

2:30 PM BBT – Tiffany is camtalking about her talks with SB and at the end she says "bye SB."

2:35 PM BBT – Alyssa tells Xavier about her conversation with SB.

2:45 PM BBT – Alyssa tells Xavier that she told SB that she hasn't come to her (A) to talk to her about anything which just confirmed to her that she (SB) was talking about her.

2:49 PM BBT – Xavier camtalks after Alyssa leaves the room. He's questioning whether he should win HOH or not. He says that if he wins, Alyssa gets another week.

3:00 PM BBT – Claire tells Azah that she talked to Derek yesterday and she thinks they are okay, but the last thing he said to her is "if you get me, before I get you, it is what it is." They laugh about it.
Even with Azah telling SB that her staying is what's best for her personal game, she will likely vote SB out because that's what's best for the Cookout. SB did get a chance to clear the air with Alyssa, but Alyssa still doesn't trust SB enough to keep her around. Unless Kyland does something to sabotage his game, chances are SB will become the fourth member of our Jury.
You can watch all of these Big Brother events using the archives Flashback, the DVR-like feature of this year's Live Feeds which means it's always live, even when you missed it! Sign-up now to get the free trial to watch it all live & uncensored.


Gallery: Live Feeds Highlights
Download our Big Brother App, join us on Facebook & Twitter, and get our Email Updates for more!