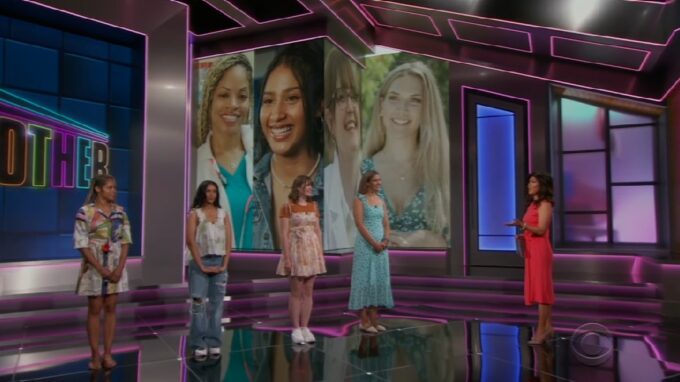 Every season we post a cast first impressions, and every season those impressions change within days of the first broadcast and Live Feeds launch. And Big Brother 23 has been no different.
And let me just say, the first impressions change even more this season than usual. And not to mention when I first wrote the cast first impressions, Christie was still a houseguest and we had no idea Claire was even in contention. So that being said, let's take a SECOND look at the BB23 cast.
Big Brother 23 Cast Second Impressions
Azah Awasum
My impression of Azah has only improved. Not only did she say she was anti-shomance, she also said she wanted to target the first HOH. Of course the twist thrown at them will prevent her from targeting the first HOH right away, but if she sticks to her plan, she would have her self a mighty fine target after this week.
Brent Champagne
Brent has been a roller coaster for me already. On one hand I was annoyed from the jump because he's obviously a bro. And I was ready to see him go. But then, WHEN HE WAS AN ACTUAL TARGET, Brent finessed HOH Frenchie so fine that I now think they're in an alliance together. But as you'll learn, Frenchie is in an alliance with everyone. So I guess if we have to tolerate meatheads every season (and we do), then I guess Brent isn't the worst choice. There have definitely been worse.
Britini D'Angelo
Britini still have a lot of energy. But she also seems to know a thing or two about dealing with the kind of people she's playing Big Brother with. She's not as annoying as I thought she'd be, but there's still potential there. She has played it pretty smart already, getting in with the right kind of people and building some solid relationships it seems. She has gravitated toward Tiffany, and that seems to be a pretty genuine connection.
Christian Birkenberger
Christian almost lived up to my original assessment. I predicted he was Most Likely to Be Evicted First. And he was well on his way. But he won himself  some safety and then became one of Frenchie's many allies. But unless he wins his way throughout the game, I still don't think he's long for this game. And despite not exactly looking the part, he's one of the bro-iest bros in the house.
Claire Rehfuss
I am loving Claire. We are really sorry about Christie and hope she is well and gets another shot at playing Big Brother. But we are glad Claire is the one that was able to step in. She knows the game of Big Brother, and she knows what needs to be done, without all the flailing we tend to see from fans (and are seeing from others this season already). Claire really wants to work with the women, and I think that shows already. So here's to hoping she gets the shot to finally get that female alliance off the ground.
Derek Frazier
At first I thought Derek was playing a little too hard too quick, but then so many others are playing much harder, that I think Derek is in a position to be playing one of the best games. He's also very in tune with what's going on, and he's a lot of fun to watch. I still have him pegged to Most Likely Be the Diary Room King this season
Alyssa Lopez
At first I thought Alyssa was here to play the game. Then during the premier I got a sour feeling about her. And as soon as the Live Feeds kicked on, she was already complaining about being sick. So I was over it. Then I learned that she is actually a fan of the show and has auditioned for BB four time. And she really wants to play the kind of game most of us respect. Unfortunately, she could find herself in trouble this week and I think want her to find her way out of that trouble.
Derek Xioa
Derek has been the center of some drama already, but I don't really think it's drama he's caused. Derek has laid a bit too low the first few days, which was about to be a problem. But he's since realized what he needed to do to stay off the HOH's radar. I think so anyway. As of now Derek isn't very exciting and I'm not a fan of him wanting to be with the bros, but I think he might be a silent observer, so we might be able to expect some good things from him if he makes it past this week.
Brandon "Frenchie" French
Oh Frenchie. I was ready to see how a BB fan from Twitter would play. And I had some worries because I know how superfans can be. But let me tell you, I had NO IDEA it could ever be this bad! Frenchie has our heads spinning. Anyone watching the Live Feeds is so confused by his game play. Not only has he gone back on every thing he said he would do, but he's in an alliance with everyone. As I'm writing this, he's making his nominations, and we don't know what's going to happen. It's been that messy. And one of the most disappointing parts is he SWORE to so many people no woman would be nominated or leave this week and now we think Alyssa could be his target. He went from wanting to target the alpha males/jocks/bros to picking those exact types as his core alliance. To say we are disappointed is an understatement.
Hannah Chaddha
Hannah still has me excited. She still wants to play messy and hard, but knew not to do that right out of the gate. So I think she has some real potential. And I like who she's gravitating toward in the house. I think the women are definitely smarter and stronger than the men this season, so here's to hoping she gets her chance to bathe in that blood that she wants so badly.
Kyland Young
Kyland is playing about how I expected. I think he might be double dipping here and there as far as allies go, but I think he can see things pretty clearly. I think of the men, he might be the one with the most potential. I picked him as the one most likely to win BB23, and while that was a bold statement, I could still see that happening.
Sarah Steagall
I thought I was going to be annoyed by Sarah, but I think she is the sweetest person I've seen in a long time. I really hope she isn't some random casualty this week and leaves way too early, because I think she could actually be a really smart player with a great social game.
Tiffany Mitchell
Speaking of social game, Tiffany HAS IT. And she is the player I was most wrong about. I picked her out as the player Most Likely to Self Evict, and I was so WRONG. As of now, and I know it's early, Tiffany is play an amazing game. She's making connections and she sees what isn't right in front of her as clearly as she sees what is in from of her. A lot of us on Twitter are already picking Tiffany as an America's Favorite contender. And I love that she and Claire seem to have something going. I think the two of them really teaming up could be gold.
Travis Long
Travis is as bad as I thought he would be. He's brought nothing new to the table so far. He's just a mixture of a few of my least favorite archetypes and I am not any more excited to see him play as I was before.
Whitney Williams 
Whitney is better than I imagined. She's interesting in working with people I didn't expect her to be. And she really seems like she could lead some alliances. I'm not sure how her game will evolve though, because she does seem like someone who can adapt well, so she might be able to get pretty far in the game.
Xavier Prather
Xavier seems to be in a good position right away. He's an alpha male with a jock physique but he's not really considered a part of the meatheads. That's a good feat that he's pulled off. I think Xavier has a lot of potential and I'm excited to keep watching him play Big Brother.
And of course my second impressions are likely to change again in a few days or a week. What do you think of the Big Brother 23 cast?