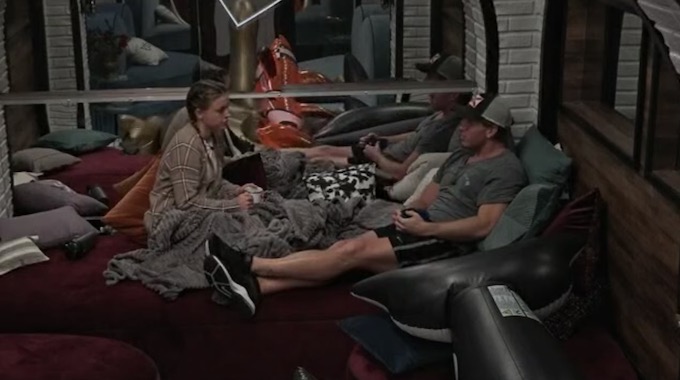 It is Eviction Eve in the Big Brother house and a pretty quiet one at that. The HGs spent a lot of time talking about this week's vote on Big Brother and how important it is to win next week's HOH and POV. Christmas and Memphis compared notes on how they think the jury is going to view some of the remaining Big Brother All-Stars in F2 situations.
If you've got the Live Feeds (Free Trial) then you can watch all of these moments with the Flashback feature to go back and watch those important conversations or funny scenes you may have missed.
Big Brother 22 Live Feed Highlights – Wednesday, October 14, 2020:
10:20 AM BBT – HGs are waking up.

10:26 AM BBT – Memphis tells Christmas and Nicole that he thinks of the weirdest things in the middle of the night. He says he was thinking about BB Comics and how Nicole did 16 comics in 11 minutes which is like 40 seconds per comic.

11:47 AM BBT – Memphis goes into the key room and tells Christmas that he has something to say and then stars…

11:49 AM BBT – Feeds come back to Christmas camtalking about how it's important for Memphis to know her gameplay so that he can counter any arguements made against Christmas in Jury and vice versa. She says that they are going to talk about all that later so that they are both set up for whoever goes to Jury this week.

12:00 PM BBT – Christmas is talking to herself about how she was never on anyone's radar and she's been on the block three times with not a single vote being cast against her.

1:28 PM BBT – Nicole asks Cody if they are going to blindside Memphis and Cody says he doesn't know. Nicole asks if he has talked to Christmas yet and asks what he's going to do. Cody says he doesn't know what to do since Enzo already told her that he didn't see her as a bigger threat. So now Christmas is just sitting around thinking she is good and he has no other angles to play.

2:09 PM BBT – Christmas and Memphis are talking about how the jury might see Nicole. Memphis thinks that if Nicole makes it to the end, she has a better chance at winning this season because it's an all-star season, but if this season was a bunch of newbies, she wouldn't win. Christmas talks about how Nicole had The Committee keeping her safe where Christmas and Memphis had to win to keep their alliance safe.

2:17 PM BBT – Christmas says that Enzo was a floater and didn't win anything after week 3. Memphis says that he hasn't seen the block once, no one has seen him as a target. Christmas says that just because he had good relationships with everyone doesn't make him a better playere. Memphis says that he isn't feeling very good about Enzo having good relationships with everyone.

2:26 PM BBT – Cody tells Enzo that if Christmas is sitting next to Nicole in F2, Nicole will blow her out of the water. Cody thinks that Christmas thinking that means Memphis has been drilling that into her head.

2:32 PM BBT – After Memphis leaves, Christmas camtalks about how that talk helped her iron out some things. She mentions seeing Cody as less of a threat now.

2:35 PM BBT – Enzo is wondering how things would have went if they voted Nicole out over Dani. Cody and David thinks that David would be in the F5 with them, Tyler, and Memphis.

2:45 PM BBT – Everyone is in the photo room except Nicole (in the DR) and they are all talking about past seasons of the show. They talk about who might win AFP, they think it could be Nicole A or Janelle. Enzo suggests that Nicole F might get it and Cody says she isn't going to get it.
It doesn't seem like anything has changed when it comes to tomorrow's vote on Big Brother 22, but there hasn't been any campaigning. Looks like Memphis is still going to be the next member of our Big Brother jury regardless of how nervous the other HGs are about Christmas' ability to win comps. The only question that remains is will they blindside Memphis or tell him beforehand that he is the one being voted out?
You can watch all of these Big Brother events using the archives Flashback, the DVR-like feature of this year's Live Feeds which means it's always live, even when you missed it! Sign-up now to get the free trial to watch it all live & uncensored.

Gallery: Live Feeds Highlights
Download our Big Brother App, join us on Facebook & Twitter, and get our Email Updates for more!