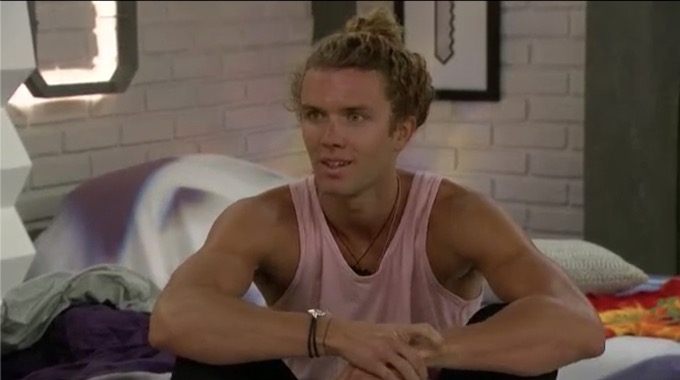 The day started off slow inside the Big Brother house but after a video message from Dr. Will. The Big Brother 22 HGs started to speculate on what could happen this week and are starting to get a little nervous. Read on to find out what was said in this message to the Big Brother All-Stars.
If you've got the Live Feeds (Free Trial) then you can watch all of these moments with the Flashback feature to go back and watch those important conversations or funny scenes you may have missed.
Big Brother 22 Live Feed Highlights – Tuesday, September 29, 2020:
9:00 AM BBT – HGs are waking up.

12:00 PM BBT – Enzo and Nicole are going over days and events in the upstairs lounge. Everyone else is hanging out in the kitchen.

12:07 PM BBT – Pet cams….

12:38 PM BBT – Feeds come back to David and Christmas playing backgammon.

12:40 PM BBT – Nicole says "that stressed me out" and Enzo says "and he said it twice."

12:41 PM BBT – Enzo tells Nicole that he thinks it's a speed week going into a DE. Nicole says that's fine with her. Enzo asks if she (Julie) comes on the television at like 5 and says "houseguests, come to the living room?" Stars…

12:49 PM BBT – Tyler tells Cody, Dani, and Christmas that he thinks they are getting a new room. Sounds like there was something on the TV that says "Neighbor's House" on the TV and they note that this is the second video they have seen of Will.

1:00 PM BBT – Kevin and Enzo are talking about how after the video played everyone went up into the HOH. Kevin switches the talk to if this is a fast-forward week, he wants to make a deal with Enzo. Kevin promises that he won't nominate him and he would always pick Enzo to play in the Veto going forward if he gets HG choice.

1:06 PM BBT – Kevin tells Enzo that he has to talk to Christmas and Memphis. He thinks that he can convince Memphis to keep him because David will target Memphis. Enzo says that after Kevin talks to Christmas, he will to see where she is at. Kevin is hoping that David's choice to not fight for safety is a good enough reason to vote him out.

1:10 PM BBT – Enzo tells Kevin that he would need to get four votes because at this point, Cody is going to vote Kevin out.

1:12 PM BBT – Nicole tells Dani that the video stressed her out. Dani mentions to Nicole that she has noticed that their group has stopped vocalizing their targets.

1:15 PM BBT – Cody is telling Memphis how no one seems to trust Dani, but everyone wants them to do the dirty work of putting Dani or Christmas on the block.

1:25 PM BBT – Kevin is talking to Tyler about the whole vote situation.

1:30 PM BBT – Kevin tells Tyler that he knows that he is close with David and he doesn't want to get in the middle of that, but he feels like people want to see HGs who are fighting to stay in the house. He asks Tyler what kind of deal can they come up with so that Kevin can stay in the house one more week. He reminds Tyler that he has no one in the house.

1:45 PM BBT – David tells Dani that when she told him Ian was a pawn, he voted the way that she wanted him to vote. Now his relationship with Tyler is rocky because David voted to evict Tyler. Dani asks if Tyler knows that and he says he isn't sure, but he imagines so.

1:50 PM BBT – Christmas and Cody are explaining to Memphis what the Battle of the Block was about.

1:53 PM BBT – Tyler tells Memphis, Christmas, and Cody that Kevin and David are campaigning,

1:54 PM BBT – Dani tells David that it's probably going to be a double based on everything Dr. Will Said. David said that he basically said "know what you're going to do because we need to get three or four of you out of here in the next week."

2:15 PM BBT – David tells Tyler that he told Dani that he thinks Tyler is coming after him because of the vote against him. Tyler says that it's good for her to think they are targeting each other. Tyler says that no one has told him anything about the vote, but he is expecting Kevin to go this week.

2:19 PM BBT – Tyler tells David that Day was trying to get him out during Enzo's HOH. Tyler tells David that he couldn't tell him that though because he wouldn't have believed him or Enzo.

2:22 PM BBT – David wonders if there is a vote tonight and then a double on Thursday. He asks Tyler if there has ever been three people evicted in one week and Tyler says, no, not like this. Talks turn to the video they saw. Dr Will was apparently holding a cut and he winked at them. It was played twice and Tyler says that he thinks that the video was mirrored. They are running through the different ways a triple couple play out this week.

2:39 PM BBT – Dani asks Tyler what their pitches were and Tyler tells Dani that Kevin came clean about the vote thing. He tells her about the deal that Kevin tried to make with him. He tells her that David gave him a similar pitch to him. Talks turn to what they should do if there is a double. Tyler says they just have to all agree on a solid plan.

2:45 PM BBT – Tyler tells Dani and him and David were thinking that there has to be a triple eviction because why would Dr Will say that they have to think not two steps, but three steps ahead?

2:52 PM BBT – Dani asks Tyler who his F2 is. He tells her that it's her by default and they both laugh about it. He says that he honestly doesn't have a F2 because the last time he played he had nine of them and it screwed him all up.

3:00 PM BBT – Nicole tells Cody that she is trying not to freak out and Cody tells her that everyone is freaked out to an extent, but don't be that person. Nicole tells Cody that she is feeling guilty about telling Christmas that Dani is coming after her. Cody tells her it wasn't new news. Nicole mentions that christmas told her four people told her the same thing.
Sounds like production ruined the element of surprise for Thursday's Triple Eviction and now they are all suspecting a triple eviction of some kind. They are all confused as to why they would be getting this message on a Tuesday and have started to speculate that maybe there will be an early eviction and a fast-forward prior to a DE on Thursday. What do you think about production letting the cat out of the bag?
You can watch all of these Big Brother events using the archives Flashback, the DVR-like feature of this year's Live Feeds which means it's always live, even when you missed it! Sign-up now to get the free trial to watch it all live & uncensored.

Gallery: Live Feeds Highlights
Download our Big Brother App, join us on Facebook & Twitter, and get our Email Updates for more!