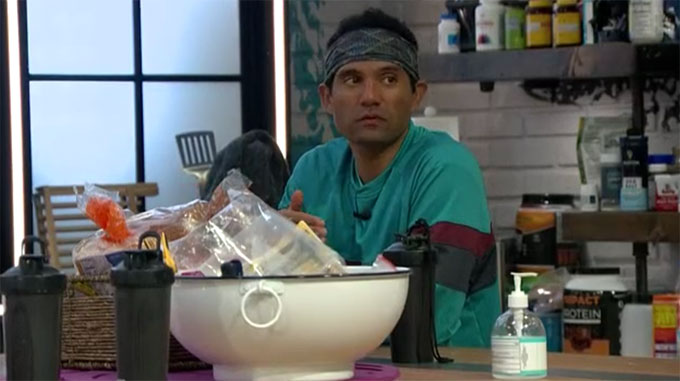 The Big Brother 22 houseguests got a message from Dr. Will that basically tipped them off on the upcoming Triple Eviction, so everyone started scrambling to think "three steps ahead" as Dr. Will advised. Meanwhile, Kevin was still focused on the first of the three evictions as he ramped up his campaign. Did it help at all? Read on to find out.
If you've got the Live Feeds (Free Trial) then you can watch all of these moments with the Flashback feature to go back and watch those important conversations or funny scenes you may have missed.
Big Brother 22 Live Feed Highlights – Tuesday, September 29, 2020:
3:50 PM BBT – Kevin continues his campaign. He asks Memphis to just keep an open mind and says he has no reason to come after him if he stays. Memphis says at this point everyone is coming after everyone.

4:03 PM BBT – Dani tells Memphis she's worried because she feels like Christmas would put her up.

4:10 PM BBT – Nicole tells Kevin it would be a smart move for herself and Dani to keep him but they need more votes than that.

4:14 PM B BT – Nicole pitching Kevin staying to Cody and Enzo. She tells them since they are short on numbers now, what if they kept Kevin and said you cannot nominate us. Cody says Kevin would still just nominate whoever he wants. Nicole tells Cody that Kevin wants to work with her, Dani, and Enzo so all they would have to do is tell him not to go after Cody. Cody says there's no way to know if they could trust that. Nicole says well, she doesn't trust David at all.

4:19 PM BBT – Nicole tells Cody she's trying to figure out how they survive next week. Cody tells her to win HOH because she hasn't won anything all season.

4:25 PM BBT – Kevin campaigns to Christmas. He tells her that for the next three HOHs he will not put her up or backdoor her. He says there are only two people he hasn't made this offer to. He tells her he needs four votes.

4:37 PM BBT –  Dani ask Christmas if they are voting out Kevin. Christmas says she doesn't know now because Kevin is now saying Cody doesn't care who goes. Dani says that's news to her. Christmas says she was going to double-check with Cody. Dani says it doesn't matter that much to her, but she'd vote David out if it were up to her.

5:15 PM BBT – Kevin tells Enzo that Cody said he was going to stay out of the vote and let the house decide who goes home.

7:53 PM BBT – Dani says to Nicole that if David wins HOH they have to throw Memphis under the bus to keep themselves safe.

7:57 PM BBT – Dani tells Nicole she doesn't talk game with Enzo anymore and feels like he has no strategy.

8:59 PM BBT – Kevin tells the camera that he doesn't think he has the votes to stay this time. He says it would take a miracle.

9:05 PM BBT – Kevin continues cam-talking. He says this has been the worst experience and he wishes he had never come back since his first experience was so positive.

9:11 PM BBT – Kevin is confused about why some of the other HGs have been saying this is the most fun season ever. He says it has been the most horrific season ever.

9:15 PM BBT – Kevin says they released a twist today but he doesn't know if it will help him. He said they saw the neighbor's house on the screen and Dr. Will advised them to think three steps ahead. He says that suggests a fast forward or a double eviction or something like that.

9:20 PM BBT – Kevin says Memphis mentioned David wasn't a threat and could be dragged to the end.

9:50 PM BBT – Wise Guys meet in the HOH room (Cody, Memphis, and Enzo). They agree David will be an easy target in the Double. Memphis wants him out next week. If Christmas gets HOH then they'll support her in getting out Dani but would rather David go next.

10:10 PM BBT – Cody expects Dani to target David and Tyler while possibly trying to BD Christmas while Nicole might go after Memphis and Christmas.

10:20 PM BBT – Enzo suggests Tyler and Christmas aren't close but Cody disagrees. Cody says she lied to him about not wanting to go to F2 with him.

10:40 PM BBT – Memphis and Christmas are surprised nothing happened after getting that video message from Dr. Will telling them to plan three steps ahead and now expect a Triple Eviction. They don't know why BB would give them a warning instead of just doing it.

10:45 PM BBT – Christmas says they're good with anyone but Dani winning HOH. Memphis says Enzo is committed to them and their F3.

11:55 PM BBT – Kevin is still trying to get support from Enzo. He warns Enzo that things will get ruthless and points out that Nicole cut Ian, who she claimed to be her best friend in the house. Enzo thinks Ian will lose it when he finds out that Nicole helped do that.

12:00 AM BBT – Cody is alone in the HOH room studying days and events.

12:20 AM BBT – Kevin worries to Enzo that if he fights and stays then this will just happen all over again next week.

2:30 AM BBT – Enzo and Kevin are still up and chatting about life back home with the lights out.

4:00 AM BBT – Lights are out and HGs are asleep.
The video visit from Dr. Will definitely stirred up the HGs and left them confused over what was going to happen next but it also clearly tipped them off that three would be going in short order. Disappointing that they're expecting the expected now, but at least we're hearing lots of targeting chatter that might have otherwise gone quiet the next few days.
You can watch all of these Big Brother events using the archives Flashback, the DVR-like feature of this year's Live Feeds which means it's always live, even when you missed it! Sign-up now to get the free trial to watch it all live & uncensored.

Gallery: Live Feeds Highlights
Download our Big Brother App, join us on Facebook & Twitter, and get our Email Updates for more!