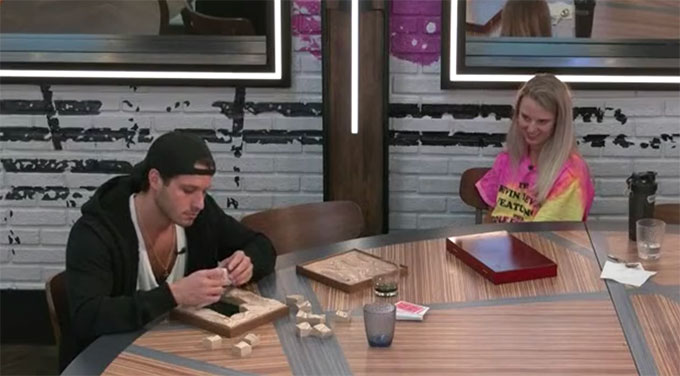 It was the last night of Live Feeds for Big Brother 22, and the Final 3 spent most of the day fighting boredom. They did get their luggage and began packing later in the night, while planning what to say to the jury during the finale. Nicole practiced her speech some more and Enzo just continues to hope Cody takes him to the Final 2 if he wins the last competition.
If you've got the Live Feeds (Free Trial) then you can watch all of these moments with the Flashback feature to go back and watch those important conversations or funny scenes you may have missed.
Big Brother 22 Live Feed Highlights – Tuesday, October 27, 2020:
10:15 AM BBT – The lights are on in the Big Brother house.

12:10 PM BBT – Nicole is practicing what she is going to say and how she is going to answer the questions that the jury is going to ask her. She says that she is struggling with the question of why she deserves it more than the person sitting next to her.

12:25 PM BBT – Nicole is asking Enzo and Cody where Bayleigh's drawers were. Cody points out that Janelle left a drawer full of stuff. Nicole and Cody put them all together. Nicole mentions that she thinks that everyone might be coming to the finale because Janelle wanted her pink dress.

12:33 PM BBT – Cody is using some of Nicole's under-eye masks. Nicole heads back into the love room to practice her speech and Cody goes back to cooking breakfast.

1:45 PM BBT – The HGs are talking about how people are always talking bad about HGs when they get out. They talk about how those are the same people who ask you to come onto their podcasts and do interviews. Cody says that his dad monitors all of that and tells him who to avoid when he gets out.

2:12 PM BBT – Cody is back in bed.

2:18 PM BBT – Nicole is back to practicing and talking about how it wasn't enough for her to say she was weak, she had to prove it by not winning competitions. She says she also had to make sure she reminded them that she didn't deserve her first win in order to make it look like she wasn't a threat. She says that because of all of this, she had to rely on her social game and building relationships with people.

2:37 PM BBT – Enzo and Nicole are talking about how crazy it was that Cody won the second round in just 4 minutes. Enzo talks about how he lost it after the comp because he felt bad for everyone that thought that he had a real shot at making it to the questions (F2).

2:55 PM BBT – Cody is up again and working out, Enzo is walking laps around the house, and Nicole is showering.

4:56 PM BBT – Enzo, talking to himself, says it's Day 84 and the finale is tomorrow (today). He says Cody needs to win the final competition and take him to final two. He says he wants to get to make his speech. Enzo thinks Nicole would be too terrified to take him to final 2 but wonders if Cody is scared to as well.

5:18 PM BBT – Cody and Nicole talk about crazy it is that they don't really know what's happening with the finale. Nicole asks if they're the worst final 3 in history. Cody wonders if everyone hates them and if he should be scared to even leave the BB house.

6:05 PM BBT – Nicole and Cody talk about how they're excited to see who made those hinky votes earlier in the season.

6:33 PM BBT – Nicole is packing up her things. Cody says he's all packed up and now he's bored again.

7:13 PM BBT – Nicole is still packing. Cody has gone for a nap. Enzo is nowhere to be seen.

9:04 PM BBT – At the kitchen table, Cody is doing a new puzzle they got and Nicole is playing backgammon by herself.

9:40 PM BBT – Cody and Nicole discuss their work-life after Big Brother. Cody does mostly soccer coaching but wants to get more in real estate. Nicole says she does flat fee promotions on social media. She says she pushes Victor to endorse things for the money.

10:00 PM BBT – Nicole and Cody are excited to leave tomorrow. They decide it's time to go on to sleep.

10:30 PM BBT – Enzo is working on packaging.

11:05 PM BBT – Enzo declares he will cut anyone who cuts him. He doesn't think Cody will cut him but will snap if he does. Enzo camtalks that he would have won if he made F2.

12:05 AM BBT – Enzo has been sitting in the bathroom when Cody comes in. Enzo implores Cody not to let Nicole get in Cody's head and she already won her money. Cody says he's got this R3. After Cody leaves Enzo says Cody is afraid to take him to F2.

12:10 AM BBT – Enzo camtalks that he expects people to tell him he should have cut Nicole (at Triple). He says he had to keep her to win comps but it was bad luck when Christmas's pumpkin rolled out. He needed her to win that comp and evict Nicole. Enzo still thinks Cody will take him to F2.

12:15 AM BBT – Enzo thinks America wants to see him in F2. He reiterates that Cody will take him to F2 but doesn't expect Nicole will take him.

12:25 AM BBT – Enzo says he had to evict David or else David would have stayed as a pawn and the bigger targets, including him, would have gone home against David. He doesn't understand why Nicole would take Cody to F2 when he's won all those comps and hasn't been on the Block.

12:30 AM BBT – Enzo thinks Nicole is afraid to take him to F2 because he's got the best social game.

12:40 AM BBT – Enzo says it's crazy that he won 3rd place then ten years later comes back and wins 3rd place again. He says he just needs someone to take him to the end because the greats have won that way like Dr Will and Derrick.

1:45 AM BBT – Enzo continues to pace the upstairs.

2:00 AM BBT – Lights out one last time for BB22.
Welcome to the end! This is our final Feed Highlights Report for Big Brother 22 All-Stars as we see the F3 settle in on their last night of the season. Cody and Nicole prepare for one last competition while Enzo watches nervously from afar. Who will win? Let's find out tonight at 9/8c!
You can watch all of these Big Brother events using the archives Flashback, the DVR-like feature of this year's Live Feeds which means it's always live, even when you missed it! Sign-up now to get the free trial to watch it all live & uncensored.


Gallery: Live Feeds Highlights
Download our Big Brother App, join us on Facebook & Twitter, and get our Email Updates for more!