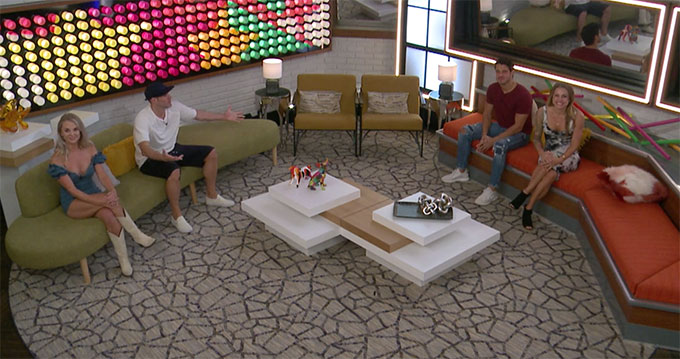 If you've checked out our Big Brother 22 Head of Household spoilers for this week, then you know that the first member of the All-Stars Final 3 has been decided.
Enzo took the HOH key this week, securing his spot in the Big Brother 22 Final 3. So who will be joining him? That, of course, depends completely on the Power of Veto. Enzo plans to nominate Nicole and Christmas for eviction, because he wants to sit next to Cody in the Final 2 (for some reason). And Enzo would like to see Nicole go this week. But that's never been in Cody's plan. So there are a few ways this could go this week. Let's take a look.
Scenario 1
HOH: Enzo
Nominations Pre-veto: Christmas and Nicole
Veto Winner: Cody
Outcome: If Cody has the sole vote to evict, he will send Christmas out the door. That goes against Enzo's wishes, but Cody has been everyone's boss all season anyway, and I don't expect that to change this close to the end of the game.
Final 3: Enzo, Cody, Nicole
I think this is the most-likely outcome. I would like to see something a little less predictable, but if BB22 has been anything, it's predictable.
Scenario 2
HOH: Enzo
Nominations Pre-veto: Christmas and Nicole
Veto Winner: Nicole
Outcome: If Nicole wins the veto, it's quite possible she won't even use it just to keep Cody off the block. I know this sounds crazy, but she told Cody that Enzo owed it to Cody to no put him on the block this week and instead should put HERSELF next to Christmas. I hope she actually does use it, because that is just absurd if she doesn't. So if she has the sole vote to evict, she'll send Christmas out. And if she doesn't use it, Cody will do the same.
Final 3: Enzo, Cody, Nicole
This is basically the same as the first scenario. I just don't expect Nicole to win three competitions in a row.
Scenario 3
HOH: Enzo
Nominations Pre-veto: Christmas and Nicole
Veto Winner: Christmas
Outcome: Christmas will of course veto herself, forcing Enzo to name Cody as the replacement nominee. This would give Christmas the sole vote to evict, and she would choose to evict Cody. Christmas seems to be the only one who realizes that Cody is going to win the game if he gets to the Final 2. So that's definitely what she would do. I hope.
Final 3: Enzo, Christmas, Nicole
And this is the outcome I'm most hoping for … even though Cody leaving increases Nicole's chances of becoming the first two-time winner of Big Brother.
Of course there are two other possible scenarios where Cody cuts Nicole or Christmas cuts Nicole, but I don't think that is happening. So basically, as of now, Nicole is guaranteed a spot in the Final 3. There could be the possibility that Enzo could convince Christmas to cut Nicole over Cody, but don't count on that.
I'm pretty confident the Final 3 will be Enzo, Cody and Nicole. What do you think will happen and what should happen?