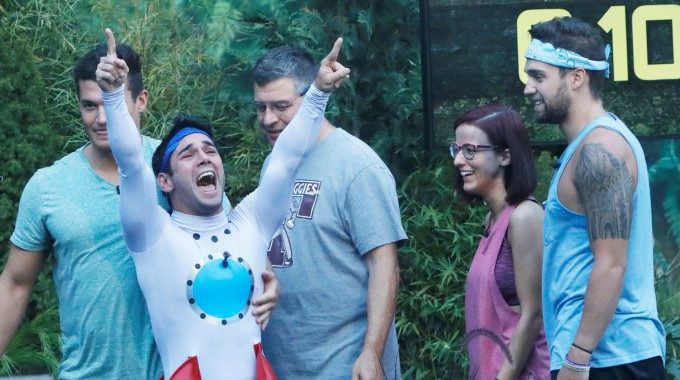 Through the turmoil of the Shooters destruction, we saw Tommy trying to play moderator and coordinate between the sides in what looked like an attempt to hold things together. Well, that didn't work out too great but it wasn't going to be his last opportunity.
With his HOH win this round it became clear that Tommy didn't share in the nuclear winter approach held by Christie and Jackson as both suggested they'd target the other given the chance. Instead, Tommy took to the diplomatic route and held talks with the former Shooters.
Tommy explained he didn't see there being many benefits to his game or his former allies if he were to pursue taking out HGs who wouldn't be going after him. A fair assessment. Thursday night around 8PM BBT Tommy told Sis, Holly, and Jackson that none of them would be seeing the Block this week.
He held to that promise on Friday when he sent Kat and Cliff to the Block but that point Christie had already been nominated thanks to losing the America's Field Trip competition. Now Tommy needs the Shooters' support more than ever to keep from losing his two closest allies in back to back weeks.
Friday night Holly talked about how it looked like Tommy was trying to get the group back together and he definitely is. Depending on how this Veto goes the votes may demand it. There are up to seven votes this week if Christie escapes the Block and only six if she doesn't. Tommy would obviously break a tie in Christie's favor and to get there he'd just need Jackson, Holly, and Sis to vote his way. Ehhh.
Overnight Nick confessed to Tommy and Christie that he (N) expects Jackson and Holly to vote against Christie if she's still on the Block come Thursday. Christie agrees with his view there. Tommy doesn't though. He believes Jackson will hold to a promise of voting how Tommy needs this week. Yeah, no. I think Nick and Christie are right and Christie will be a goner if she's up at the live show.
The game has shifted so much in just a week thanks to Jessica's clean sweep last round. The Shooters are scattered and unless Tommy can offer up a scenario that benefits Jackson and Holly then I don't see them coming back. What do you think?