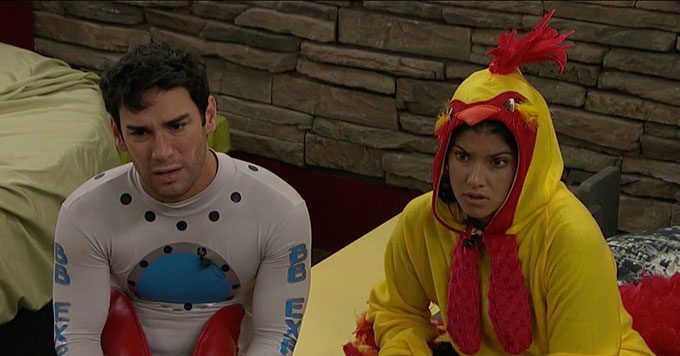 It was a busy day in the Big Brother 21 house as the houseguests learned about the America's Field Trip competition at about the time they were expecting to figure out who would be going up at the nomination ceremony. Read on to find out how the Field Trip comp played out and what went down a little later at the nomination ceremony.
If you've got the Live Feeds (Free Trial) then you can watch all of these moments with the Flashback feature to go back and watch those important conversations or funny scenes you may have missed.
Big Brother 21 Live Feed Highlights – Friday, August 9, 2019:
7:00 AM BBT – HGs get an early wake-up call.
7:52 AM BBT – Tommy and Analyse are talking about his nomination speech and how he is nominating them (K&C) based on their good working relationships with everyone in the house. Tommy also tells Analyse that Jack said he would vote how Tommy wants him to.
8:00 AM BBT – Tommy talks about how getting rid of Kat is going to weaken everyone because there are a lot of people who confide in Kat inside the house. Tommy also admits to Analyse that he threw the sheep POV so that Nick would win and stay.
8:05 AM BBT – Tommy talks about how he is nervous to make his speech because it's also how he plays the game.
8:06 AM BBT – Tommy wonders why they woke them up so early and mentions being scared. Analyse agrees.
9:35 AM BBT – Jackson mentions that it seems like the DR has a lot on their plate today.
9:50 AM BBT – Holly is speculating about who Tommy is going to put up. She thinks that it's going to be Kat and Cliff but thinks that Cliff is his target. She then wonders if he might be targeting Kat because she plays a similar game to him. Then she gets nervous that he might be targeting her for the same reason. Jackson doesn't think that Tommy would have asked him to vote the way Tommy wants if he was targeting Holly.
10:00 AM BBT – Nicole tells Jessica how Kat ran to Tommy with Nick's speculations last night. They are both upset that Kat threw Nicole's name out to Tommy specifically.
10:40 AM BBT – Tommy tells Holly that this week he wants to work on individual relationships. He thinks that the remaining five need to try and stick together going forward. He tells her that he thinks that what he is planning is best for the house and his game. He mentions her and Jackson don't have anything to worry about. She tells him that she is still frustrated with one of the five (C), but she is willing to work as a team.
10:52 AM BBT – Jessica tells Tommy, Holly, and Nicole that the screen doesn't say Nominations Today on it and they all start to wonder if something else is going to happen today. Nicole wonders if it's a surprise eviction.
11:05 AM BBT – Feeds cut to Pet Cams.
3:04 PM BBT – Feeds come back from America's Field Trip. Jackson won safety for the week, Analyse got a punishment and Christie became the third nominee as a result of the comp.
3:06 PM BBT – Christie is freaking out about being the third nominee. She's worried Jackson and Holly are going to vote her out. Nick tells her don't worry about that because he's going to win veto and save her.
3:12 PM BBT – Tommy tells Nick that Christie cannot go home on his HOH. Tommy says he thinks his only option for noms now are Cliff and Kat. Nick asks if Cliff is his target but Tommy says it's Kat. Nick tells Tommy if he gets HG's choice to pick him to play and he'll use the veto on Christie.
3:19 PM BBT – Tommy says if Kat goes this week it's kind of everyone loses an ally since she's working with everyone. He says it seems like the most fair thing. He also brings up letting her have Hawaii in the last veto competition. He says she never even thanked him for letting her have it.
3:25 PM BBT – Tommy thinks that he would have been on the Field Trip instead of Sis had he not been HOH.
3:39 PM BBT – Christie wonders what the mentality was behind the Field Trip voting. She says it's freaking her out to think about America hating her. Jessica tells Christie that's not what it is. She says it was probably just because those three were at the forefront of that fight last week.
3:50 PM BBT – Cliff tells Nicole this would be such an easy way for Tommy to get rid of Christie and he could have no blood on his hands from it.
3:59 PM BBT – Kat tells Nicole that she doesn't want to get rid of Cliff this week. Nicole says they can get rid of Christie if she's still on the block.
4:38 PM BBT – Christie is still upset and worried that Holly and Jackson won't keep her if she's still on the block. Tommy tells her that they will have Holly and Jackson on their side. He also says the Jessica and Nicole won't vote Christie out. She says Kat just cannot win the veto. Tommy says if Kat wins the veto Nicole will go up and Cliff will go home.
4:47 PM BBT – Christie says Sis is worried about Kat going to jury and having sex with Jack since they'll be all alone.
4:58 PM BBT – Jackson tells Tommy that he is in his corner this week. Tommy says he will need his vote this week.
5:00 PM BBT – Sis gets her punishment costume. It's a cheap chicken costume.
5:08 PM BBT – Feeds cut for the nomination ceremony.
6:25 PM BBT – Feeds return. Tommy has nominated Kat and Cliff. Kat is crying and huddled up in the boat room.
6:30 PM BBT – Jackson tells Kat that she will be fine and that people in the house love her. Jackson offers to play to win the veto for her if he gets picked.
6:32 PM BBT – Jessica tells Kat not to pick Jackson if she gets HG choice. Kat says she's not crazy and would pick Jessica.
6:58 PM BBT – Tommy apologizing to Kat about nominating her and tells her he wants her to win the veto.
7:15 PM BBT – Nick and Jessica are annoyed that Christie is on the block because of something America voted on. They agree that it's not fair.
7:55 PM BBT – Kat tells Holly that there's still some hope. Holly agrees. She says it will just come down to whether or not people want Cliff or Christie to go. Kat says probably Christie but Holly says Tommy really wants what's left of the six to work together.
8:07 PM BBT – Holly asks Jackson what they should do since Tommy really wants them all to work together again. Jackson says he can't even think about working with Christie without cringing and that he's just not going to do it. He says if the flip on Tommy then they have a week to deal with it since he can't win HOH again next week. Holly says if they vote out Christie then they're at the bottom of the other side of the house. She then realizes that it would really be more like 3 vs 3 since they have Kat on their side. Holly says maybe voting Christie out wold be best.
8:11 PM BBT – Jackson says no matter what the numbers look like for them after the fact, he thinks they need to vote Christie out. He says they might not have another shot and they both get to compete in the next HOH so there's no reason being afraid.
8:14 PM BBT –  Jackson says he is 100 percent convinced that the Field Trip vote was America's least favorite players. He says you don't risk voting your favorite players into a comp that has two punishments and only one reward. He says it's clear America does not like them. Holly says but she wonders why America doesn't like Sis. Jackson says he can think of a few reasons.
8:21 PM BBT – Holly tells Jackson that it might make more sense to go with the "Cliff's Angels" side of the house. Then she tells him not to tell Kat or anyone else that she told him about that alliance name.
8:25 PM BBT – Christie tells Nick that if Tommy doesn't shift his target to Cliff she will go home because Kat won't be getting voted out. Christie is annoyed that Tommy is so gung-ho about Holly and Jackson. She says it makes no sense because she knows they'll vote her out but Tommy thinks they won't.
8:35 PM BBT – Nicole expresses her irritation with Nick. She says she can't tell if he's trying to help or hurt her game. Kat says he only cares about helping his own game.
8:40 PM BBT – Nick tells Christie that if Nicole doesn't vote with them this week then he will tell her he can't protect her anymore.
8:46 PM BBT – Christie tells Sis that no one is voting Kat out. She says Tommy thinks Jackson and Holly will but he's crazy if he thinks that. She says nominating Kat with Christie on the block was way too risky.
8:57 PM BBT – Sis tells Tommy that if Christie stays on the block he's going to have to be OK with Cliff being the target over Kat because no one thinks Kat will go. Tommy says he will be OK with that as long as Christie stays.
9:12 PM BBT – Christie tells Jessica that she's sick of the game and how nobody is held accountable for what they say and do. She says if she goes at least she was true to herself.
9:45 PM BBT – Nick has been telling Nicole he's the reason she didn't go up this week and how he has a plan that will get them to F4. Nicole says she wants to go to F2 with him.
10:25 PM BBT – Nicole talks with Tommy about his nominations. He explains he had the least connection with the noms. Nicole mentions Kat was hurt and confused.
10:35 PM BBT – Tommy tells Nicole he doesn't want to be blindsided this week and to let him know what's happening. He doesn't want Christie to go this week but that's how the game goes.
10:40 PM BBT – Nicole asks Tommy what happened when she was being pushed as a renom the other week. Tommy promises her that he and Christie didn't want her to be the renom.
10:50 PM BBT – Nick and Sis talk plans for their F6. Nick wants Jess gone soon because she scares him. Sis agrees. He thinks they can get to F6 and then cut Tommy and Christie. The other two in their six will be Cliff and Nicole.
11:30 PM BBT – Tommy is running with Sis on his back. They're traveling at the Speed of Chicken. Big Brother shuts that down.
11:45 PM BBT – Nick tells Tommy and Christie that Holly and Jackson will definitely be voting out Christie. Christie expects it. Tommy says Jackson made a deal with him so he shouldn't.
11:45 PM BBT – Kat and Holly discuss Tommy nominating Kat. Holly thinks Tommy really does like her but Kat says Tommy is fake.
11:50 PM BBT – Holly tells Kat she might put up Nick and Nicole if she got HOH.
12:05 AM BBT – Christie is confused about the vote and says viewers don't vote for negative things. She fears she's been made a villain for going after Jackson.
12:15 AM BBT – Nick is confident that he, Tommy, or Christie will win the Veto and save Christie so they can flip Nicole and control the game.
12:30 AM BBT – Nick is upset because he believes Jess wouldn't vote for a guy to win simply because he's a guy.
12:40 AM BBT – Kat is crying to Jess that Tommy must have had personal reasons to nominate her.
12:45 AM BBT – Kat asks Christie not to mention to Tommy that she's upset by his nomination. Christie blows it off and says they haven't been discussing Kat's nomination and are more focused on Christie's.
12:50 AM BBT – Sis thinks they got a shark in the fish tank. HGs explain it's not a shark.
1:00 AM BBT – Christie declares she doesn't deserve to be on the Block with Tommy as HOH so she's determined to win the Veto.
1:05 AM BBT – Tommy's BB Explorer Mission is now complete. He can ditch the costume.
1:30 AM BBT – HOH crew is reviewing days and events in anticipation of a possible OTEV Veto comp on Saturday.
1:50 AM BBT – Cliff and Kat meet up in the kitchen and chat about events in case it's OTEV.
2:30 AM BBT – Cliff calls it a night after studying the Memory Wall for a while.
What a day in the Big Brother house as the Field Trip hit the house and sent Christie to the Block. Veto could be critical to her chances of survival so we'll watch for those spoilers later on Saturday.
You can watch all of these Big Brother events using the archives Flashback, the DVR-like feature of this year's Live Feeds which means it's always live, even when you missed it! Sign-up now to get the free trial to watch it all live & uncensored.

Gallery: Live Feeds Highlights
Download our Big Brother App, join us on Facebook & Twitter, and get our Email Updates for more!