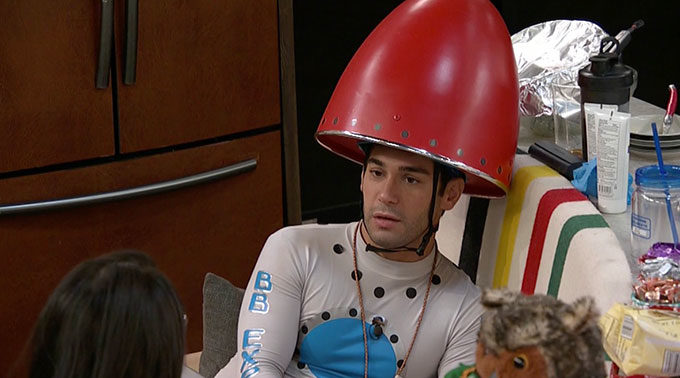 Tommy took the Big Brother 21 HOH key during Thursday night's episode, shifting the power back to the other side of the house. But after all the drama the past week, Tommy has vowed to not tell anyone his plans for the week. And for much of the evening, he remained pretty cryptic about his plans.
If you've got the Live Feeds (Free Trial) then you can watch all of these moments with the Flashback feature to go back and watch those important conversations or funny scenes you may have missed.
Big Brother 21 Live Feed Highlights – Thursday, August 8, 2019:
7:05 PM BBT – Tommy tells Sis, Nick, and Christie that he doesn't know what he's going to do. He says he has an idea but he's not going to say it out loud.
7:08 PM BBT  – Nick tells Tommy he swears his loyalty is with him, Sis and Nicole. Tommy tells Nick he's good with him and he's wanted him to work with him.
7:12 PM BBT – Kat tells Tommy voting Jack out wasn't about Jack but it was more about keeping Jessica safe and the deal Jack pitched to her didn't include Jessica. She says Jackson is still her target now that Jack is gone.
7:15 PM BBT – Sis tells Tommy that she's really pissed at Cliff. Tommy says he knows and that he only wants to talk to her about his plans because he doesn't even know who to trust anymore.
7:20 PM BBT – Jackson tells Holly that if he goes up as a pawn he'll probably go home. Holly says she has no idea what Tommy will do but he has wanted Cliff out for a long time so maybe Cliff will be his target.
7:30 PM BBT – Jackson works on smoothing things out with Sis. She tells him she was never going to go after him even after this past week. She tells him she's close with Christie but she still sees what's going on.
7:33 PM BBT – Cliff and Jackson both agree they'll be shocked if neither of them is on the block this week. Cliff says he has no regrets though.
7:57 PM BBT – Sis tells Jackson and Holly that Tommy has said many times that Jackson isn't a target of his. Jackson thinks he could still go up as a pawn though.
8:02 PM BBT – Tommy tells Sis, Jackson, and Holly that none of them are going up and that he loves them. Jackson says he thought he would be going up as a pawn. Tommy says that could be an option but he thinks people would vote him out. Jackson says that's what he's saying. Tommy tells Jackson he thinks he knows who his target is but he's not going to say it to anyone.
8:08 PM BBT  – Tommy tells Jackson that he's 90 percent sure he's not going on the block.
8:26 PM BBT – Nicole and Nick wonder what Tommy will do. Nick thinks it will be Kat and Cliff. Nicole said she was thinking Cliff and Jackson.
8:46 PM BBT – Christie tells Sis that if she had won she would have wanted Jackson out but now she's wondering if this is all a sign that they should all get back together. Christie says she thinks Tommy will do Jessica and Kat. Sis says she'd rather it be Cliff because he's a bigger threat. Christie said that would be fine with her and she would get rid of Cliff. Christie and Sis say Cliff should have taken Jack's deal.
8:54 PM BBT – Christie says she's not going to give her opinion to Tommy unless he asks.
8:54 PM BBT – Holly says to Tommy that she's just been checked out the past week. Tommy says he understands and she actually picked a good week to check out. He said they were forced to be on opposite ends for the past week so it was a good week to check out. He tells her that he loves her and that won't ever change.
9:14 PM BBT – Cliff tells Nicole that he thinks Nick has gone right back over to the other side. He says he thinks it will be himself and Jackson on the block.
9:25 PM BBT – Nicole warns Kat she (N) expects the noms to be Kat and Cliff.
10:55 PM BBT – Tommy has his HOH room reveal. Tommy quickly starts naming family members in his photo (could be to cover for if Christie names the one she dated). (And if you were waiting for it, Christie is not featured in any of the family & friends group photos.)
11:05 PM BBT – Tommy tells Christie his aunts aren't single.
11:30 PM BBT – HGs have made a Happy Birthday cake with a rocket theme.
11:45 PM BBT – Kat relays to Tommy that Nicole told her (K) that Nick told her (N) that Tommy would put up Kat and Cliff. Tommy says that's what Nick might think but Tommy hasn't told anyone.
12:15 AM BBT – Nick promises Analyse that if Cliff had flipped his vote then he (N) would have too.
12:20 AM BBT – Tommy meets with Christie. He suspects there's a F4 with Nick, Nicole, Kat, and Cliff. Tommy suggests they could drive Nick back to them. Tommy is leaning toward nominating Kat and Cliff with Kat as the target and Nicole as a renom option. They discuss not going after Jackson and Holly.
12:25 AM BBT – Tommy requests that Christie sleep in the RV room to break up conversations between Jess, Nicole, and Kat.
12:30 AM BBT – Cliff comes up and offers that he still wants to work with Tommy and his allies. Cliff asks Tommy to help with Analyse being mad at him (C) about not flipping his vote. Tommy explained he doesn't want Cliff evicted this week but can't promise he won't go on the Block.
12:35 AM BBT – Tommy promises Cliff that if he does go up then Tommy will work to save him with the Veto. Cliff promises not to share any of that info.
12:45 AM BBT – Kat goes to talk with Tommy. She's nervous. Kat says she voted out Jack to help Jess's game and maybe it wasn't good for her.
12:55 AM BBT – Tommy explains to Kat he's still thinking of what he will do with his noms. He doesn't give her any info.
1:00 AM BBT – Kat asks Tommy about the Six getting back together. Tommy denies that and says Christie and Jackson won't work together.
1:10 AM BBT – Tommy tells Analyse about her his plan to target Kat because she overlaps the alliance with Nicole, Nick, and Cliff plus the one with Jess, Holly, and Jackson. Analyse tells Tommy that Nick informed her if Cliff had won HOH then he (C) was going to nominate Christie and Tommy.
1:25 AM BBT – Nick popped into the HOH room. He's frustrated to hear Nicole repeated back what he told her about Kat & Cliff going up.
2:00 AM BBT – Jess is having her turn in the HOH room. She encourages Tommy to do what's best for his game this week.
2:25 AM BBT – Christie tells Nicole she was upset at her (N) for voting out Jack but understands the move on a personal level.
2:35 AM BBT – Jess is still filibustering to Tommy.
2:50 AM BBT – Nicole's turn with Tommy. He lets her know he isn't considering nominating her and asks she keep that to herself.
3:20 AM BBT – Nicole is waiting in the bathroom and chatting with Cliff about Kat running what she told her (about Kat & Cliff going up) back to Tommy. Nicole wants to ask Kat why she did that.
3:30 AM BBT – Nicole has moved to the Lounge and camtalks her frustration with Kat spilling the info. Kat is elsewhere chatting with Jess and Christie.
Busy night for Tommy, the new HOH, as he sets his goals and targets this week. It does sound like he'll go with Cliff and Kat as the noms with Kat as the target. We'll see what happens with the Field Trip and then nominations later on Friday.
You can watch all of these Big Brother events using the archives Flashback, the DVR-like feature of this year's Live Feeds which means it's always live, even when you missed it! Sign-up now to get the free trial to watch it all live & uncensored.

Gallery: Live Feeds Highlights
Download our Big Brother App, join us on Facebook & Twitter, and get our Email Updates for more!