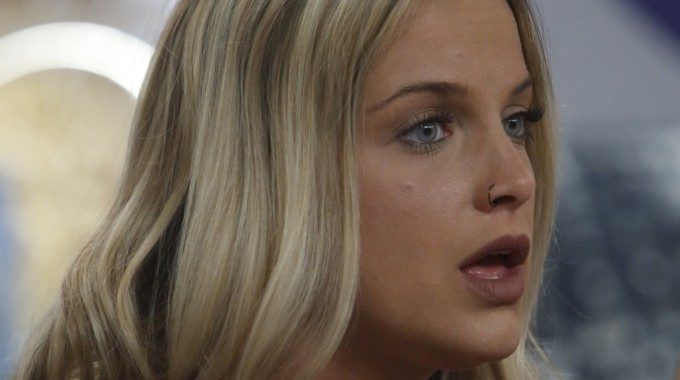 Now it's a party. Big Brother 21 has finally broken open after three weeks of Gr8ful control and we're seeing what can happen when the HGs so used to calling the shots are the ones taking cover from them instead. Good times.
With Cliff's win and his nominations on Friday, the Gr8ful alliance is mostly disbanded and it's now down to the Six Shooters trying to stick together. It'll be tough but with two of the three Whacktivity powers in their pockets, it'll be a lot easier.
Cliff sent the Jacks to the Block in a strong move that left both guys frustrated and upset. Yep, that's how the game works, guys. Now take a seat. So what are their options? The Veto is coming up today and Jack has a plan.
Jack's power lets him call for a redo on the Veto pick side of things. No reason to hold back on his power at this point since he's already on the Block and a roll of the dice to save his Whack power could leave him walking out with it in his pocket just like Ovi did. Speaking of that, how did production not come up with a transfer procedure for Ovi's power?? They had weeks to come up with an easy legacy plan for it, but nope, it's gone.
Jack shared last night that if two of the three drawn players aren't Six Shooters then he'll use his power to force a redraw. Remember that 2 of the 6 allies are already on the Block. So that leaves 10 eligible draws + 2 HG choice chips (they have 2 in the box, right?) and 3 spots to fill. Not bad odds for the hopes of half of their 4 getting picked, but not great odds either.
Moving down the line, once we're past the Veto comp, depending on how that turns out we might also see Christie's power come into play. While she's said she'd protect the Shooters it's really her plan to protect the three of her, Jack, and Tommy. Maybe. Should Jack or Jackson, etc get the win here then Christie knows she's in danger of being the renom, so if she wants to make sure she isn't the one who goes up then she could play her power and have an influence on who fills that seat instead of her.
Christie has also mentioned she may play the "a man won't tell me what to do" card as an excuse not to use her power this week. She's into self-preservation and can hang onto that power longer if it means she can save it to save herself another week. You never know what could happen. It's cut-throat gameplay even with her closest allies and I like it!
Busy few days here coming up in the Big Brother 21 house and we're anxiously waiting to see how the Veto plays out. Do you think Jack will hold back on his power and what about Christie's diamond-y Veto upgrade power? Will she be willing to protect herself and save an ally or should Christie keep that in her pocket and let one of the Shooters head home this week? Stick around for the spoilers!
Update: Veto players have been drawn! Jack did indeed use his power. Original draw was Holly, Jessica, and Sam. The second draw was Analyse, Kat, and Sam. So yeah, pretty much a wash. Holly and Analyse are both close allies, Kat and Jess are outsiders, and Sam is still Sam!
Now we wait and see what happens with the Veto to predict what Christie might do with her Diamond-ish power.