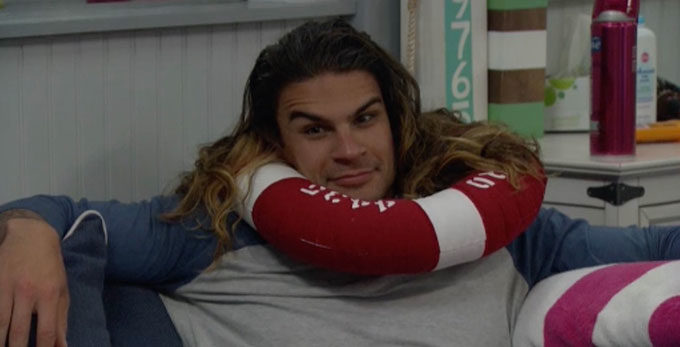 Big Brother 21 shifted into a new hear Friday when the new Head of Household shook things up with their nominations. Read on to find out who everyone is feeling about the nominations and if any powers are planned to be used this week.
If you've got the Live Feeds (Free Trial) then you can watch all of these moments with the Flashback feature to go back and watch those important conversations or funny scenes you may have missed.
Big Brother 21 Live Feed Highlights – Friday, July 19, 2019:
3:06 PM BBT – Nicole tells Cliff that there are six people paired up, then three people paired up, and then everyone else is solo. Cliff says that he knows they both got put up by Nick and Bella last week, but from a numbers standpoint, he feels like he has to work with them this week. He says he's more concerned with that group of six than the three of Nick, Bella and Sam. Nicole says she totally gets that.

3:10 PM BBT – Cliff tells Nicole that right now his primary target is Jack.

3:15 PM BBT – Nicole tells Cliff that the six that saved her last week expected her to advocate for them with Cliff. He says to tell them she tried and he seemed interested but wouldn't commit.

3:27 PM BBT – Cliff tells Nick he trusts he and Bella more than he trusts those other six. Nick tells Cliff if he doesn't take a shot this week they will come after Cliff next week. Nick says if Cliff takes out Jack then the only person they have to worry about beating next HOH is Christie. Cliff tells Nick his target is Jack. Nick tells Cliff if he or Bella win the veto they will not use it.

3:30 PM BBT – Nick tells Cliff if they get Jack out this week Nick will go after Jackson next week, then Christie and then Tommy.

3:45 PM BBT – Cliff cam talks that he has made up his mind and he's no longer torn. He says he will have to live with his decision.

3:50 PM BBT – Tommy talking to Cliff, trying to convince him to nominate someone from both sides to the game is in the hands of the house. Tommy says that would be a safe move for Cliff to keep the target off him next week.

3:55 PM BBT – Cliff says to the camera "Let's play the game of Big Brother. Let's create some drama."

4:00 PM BBT – Cliff called to the Diary Room. Nomination ceremony time.

4:45 PM BBT – Feeds return. Jack and Jackson's faces appear on the nomination wall.

4:47 PM BBT – Tommy is in tears over the nominations. Jack tells him everything is going to be OK.

4:50 PM BBT – Cliff tells Kathryn that he wants Jack to go this week and wants Jackson to stay. Kathryn asks Cliff if this is a plan to backdoor Nick. Cliff says it could be and that would depend on the veto.

4:53 PM BBT – Bella tells Cliff that someone had to make this move and she respects him a lot for doing it.

4:57 PM BBT – Christie is upset and confused that she wasn't nominated.

5:00 PM BBT – Tommy tells some of the others that Cliff made a good decision. Holly says it was commendable. Christie thinks she has no other choice but to use her power this week.

5:06 PM BBT – Jack has thrown away all of Cliff's cereal boxes. Nick says that was a petty thing to do and Tommy says that is going to look bad to America.

5:06 PM BBT – Tommy says Cliff made the big move everyone else was too afraid to do and says good for him and he earned the right to make that move by winning those two comps that brought him back and made him HOH.

5:07 PM BBT – Nick asks Christie if she's really going to use her power. She says no but not to say anything and if they pressure her to use it that will give her more reason not to use it.

5:23 PM BBT – Jack tells Christie that if he stays and wins HOH he won't even go for Cliff. He says he'll still go after Nick and Bella.

5:35 PM BBT – Jack says that he's not trying to manifest anything, but he really misses his dog and his family and is just tired so going home this week wouldn't be that bad.

5:53 PM BBT – Nick says to Sam and Bella that if he wins best week he's putting up Jackson and Holly and if one of them comes down Christie or Tommy will go up.

6:18 PM BBT – Tommy is upset about the nominations again. He says Cliff didn't have to do that and he wasn't going to go up for awhile. Christie says but they all just voted him out.

6:25 PM BBT – Christie tells Jessica and Tommy that Cliff put up two people on their side to see if she'd use her power. She says she doesn't want to use the power and if someone tells her to she's going to do the opposite.

6:30 PM BBT – Tommy says he loves Nick and Bella and will be close to Nick the rest of this life. Christie asks Tommy if he really loves Bella though. She says she doesn't because Bella is toxic and reckless and doesn't care who she hurts.

7:45 PM BBT – HGs have been mellow for a while now. People are in the kitchen making cookies and stuff.

8:28 PM BBT – Cliff tells Nicole if they get Jack out this week then there's not anyone else in the six who has even won stuff besides Christie. Cliff and Nicole agree to the there for each other as neither have any other deals.

8:34 PM BBT – Tommy tells Cliff that he's sorry he was emotional early and that he fully supports his decision.

8:40 PM BBT – Jack is already going over numbers with Tommy in case it's him and Jackson still on the block eviction night. Jack thinks he might be able to get the numbers but will still be considered the bigger threat.

9:40 PM BBT – Bella joins Cliff in the HOH room. He explains he's making moves to stay to the end, not just make it another week. They wonder if Christie would use her power in this situation. Bella suspects Jack also has a power because he's stayed so calm.

10:10 PM BBT – Christie, Jack, and Tommy decide that if one of them wins the Veto then they'll use Christie's power to renom Bella.

10:25 PM BBT – Cliff, Nicole, and Jess talk about Christie playing under pressure. Cliff doesn't think she'll do well in this situation and may not even use her power.

10:35 PM BBT – Christie confers with Tommy and shares that she'll only use the power to save Jack, not Jackson. She's upset and feels Sam is the reason Jack and Jackson are on the Block together after Tommy says Sam was up there with Cliff for two hours.

10:50 PM BBT – Nick expects Christie will use her power to renom him (N) if Jack wins the power. Nick really hopes a Six Shooter goes home this week. He knows everyone's odds go up if they can get rid of Jack.

11:10 PM BBT – Jack explains his Veto redo power to the HN crew. He is going to wait and if they get two Six Shooters in the draw then he'll leave it alone otherwise, he'll use his power.

11:30 PM BBT – Holly wonders to Kat if it'd be better for her (H) game if Jackson goes home so she wasn't so distracted. Holly is worried about helping Jackson's game at the cost of hurting her own.

11:40 PM BBT – Tommy proposes to the HN crew that they try and rebuild the trust with Nick and Bella so they can tear through the house again like they were doing. Tommy points out that when Nick was HOH none of them were in danger.

11:50 PM BBT – Christie is very frustrated with Bella and wants her gone. She doesn't trust Bella at all.

11:55 PM BBT – Christie tells Kat and Tommy that she doesn't want to waste her power this week and will have to see what happens with the Veto.

12:10 AM BBT – Kat wonders if there could be a BD plan in the works but Tommy doubts that's happening.

12:25 AM BBT – Kat explains to Jackson that Feeds can stay on when a couple is messing around and it'll end up as a video. Jackson is shocked.

12:50 AM BBT – HN crew discusses how they need to get Bella out before Jury or she's going to mess things up in there.

1:20 AM BBT – Kat tells Tommy and Christie that she's promised Cliff she is on his side.

1:35 AM BBT – Lights out for the night.
Big night of excitement in the Big Brother house after the power finally shifts and Gr8ful is losing their grip on the game. Saturday will be a big one to decide whether any of these special powers come into play. Keep watching to see!
You can watch all of these Big Brother events using the archives Flashback, the DVR-like feature of this year's Live Feeds which means it's always live, even when you missed it! Sign-up now to get the free trial to watch it all live & uncensored.
Gallery: Live Feeds Highlights


Download our Big Brother App, join us on Facebook & Twitter, and get our Email Updates for more!