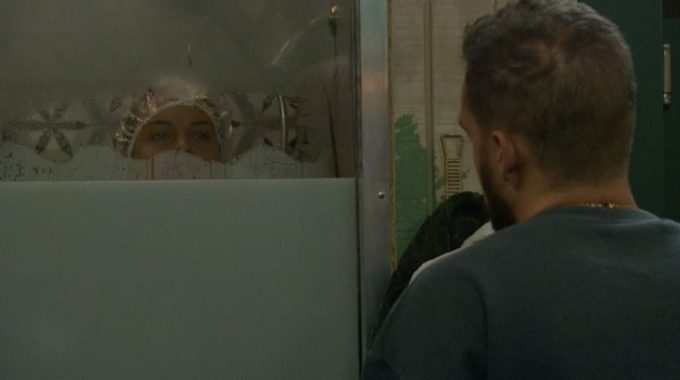 Based on talks inside the Big Brother 21 house Friday morning, it doesn't look like things will be shaken up this week with Nick in the HOH and the Whacktivity Comp looming. Find out what the HGs were talking about inside the Big Brother 21 house right here with our Live Feeds Highlights!
If you've got the Live Feeds (Free Trial) then you can watch all of these moments with the Flashback feature to go back and watch those important conversations or funny scenes you may have missed.
Big Brother 21 Live Feed Highlights – Wednesday, July 3, 2019:
7:20 AM BBT – Cliff Notes in the Boat Room. (No one listened in)

8:00 AM BBT – HGs get their wake-up call.

8:18 AM BBT – Nicole and Kemi talking about the hinky vote. Nicole says that they (Nick and Bella) think that someone did it with the intention of messing with her (N). She tells Kemi that she doesn't know who it is, but she is trying to stay calm and figure it out. Nicole tells her she is trying to lay low and then hopefully Kemi comes back into the game.

8:24 AM BBT – Nick and Bella don't think that noms are today. They talk about Whacktivity being today and noms tomorrow. Nick is wondering what he's going to tell Cliff when he puts him up. Bella tells him that he should tell him he's a pawn, but Nick says that with his speech, Cliff will know that he isn't. Nick says that he isn't putting up Nicole.

8:27 AM BBT – Nick says that he plans on outing Cliff Notes in his speech and says that he is going to tell Jessica that she is one of the HGs that have already been nominated and he is closer to Kat than he is to Jessica. He says he is making a bitch move because it's too early to ruffle feathers. Says if it wasn't about longevity in this game, he would just put up Jack and Jackson.

8:37 AM BBT – Christie telling Tommy about how she told Jack that he has to make things right with Analyse so that she doesn't end up coming after them later. Analyse walks in and the conversation changes to Sam spending a lot of time in the HOH room and how she wants to go catch them off guard.

8:45 AM BBT – Six Shooters (minus Jackson) are talking about Cliff Notes. They are convinced that Cliff knows they are listening to his chats in the morning and is planting seeds of misinformation. They are convinced that he is America's Player because Jackson said that Cliff carries Orwell around for screentime and not because he is America's Player. They all agree that the rogue vote was not Nicole.

9:00 AM BBT – Holly and Analyse are talking about Kat. She apparently made a comment about Holly/Jackson/Kat being a "three-mance" and that got Holly thinking about whether her relationship with Jackson makes her look stupid on television. Holly is wondering if she should distance herself a little from him. Analyse tells her that what's done is done, she should just be careful during the day when others are watching.

9:15 AM BBT – Analyse thinks she can win the Whacktivity Comp. Holly reminds her that Christie and Nick are savages and they are going to power through the comp. Analyse thinks she is really good with mental comps.

9:22 AM BBT – Nicole tells Cliff about what Kemi told her. She lets Cliff know that Christie overheard him talking to the cams about being in an alliance with Nicole and Ovi. He apologizes and says well that screws me over, but he didn't realize he could be heard. Nicole also warns him that they are trying to pin the rogue vote on him now.

9:40 AM BBT – Bella and Tommy are going over days and events. She tells Tommy that the couples are all together on the memory wall which makes it easier to remember.

9:47 AM BBT – Nick and Christie are talking while she's in the HOH shower. They don't think the rogue vote was Nicole, it was too obvious. Christie thinks that Jackson did it because he was hardcore trying to pin the vote on Nicole. Nick tells her that Jackson doesn't talk game with him ever but he told him three times yesterday that the vote was Nicole. Christie tells Nick that if she wins the power she is only going to tell Nick and Tommy. Nick tells Christie that they aren't going to take a shot (against Jack or Jackson) for a couple more weeks. Says Jack is best to go first.

10:03 AM BBT – Jackson is thinking about getting Christie or Tommy to tell Nick that Cliff said he wanted to stir the pot in his Cliff Notes yesterday as proof that he threw the rogue vote. He says he can't do it because it would look sketchy.

10:05 AM BBT – Cliff is talking to Nick. Cliff tells him that he really wants to work with Nick and Bella in the future. Nick asks Cliff who he would put up if he won and he tells her Jessica and either Kat or Nicole with Jessica being his target. Nick says that he wants Jessica out because she said she would put two guys up and threw Bella under the bus. Nick tells Cliff that Jess is his target and he might put Kat up next to her because no one will vote out Kat. Cliff says that if Nick needs him to be a pawn, he will, but he prefers not to.

10:15 AM BBT – Jack and Jackson are talking about the Whacktivity comp wondering if they are going to be forced to eat or drink something. Jack and Jackson are talking about worse case scenarios this week. Jackson says either they go up or Analyse and Holly go up. Jackson says he doesn't know what he would want to do in that case, Jack says Anaylse can go. Jackson says if anything it will help his game.

10:22 AM BBT – Nick joins them in the Boat Room and tells them that Cliff just offered to be a pawn. Jackson then tells Nick about how Cliff said he wanted to stir the pot in his Cliff Notes yesterday. They wonder why Cliff would do that. Nick thinks it's just because he trusts him, but Jackson is trying to make it something more.

10:30 AM BBT – Cliff tells Christie that he talked to Nick a little. Tells him that he doesn't want to go any time soon and he thinks that there are others in the house that don't want to be there as much as he does. Christie says that she thinks that Jessica is his target this week because it keeps the Battle Back more in Ovi's favor. They talk about their social circles and Christie says that Jack scares her in this game.

10:38 AM BBT – Tommy comes in and Cliff leaves. Tommy asks Christie how she is feeling about the Whacktivity Comp. Christie tells him she feels good about it and she tells him that she had a very neutral conversation with Cliff. Christie thinks that Jack told Nick about his power (apparently Tommy knows about this) to scare Nick away from nominating him or coming after him. Tommy tells Christie that Analyse said she would tell him if she won the power. Tommy mentions that Jack and Jackson have been in the Boat Room for a while and he thinks that it has to do with the rogue vote.

10:52 AM BBT – Feeds go down for Whacktivity Comp.

3:35 PM BBT – Feeds return. HGs trying to figure out who won the power.

3:50 PM BBT – Jess has told some HGs she timed out in the comp and told others she completed it. HGs are suspicious of her.
The HGs have been spending a lot of time trying to figure out who the rogue vote was. It seems like a few of them might be on the right track, but it seems like they don't really care. Nick says it's too early in the game to ruffle feathers so the Nominations Ceremony should go as planned. Stay tuned for spoilers!
You can watch all of these Big Brother events using the archives Flashback, the DVR-like feature of this year's Live Feeds which means it's always live, even when you missed it! Sign-up now to get the free trial to watch it all live & uncensored.

Gallery: Live Feeds Highlights
Download our Big Brother App, join us on Facebook & Twitter, and get our Email Updates for more!