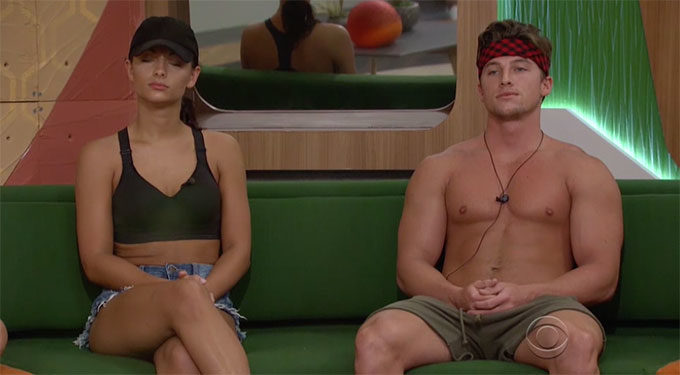 This week's Big Brother 20 eviction is shaping up to be a blindside for the Foutte/Hive side of the house once again as the Level 6 side have decided that Rachel is the bigger liability.
When Bayleigh nominated Rachel and Brett this week, it was Brett who she wanted to go home, and she was sure that Rachel wouldn't be going anywhere she revealed her power to her. Bayliegh told Rachel every single detail of the power and then Rachel told Angela who then told Tyler.
As we saw during Wednesday night's episode, that little secret that got back to Tyler was what finally sealed the deal on the veto not getting used, thus leaving Rachel more vulnerable sitting next to a more valuable alliance member, Brett.
Throughout the week, Tyler gathered the votes to keep Brett from Sam and JC. He didn't have to convince Angela to vote out her biggest ally because Rachel annoyed Angela so much this week she decided to do that on her own. And Kaycee will follow and do what everyone else says, so she's also in on it. So the only person in Level 6 who doesn't know Rachel is who they're voting out is Rachel.
There's still a bit of a question on what JC will do, but that question is only ours here on the outside because of that vote he made against Rockstar last week. JC has told Tyler he's voting to evict Rachel and they've set it up to pin that vote on Scottie, but we have to wonder if JC will throw a weird vote in once again. It's less likely this week, especially since he's technically already throwing a weird vote in since he's supposed to be evicting Brett.
So I think it's a safe bet to count the votes.
Voting to evict Brett: Rockstar, Faysal, Haleigh, Scottie
Voting to evict Rachel: Tyler, Angela, Kaycee, Sam, JC
As with every week, thinks can chance during the day leading up to the ceremony, but that hasn't been the case this season. So we can likely expect Rachel to be talking to Julie Chen tonight. There's still a possibility that Brett's planned speech to throw Rachel and Rockstar under the bus could shift some votes around last-minute, but historically, that has never really happened.
Who do you think will be evicted tonight?