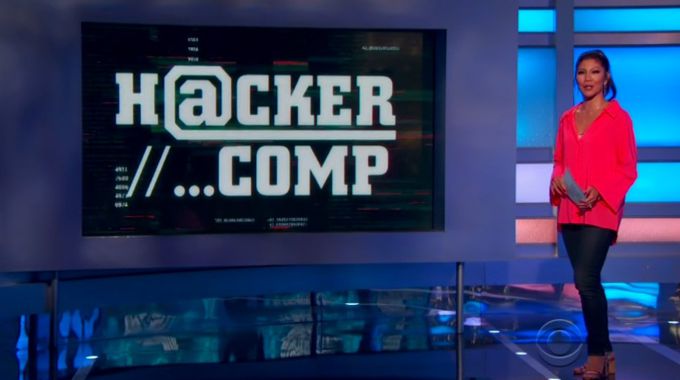 There's a new Big Brother 20 twist arriving this week with the "Hacker Comp" featuring a new competition each week that will reward one Houseguest and shake up the game.
It's the first we've heard of this new twist, but with the Power App done and gone and the Bonus Life all played out it's no surprise for production to throw something new at us to help fill those Sunday episodes. So much for Have-Not competitions, huh?
Julie Chen ended Thursday's live eviction show revealing only a few details as she announced each week one Houseguest would win a power to "secretly hack" the game and that we'd get more details on Sunday's show. That means we should be seeing that comp play out on Friday so it can fit the timeline before nominations, where Sunday's episode typically ends.
Of course, we probably won't see this comp actually play out, but we will get the results and spoilers through the Feeds when it's over. This is giving me the BB Roadkill vibes here where HGs spent the day competing individually and then secretly finding out who won that round's power. Probably the same arrangement here and if so that means a LOT of down Feeds each Friday.
Update: Feeds cut on Friday night for about 20 mins and it sounds like HGs learned some light details on this new twist. We'll see what we can find out.
Update 2: HGs have mentioned some of the powers include getting to change the noms and picking Veto players. Sounds like a slight variation of the BB App Store, but now the HGs compete in challenges instead of competing for viewer popularity.
Update 3: Leaker Vegas confirmed the Hacker Comp winner gets 3 powers each round. He/She can take down a player & name the renom, pick one of the Veto players, and cancel one eviction vote. That's entirely too much power and is going too far. Why not have let the winner pick one of those three? I think they'll regret letting one person dictate so many in a single round.
Keep an eye out for more details on the Big Brother Hacker Comp and we'll share what we discover. Download our Big Brother App for alerts on what happens plus updates on Facebook and Twitter plus our Email Updates for even more BB20!