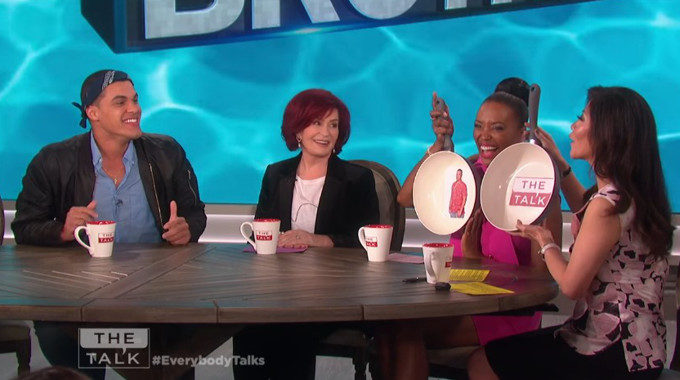 Josh Martinez, the winner of Big Brother 19, appeared on The Talk yesterday to chat with Julie Chen and her co-hosts about his experience on Big Brother, his Final 2 decision, what was he thinking with those pots and pans, and more.
First off, the biggest question: What is he going to do with the money? Josh has plans and he wants to be responsible. "A financial advisor first… and just give back to my family," says Josh.
After Josh won Round 3 on finale night he had a big choice, evict Paul or Christmas. He went with Christmas and sent most of our heads shaking. Why didn't he take Christmas?
Josh reminded the panel that about a week ago he asked Christmas if she'd take him to F2 and "she told me, I can't promise you that. She told me, I think it's best for your game if you take Paul." Josh took that as confirmation that she wasn't going to take him to the end herself. From there Josh says he knew Jury would be bitter, "I was working Jury with my goodbye messages so I knew I would have a shot." He certainly did work on them with those messages.
When asked about Christmas voting for Paul, "yeah, I was surprised. She was my vote. I confided in her with everything and she knew what a big fan I was of this show so I was expecting that vote. I was shocked, but at the end of the day, I love both of them (Paul and Christmas) and they're going to be great friends after.
I don't know how Josh was shocked. This seemed obvious considering Christmas was draping herself over Paul for the past week. It seemed like a guaranteed vote for Paul over Josh and it was. Luckily for Josh, he didn't need that vote.
Gallery: Josh Martinez on The Talk
Josh says it's an honor to be the first Latino to win Big Brother. He explains it's been a dream of his to be on Big Brother since he was 14 years old. "I actually told my mom, I'm going to be the first Cuban and the first Latino to win Big Brother and it happened!" exclaims Josh.
As for the hurricane that hit Miami, Josh says his family was okay and now he wants to use this platform (winning Big Brother) to help those in need and plans to go back home to assist.
Looking at Josh's signature move with the pots and pans, Josh tells Julie that he really does do that at home, but there it's a celebration. Yep, Josh says he bangs pots and pans to celebrate birthdays. Have mercy. Going along with that, his "meatball!" line was in lieu of calling someone a loser. Josh says that as an athlete he would talk a lot of smack, and that's all he meant by this as well.
Julie and company presents Josh with a parting gift, a personalized set of frying pans for him to bang together, presumably far far away from the set. You can watch the entire segment in the video clip below.
Josh Martinez talks winning Big Brother on The Talk: