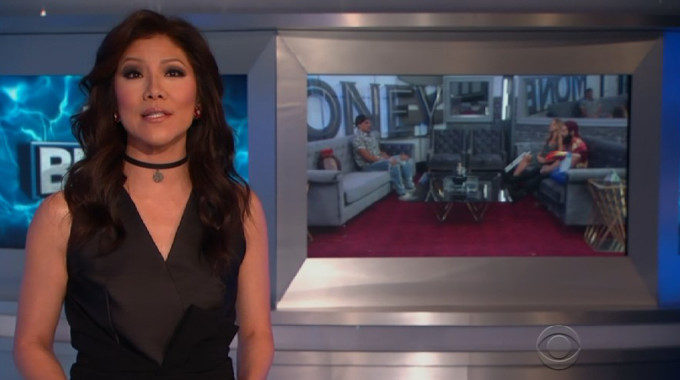 Last night we discovered who won Big Brother 19 as the Jury returned to the stage and cast their votes for the season's winner, "but first" we had a few more competitions to get through.
Our Final 3 Houseguests faced off in the three-round final Head of Household competition for the season where two of them would move on to make their case to the Jury. It's all over now and the results are in for this season's Big Brother winner.
Christmas Abbott, Josh Martinez, and Paul Abrahamian are all that's left of this season after nearly three months of battling it out in the backyard and across the house. One of these three will soon be a half million dollars richer. Time to see if my winner prediction was right.
Reminder: Big Brother Celebrity launches this winter. Few details so far, but we'll be back to cover it early next year when BB:Celebrity arrives!
All three of the remaining HGs will participate in the first round of the final HoH. The winner here will await the winner of the second round in Round 3. There the last round's winner will get to decide which of the other two HGs will be evicted and who will go on to stand before the Jury.
Big Brother 19 Final HoH – Round 1:
Nothing like a little unicorn glitter farts to mess up your game. The HGs will be hanging on to a rope with the last one standing winning the round. We didn't get to see this play out on the Feeds (shame!) so now it's time to find out how this went down.
click images to see full-size
Big Brother 19 Final HoH – Round 2:
The losers from the first round have another chance at keeping themselves alive in the game. Win here and move on to R3. Lose and you'll be watching it from the sidelines.
Christmas and Josh battle it out here. The comp requires the HGs to use a slingshot, catapult, and crossbow to take out cutouts of the HGs. It's all set in a medieval theme. It's pretty fun but this took forever. Feeds were down for SIX hours to make this happen.
click images to see full-size
Big Brother 19 Jury Round Table:
These are some very angry and bitter Jurors. Mark is yelling at Matthew and he returns fire. They all start complaining about Josh and his ridiculous manchild behavior with stunted emotional abilities. Most say they can't respect his game or reward it.
Things don't sound good for Christmas either saying her biggest game move was her foot getting broken. Well she couldn't win.
Now for Paul, they're all pissed at him, but it sounds like they might still give him more respect in the game. But boy they really don't like him.
Big Brother 19 Final HoH – Round 3:
Winners from the previous two rounds are back here for the live portion of tonight's show. This could be critical for the next stage, or if both are planning to take each other to the F2 then it's pointless, but still something they can look back on and realize where they blew it.
Question 1: Paul gets a point.
Question 2: Josh gets a point.
Question 3: Both get a point.
Question 4: Josh gets a point.
Question 5: Neither get a point.
Question 6: Neither get a point.
Question 7: Josh gets a point!
Wow, wow, wow. Josh won R3 and now he gets to decide if he wants to win the game or lose to Paul.
click images to see full-size
Big Brother 19 – Finale Eviction:
One last HG has to be evicted to join the Jury and allow our F2 to move on. Who will Josh send out the door? It's time to find out. Josh explains that he's played such an abrasive game that he can't go to the end with someone likable. Yep, he's about to do it. He's about to end his chances at the win, isn't he?
Josh evicts: Christmas Abbott!!
Final 2: Paul & Josh
click images to see full-size
Big Brother 19 Jury Votes:
It's time for the Jury's votes to be revealed. Will we get another shocker like last year's upset or will this be an easy and obvious choice?
Christmas votes for: Paul
Kevin votes for: Paul
Alex votes for: Josh
Raven votes for: Paul
Jason votes for: Josh
Matthew votes for: Paul
Mark votes for: Josh
Elena votes for: Josh
Cody votes for: Josh
Winner of Big Brother 19 is: Josh Martinez 5-4!
WOW! Congratulations to Josh! I did NOT think he could do it but he did!!
After listening to the Jury's round table and the comments made at voting time, it's clear this was a bitter and angry Jury. Paul played a significantly stronger game, but his Jury management was atrocious. Then again, Josh was no saint and fought with nearly everyone so it's hard to say Josh was better liked by them. More likely? Josh wasn't Paul.
click images to see full-size
Big Brother 19 – America's Favorite HG:
One lucky HG will get an extra $25,000 prize based on America's votes…
Top 3: Cody, Kevin, & Jason.
AFP: Cody Nickson!
Don't forget that after the finale is over Dr. Will Kirby (winner of BB2) will be hosting the official CBS backyard interviews on Facebook Live. We'll have the link posted as soon as it's available.
Update: Missed the backyard interviews? You can watch it in full right here & it's totally worth it. These were great.
What do you think of the results. Did the right person win the season? What about that last eviction and even the Fav HG prize? Are you happy with how the season turned out? Don't forget there's more Big Brother with the Celebrity Big Brother.
Download our Big Brother App, join us on Facebook & Twitter, and get our Email Updates for more!