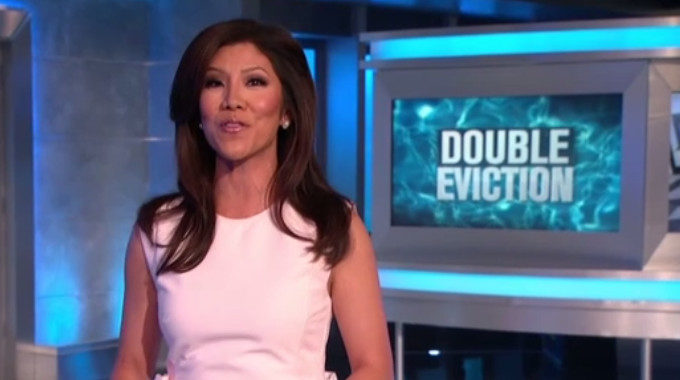 Buckle up! The Big Brother 19 Double Eviction arrived and we have results who who was voted out last night when two Houseguests were sent out the door and off to Jury. It was a high stakes night in a fast paced series of events so read on for the results from our coverage of the show.
If you're not familiar with a Double Eviction then get ready for a week's worth of Big Brother events wrapped up in less than an hour. These are exciting, action packed nights. We'll kick things off with the first eviction then race to a new HoH, nominations, a Veto comp, ceremony, and then the second elimination vote of the night. Get ready!
Don't miss this week's eviction episode! You can stream it live on CBS's All Access in most markets across the US so you don't have to miss any of the fun even if you're out. Get the Free Trial now.

The last time we had a DE there were three nominees but this time around there are just four votes. The season is coming to a close soon!
Big Brother 19 Results – Week 10 Votes:
Alex votes to evict: Kevin
Raven votes to evict: Jason
Paul votes to evict: Kevin
Josh votes to evict: Jason
It's a tie!
Christmas is the tiebreaker. She must make the decision in front of everyone and announce her vote… Jason Dent is evicted.
Jason storms out of the house and refuses to say goodbye to anyone. Alex shouts that it wasn't her as he rushes out. Paul and Josh start a fake fight and Josh takes all the blame. This was all part of Paul's plan to put the eviction on Josh and Christmas to cover himself.
In their goodbye messages Josh reveals Paul's sneaky game play! Josh tells Jason that this was all Paul's plan and he actually has a F3 with Paul and Christmas. Jason tells Julie that Paul is done. Wow! That could have a huge impact on the Jury!
Once the voting is over and tonight's first evictee is out the door the HGs will have just a few minutes to prepare for the next competition and the rush to get through the rest of the Double Eviction's events.
Big Brother 19 Results – Week 10.5 HoH Comp – "Fake News":
Round 1: Everyone gets a point
Round 2: Raven, Kevin, & Alex get a point
Round 3: Everyone gets a point
Round 4: All but Kevin gets a point
Round 5: Alex & Josh get a point
Round 6: Everyone gets a point
Round 7: Everyone gets a point
Alex wins HoH! She was Paul's big plan. This is good fun for us.
The new Head of Household will have just a few moments decide who should go up on the Block. They usually get a little longer. This was very rushed. But of course, Alex is Alex and doesn't go after the actual F3 in the house.
Big Brother 19 Results – Week 10.5 Nominations:
Alex nominates: Kevin & Raven
With only six Houseguests left in the season all of them will get to play in the Veto competition. No more hopes of a Backdoor in that situation.
Big Brother 19 Results – Week 10.5 Veto Comp – "Lime Drop":
HGs have to dig through a pit of lemons to find a "lime" ball then drop it down a distance in to a tube. The balls are large and the tubes are narrow. First HG to get 4 limes in the tube then hit the buzzer will win Veto.
This was close. Alex had a solid lead but then lost it as Raven and Josh caught up before Josh surpassed them for the win.
And now it's time for Josh's decision, but we already know he won't do anything.
Big Brother 19 Results – Week 10.5 Veto Ceremony:
Josh does not use the Veto.
Houseguests will head back inside the Diary Room for their second vote of the night. Either Raven or Raven or please, please let it be Raven. Or Kevin.
Big Brother 19 Results – Week 10.5 Votes:
Paul votes to evict: Raven
Christmas votes to evict: Raven
That's enough votes.
Josh votes to evict: Kevin
Raven Walton was evicted 2-1.
Raven sobs on her way out the door then does a cartwheel. Good grief. She tells Julie she understands why HGs kept Kevin. Julie more or less tells Raven she didn't have any game herself. Heh. Nicely done.
Big Brother 19 Results – Week 11 HoH:
The show ended without a new HoH, but that issue was soon resolved. HGs went to the backyard late last night and competed for control, but with Alex as the outgoing HoH, it didn't particularly matter who won as they were all planning to take her out next.
HUGE NEWS! Julie Chen just revealed there will be a Celebrity Big Brother this winter! WHOA! Amazing! Here are the early details. This is awesome!
twitter-tweet" data-lang="en">

CBS Announces: #BBCelebrity! A new season of Celeb BB arrives this winter & yes there will be Live Feeds! Read: https://t.co/uEr4nw8qXH

— Big Brother Network (@bigbrothernet) September 8, 2017
Julie also reveals next Wednesday will have a bonus eviction show which will be taped on Tuesday, so expect down Feeds those days, then another live eviction show next Thursday.
We'll end the night without a Head of Household, but that should be resolved later tonight and we'll have spoilers when those results come in. In the meantime we'll be watching the Feeds to see tonight's fallout and how the house reacts to what just went down.
If you haven't signed up for the Live Feeds yet, then you can get a 1-week Free Trial, no promo code required. That'll get you through the next week of events and final stages of plotting this season.
Download our Big Brother App, join us on Facebook & Twitter, and get our Email Updates for more!