It's eviction time for the Big Brother 19 Houseguests and they've got an important challenge ahead with the return of the endurance competition to decide the next Head of Household!
Here's our live recap from last night's eviction vote featuring Mark Jansen versus Matthew Clines as one of them was sent off to Jury to become the third member this season. The HGs were ready for the decision to be made and once that was over they had to get ready to hang on to win!
Don't miss this week's eviction episode! You can stream it live on CBS's All Access in most markets across the US so you don't have to miss any of the fun even if you're out tonight.

Only six Houseguests voted this week so a tie is theoretically possible, but I wouldn't go waiting on that to happen. Instead we're likely to get a clean sweep.
Big Brother 19 Results – Week 8 Votes:
Raven votes to evict: Mark
Josh votes to evict: Mark
Kevin votes to evict: Mark
Jason votes to evict: Matthew
Alex votes to evict: Matthew
Paul votes to evict: Mark
By a vote of 4-2, Mark Jansen has been evicted from Big Brother 19.
Once voting is over the HGs will head to the backyard to ready themselves for the night's next big event. Who is ready to win and become the new Head of Household? We can find out when it plays out live on the Feeds. Grab the Free Trial now to watch with us.
Our first sneak peek at the Head of Household competition featured a row of upright hot dog buns set at a baseball park. No idea. Could be something totally new here. Yep, HGs have to hold on to their hot dog buns floating up in the air. Last to remain will be the new HoH.
Big Brother 19 Results – Week 9 HoH Endurance Comp: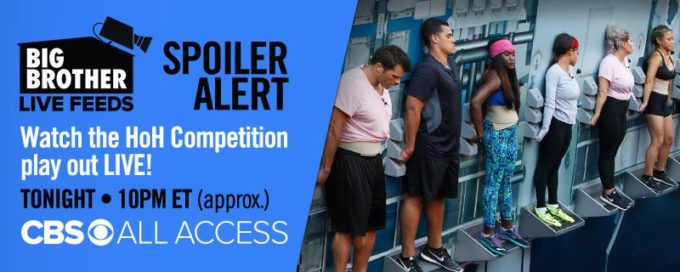 Download our Big Brother App, join us on Facebook & Twitter, and get our Email Updates for more!