This week's Big Brother 19 endurance competition for Head of Household arrived following the live eviction. Fans could watch this backyard battle play out live online as the sides faced off for control of the next nominations. Find out who won the power this week to be the new HoH.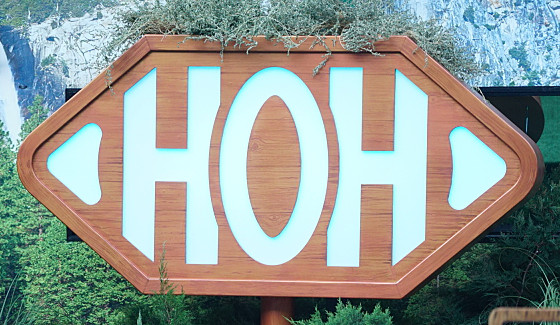 You could follow along with our live updates below or watch the HoH Endurance Comp streamed live on the Big Brother Live Feeds through All Access. Use the Free Trial now and see what all the fuss is about, but you've been warned, Feeds are fun and addictive!
So who won the Big Brother HoH comp? Read on for the spoilers & details.

Houseguests were hanging on inside giant hot dog buns as they're lifted in to the sky. The last to keep hanging out gets to be the new HoH.
Gallery: Week 9 Endurance HoH Comp
Big Brother 19 Week 9 HoH Comp – Everybody is a Weiner:
6:55 PM BBT – Comp is getting started on the show.
6:59 PM BBT – Everyone was still on when the show ended…
7:10 PM BBT – Feeds are back. Everyone is still in!
7:11 PM BBT – Kevin is down & out.
7:14 PM BBT – Matt falls when the buns start moving & he's surprised.
7:15 PM BBT – Alex is already saying her feet hurt.
7:20 PM BBT – Alex, Jason, Paul, Josh, & Raven remain in the comp.
7:24 PM BBT – Buns tilt at a steep angle & Josh falls.
7:25 PM BBT – Alex, Jason, Paul, & Raven remain.
7:31 PM BBT – HGs sprayed with water. Everyone hangs on.
7:35 PM BBT – HGs going from overly chatty to very quiet. Four remain.
7:40 PM BBT – Christmas asks if any of them want to make a deal. No responses.
7:45 PM BBT – Chatter returns from the HGs. Lots of laughing. Four remain.
7:47 PM BBT – Paul is out! Raven falls right behind him.
7:52 PM BBT – Alex asking Jason to make a deal. He's confused.
7:54 PM BBT – Alex drops by choice. Jason wins HoH.
Jason Dent is the new HoH. Congrats Jason!
I would expect Jason to go after Matthew and Raven for their noms. Those two were actually planning to go after Alex and Jason so this was a big shift in the game plan for HGs. Should be an interesting week!

In case the site becomes overwhelmed I'm going to embed our Twitter feed here for more updates:
Tweets by @bigbrothernet
Nominations should be coming up on Friday already so get ready for those spoilers soon, then Power of Veto comp will be held on Saturday. It'll be a very busy weekend! Download our Big Brother App then join us on Facebook & Twitter for the updates.