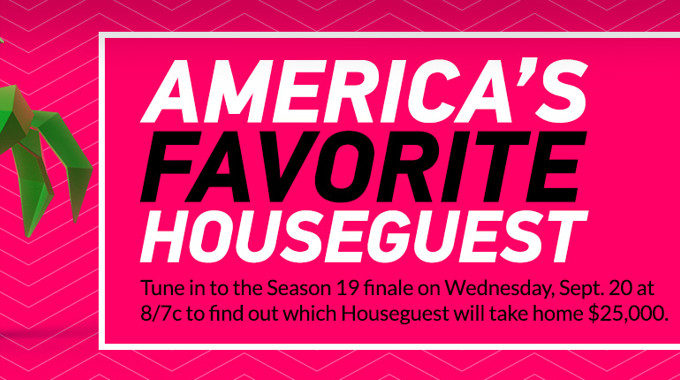 Voting has opened for the Big Brother 19 AFP, or America's Favorite Houseguest, and that means it's time to decide who you want to receive a $25,000 bonus for their gameplay this summer.
With the polls now open, fans can visit the official voting at cbs.com and cast 20 votes a day each day until Wednesday, September 20, 2016 at 9:59AM PT.
All Houseguests BUT the Final 2 are eligible to win, so keep that in mind. Last year we debated this topic, but James actually went into the DR to ask that very question and reported that the answer was "NO," F2 can't win AFP. So that's what I'm going with here for the rules. You can still vote for anyone, but it could be shifted down the line depending on who makes F2.
Be sure to go to the official voting page with CBS each day between now and Wednesday morning to support your favorite. 20 votes each day can really add up to help your pick to win.
Make your choice based on whatever you'd like for whatever criteria. I haven't decided how I'll vote so I may or may not later endorse a particular HG, but that shouldn't sway anyone anyway. I will say that I think it could be either Cody or Kevin who ends up winning AFP, but we'll find out at the finale.
Who do you want to win Favorite Houseguest? Vote now in our unofficial poll below (does not count towards official results) and share your thoughts in the comments section.
Keep checking back to see how these votes go and we'll tally things up next week ahead of Wednesday's season finale and see if we can accurately predict who wins.