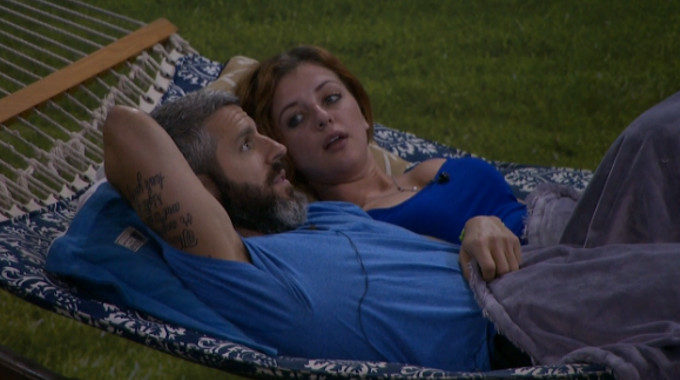 The Big Brother 19 Houseguests are preparing for today's Veto Meeting and so far this looks like we could get some great fallout thanks to the oblivious and naive nominees who remain convinced that they're in on the House's plans. Pssst, they're not.
Jason won HoH which gave him the opportunity to send Matthew and Raven to the Block. From there his allies agreed to keep up the facade that the couple was a pawn while Kevin was the target but they were actually plotting to evict Matthew at the next vote. Suddenly things changed.
After Jason went on to win the Veto we saw Paul shift the planned target to Kevin. They already had Jason agreeing to renom Kevin so if he was on the Block then they could just change the plan on Jason after it was too late. Unfortunately for Paul Jason yanked that rug out from under him.
Jason let Kevin know the plan to renom him in Raven's place and Kevin emphatically declined that opportunity to play the pawn. Jason agreed it was a bad idea and despite a night long effort to be persuaded otherwise, Jason stuck to his guns.
Now Jason plans to keep the nominations the same, leaving Matthew and Raven on the Block for Thursday's eviction where they'll be split up in the game. That's going to be a surprise to the last showmance left in the game.
Yesterday Raven spoke with several HGs and convinced herself Jason would save her with the Veto. She took this attitude back to Matthew who agreed with her that they didn't even need to go talk with Jason about the decision. Yikes.
Now since everyone else in the house knows what's going to happen we did see Paul hold a conversation with Matthew about the worst case for "Maven." Matthew agreed in that case, where both of them remain on the Block, that the group should save Raven and vote him out instead. Double yikes.
When you've reached the point that you don't even care to play the game, much less want to stay in it, then you've failed. What a flop of a Houseguest, but nine weeks in on the season that shouldn't be a surprise to anyone who has been following the "moves" of that guy.
TL;DR
Jason has control of both the Veto & HoH
Raven expects to be saved by Jason's Veto & Kevin renom'd in her spot
Jason is not planning to use the Veto despite efforts by Paul & allies
Raven & Matthew are expected to be the final noms this week
We'll be watching for the Veto Ceremony later this afternoon and will have the spoiler results then. What do you think of Jason's Veto meeting plans? Is he hurting his game by not being willing to put Kevin up there? Or is he just as big a target for the other HGs whether or not he made that move?
Get the results when they're announced. Grab our Big Brother App and we'll send you an alert when the spoilers are in. Join us on Facebook, Twitter, and by Email Updates to get more results all season.