It's Veto Meeting Day for the Big Brother 19 Houseguests and someone better tell this week's PoV holder that a decision will need to be made because the plans have been changing with the wind here.
Update: Results are back! Get the spoilers on what happened with the Veto this week.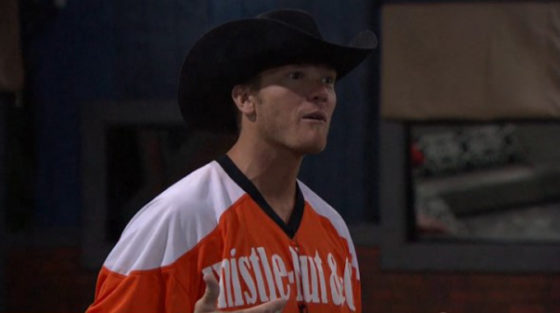 It's silly how many times things have gone back and forth over what Jason decided he'd definitely be doing with the Veto. He's using it. No he's not using it. Oh yeah, he's definitely using it. Wait, no chance he's going to do that. We can take a look at his last two conversations about the Veto plans from last night to see his latest thinking, but I don't think he'll know for sure enough the ceremony is over later today.
Flashback to 1:45 AM BBT 7/17 Cams 1/2 on your Live Feeds (get the Free Trial now).
Jason is outside alone with Mark and Elena. They're debating what Jason's going to do with his Veto power. Jason is so unsure of what to do he even asks Elena to clarify what she thinks the plan is. Putting Mark up as the renom, she reminds him. Mark says what he doesn't understand is the "why" for him being such a hot topic target. It makes him uncomfortable.
Fine, Jason says. He won't use it. That's it. Not going to happen! "I'm going to go tell…" "Alex," suggests Elena. "Alex," confirms Jason. "It's dead in the f**king water right now… We're not changing it again." Heh. I'll believe it when I see it. Mark reminds Jason that if that changes and he uses it then he (Mark) will be going up and they don't know why.
Elena says that before it made sense. There might have been a little uncertainty in the effort to get Dominique out, but after she blew up there's no doubt and no need for Jason to put the Veto in to play.
"I'm not using it. I'm not using it. I'm not using it," Jason promises Mark. "I trust you," Mark replies. "If something changes, I'll let you know," adds Jason with a laugh before leaping around hugging Mark.
Gallery: Jason Debates Using The Veto
Jump forward to 2:25 AM BBT Cams 3/4. Alex has come to visit Jason in the HNs room when he lets her know he isn't going to use it. "Why not?!" She still wants him to use the Veto. Jason assures Alex that Dominique is going home without a doubt. Alex points out that she wants Mark up so they can test the votes. She wants to use this as a chance to catch who is flipping the votes as it sounds like they're on to Kevin again about those hinky votes.
Jason runs through the votes and says they've got eight votes (Alex later corrects him that it's seven) without Paul, Kevin, or Josh. Alex says they've got Josh's vote so that's nine (eight) against Dominique. Jason feels good that they have the votes and do not need to go through this renom sideshow. Alex agrees and the conversation ends as Paul enters the room.
So at the moment Jason and Alex have agreed to call off the renom with Mark, but with these two I'm going to keep watching and waiting for more talks this morning. Whatever happens, I agree that Dominique is done so it doesn't really matter, but for the drama factor I wouldn't mind a stressed out Mark up there. Otherwise we'll just be waiting out the next few days.
We'll be watching for the Veto Ceremony later this afternoon and will have the spoiler results then. What do you think of Jason's Veto plan? Which way will he decide to go?
Get the results when they're announced. Grab our Big Brother App and we'll send you an alert when the spoilers are in. Join us on Facebook, Twitter, and by Email Updates to get more results all season.
Update: Jason confirmed to Alex this morning that he wasn't going to use the Veto after momentarily suggesting they renom Kevin. Oh, and Alex revealed she thinks Paul is prevented from lying to her because of the Friendship bracelets and his obligation to America and his fan base. Sigh.